They are electric, motorized and they are at your feet. Well, we are talking about RocketSkates – the world's first smart wearable transportation and the all-electric skates. A project undertaken by ACTON's CTO Peter Treadway while he was getting his master's degree in industrial design, RocketSkates is the result of that school project.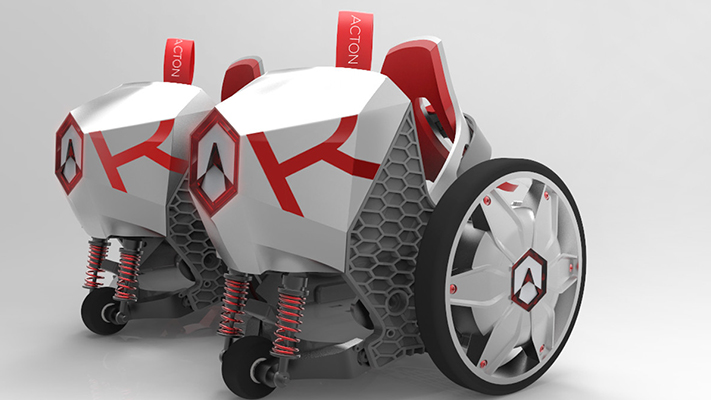 Powered by a lithium-ion battery pack, the skates feature two hub motors controlled by an on-board microprocessor. Once your feet are on it, the skates communicate with each other to maintain coherence for speed and behaviour.
Designed purely for city-dwellers, the skates don't require any kind of handheld controls, though, as this is the era of smartphones; this smart device comes with a companion phone app called the ACTON app, which configures the device with your smartphone via Bluetooth. The app is available on both,
iOS
and
Android
platforms, and provides you with information like Route tracking, skate diagnosis, battery status, games, and social interactivity; and also keeps you in touch with other RocketSkaters.
Another interesting thing about the app is its unique quality of 'master' and 'follower' – it lets you designate one foot of yours as your 'master' foot and the other as the 'follower,' based on which foot you put in front of the other. Either tilt forward to accelerate ahead or tilt back to slow down and break.
The RocketSkates can move you along as fast as 12 mph – the range and run times vary by model, of which there are three; R6, R8 and R10, which can cover a distance of six, eight and 10 miles respectively. Priced at $499, $599 and $699, the three models can be fun for people who know how to skate. But it is a bit tricky when it comes to travelling on it, and unless and until you know how to skate, we would recommend you stay away from it because why would you want to break your neck after paying as much as $499?
But having said that, personal mobility technology is almost as hot as autonomous driving and hence, if you know how to skate then just go for these, they not only look great but it's a great pair of rollers to have it in your possession. Isn't it?
WATCH THE VIDEO TO KNOW MORE ABOUT ROCKETSKATES:
So, why walk anywhere when you can rocket there instead?
Photo Credit: rocketskates.com
Written By : ROUNAK GUHAROY