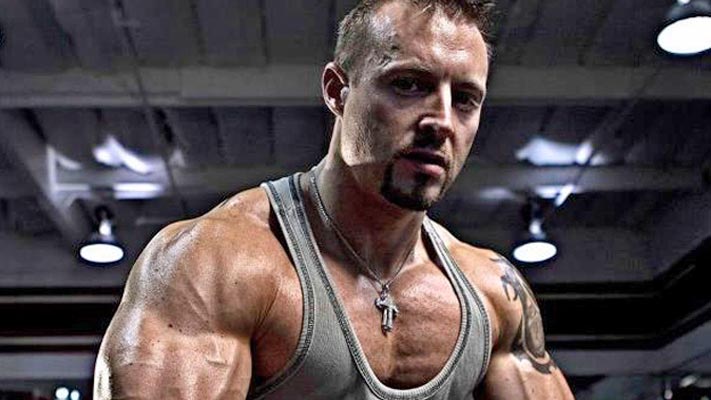 What is the basic principle behind DTP (Dramatic Transformation Principle)?
The basic principle of DTP is to put the body into an environment where no stone is unturned. Every energy system and muscle fibre is taxed, and muscle building plus fat loss is achieved in a very short time.
What prompted you to create a high intensity programme that gives such jaw-dropping results? 
I came up with DTP by accident. I had accumulated several injuries and joint inflammation from years of extremely heavy training. I got good results over the years, but it had got to the stage where I simply wasn't enjoying training anymore because of the pain and obstacles these injuries created. I decided to work around them by going through a phase of rehab, where I would train with more reps, lighter weights and more intensity until I was able to rid my body of the inflammation and pain. As I progressed, I noticed that my body began to evolve with more separation, increased density and an elevated appearance of fullness to the muscle bellies. Due to the intensity and volume, I also experienced increased fat loss due to the calorific requirement of such a workout. The main thing is that I was able to continue to evolve my physique without the worry of injury.
Did you always follow a healthy lifestyle and strict fitness regime? 
It was only when I was around 25 that I began enjoying a healthy lifestyle.
What goes into DTP? Is it for everyone or are their certain requirements.
DTP requires a good cardiovascular capacity, intense focus, minimal
gym equipment
, around 45-60 minutes time spent in the gym and a tolerance for pain. It's not easy, but getting results in a short timeframe was never meant to be. DTP is for everyone, but obviously, it depends on your body's ability and experience. The intensity of the program should be adapted accordingly.
What was training Hrithik Roshan and John Abraham like?
Training Hrithik Roshan and John Abraham was a great experience. I got to learn a lot from them. More than anything, I value the friendship gained from working with people. I'm not generally a people's person, but I have become quite close to John.
What's your personal dietary and exercise regime like?
My personal exercise program and diet consists of eight meals per day, 25 minutes of daily cardio and weight training four times a week; about 45-60 minute sessions. I would like to sleep the recommended eight hours, but I usually only manage only four to five unfortunately. But I never miss a meal or workout. I will always choose commitment over excuse.
What are your tips for people looking to get into shape?
Burn bridges with people who hold you back and build new ones with people who have like-minded goals to the ones you want to achieve.
Be transparent with your goals by telling everyone what you are going to achieve and by when.
Become accountable by writing down all of your meals in a pocket diary, taking progress pictures, finding someone to join you in your journey to help you remain accountable and focus more on consistency more than anything else.
What kind of music do you like working out to?
I like listening to the Rollins Band, Nine Inch Nails, Soil, or anything that has some intensity and energy.
Are there any freestyle forms of exercises that guarantee good results for people who don't have the time for hitting the gym? 
You don't have to go to a gym if you don't have time. There are loads of plyometric exercises such as push-ups, crunches, squats, lunges, jumping jacks and twists that you can do. Even better, a set of resistance bands can imitate almost all of the exercises performed in a gym environment.
Written By : Manasi Rawalgaonkar