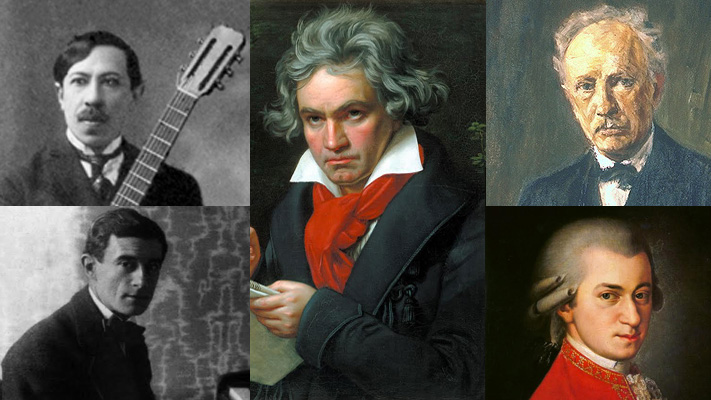 Agustin Barrios, Maurice Ravel, LW Beethoven, Richard Strauss, W A Mozart
'Lacrimosa' by WA Mozart
This sombre, goose bump-inducing chorus is a little gem in Mozart's beautiful 'Requiem Mass' in D Minor. The interesting part is that the requiem itself was only part-written by Mozart, as the master composer died before he could complete it. The piece was commissioned anonymously by Count Franz von Walsegg for his own use. Anxious to receive payment from the Count, Mozart's widow commissioned a series of composers to complete the requiem anonymously;  so she could pass it off as Mozart's own completed work. One of them was F X Süssmayr, a fairly well-known composer of the time. It's interesting how the styles of both composers have met harmoniously in this piece, while still remaining fairly distinct from each other. Mozart's light touch combined with Süssmayr's soothing treatment of the unfinished piece makes this a brilliant collaborative masterpiece.
'Also Sprach Zarathustra' by Richard Strauss
It is possible you have heard the first few bars of this piece somewhere before: they form the theme song for Stanley Kubrick's film,
2001: A space Odyssey
. Richard Strauss composed this piece 72 years earlier, inspired by Nietzsche's philosophical novel by the same name. The piece itself is called a Tone Poem, and describes the various chapters and moods of the book through music. The effect is nothing short of stunning. The piece is packed with tight orchestral scores, quiet, almost menacing sections played on the cello and double-bass, and uplifting parts on the solo violin and flute, accompanied by an orchestra of strings, woodwinds, brass and drums.  It's a brilliantly compact, action-packed piece, constantly suggesting the beginning of something huge and eventful.
'Moonlight Sonata' by LW Beethoven
This quiet, contemplative piece was originally written by Beethoven for his lady pupil, Countess Giulietta Guicciardi. Interestingly, it came to be known as the moonlight sonata only after the great master's death, when Ludwig Rellstab, a popular German poet, compared the effect of the piece to the softness of the moonlight shining upon Lake Lucerne. However, many musicians think that the popular name of this piece might influence the listener into ignoring any other effect originally intended by the composer.
'Una Limosna por el amor de dios' by Agustin Barrios
Agustin Barrios, the great Paraguayan guitar player and composer, was conducting a music class when he was interrupted by six knocks on his door. 'Alms for the love of God!' cried the plaintive voice of an old woman. The composer was filled with pity, compassion and sadness.  The call of the old lady became the name of what was to be his final piece, often considered his best. All the emotions that Barrios went through that day are reflected in the beautiful tremolo filled passages of this piece. Even more touching is the fact that Barrios has cleverly introduced a musical interpretation of the old woman's six knocks on his door, over and over again through the piece.
'Bolero' by Maurice Ravel

This piece may sound very familiar to most of you as you may have heard a version of it played in a men's suit ad on national television, with an army of suit-clad Indian men walking proudly down a garden path. The original, composed by Maurice Ravel in 1928, was inspired by Spanish bullfighters. It's a single movement orchestral piece and was originally intended for a ballet performance. The sheer beauty of the music itself overshadowed the initial ballets that were performed with it, and today, it is almost always performed only by orchestras. The repeating background theme starts off soft, and rises to a crescendo as more and more instruments join in, with the entire orchestra coming together in a crashing finale. A perfect ending for a perfect bullfight!
Written By : Sriram Aravamudan