Fury was screened at the Mumbai Film Festival last October but it is releasing right now in the States, so just a few weeks ago I sat down with Brad Pitt – the star/producer of the film to talk about the film and life in general. We met in New York at the Tribeca Grill.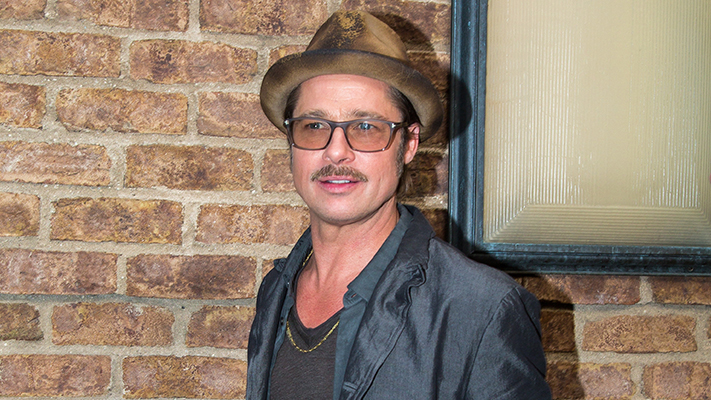 Angelina Jolie was directing Unbroken in Australia at the same time that you were filming Fury in Germany. She told me that you wrote love letters to each other, did you?
Well, normally, we never work at the same time, but this time we got our schedules all wrong. But it was a unique experience for us both to be studying the war—her working in the Pacific Theater, and ours in the European Theater. Of course, we had Skype and email, but we thought it might be interesting to just write letters as they had to do during World War II. It was a time when the troops were away from home for long periods of time without communicating with their loved ones. It is sad that we have kind of lost this art form. When you write, you communicate in a different way; it was a lovely surprise.
Since you don't work together, how do you manage your schedules?
We usually take turns, so if one of us is with the kids, the other works behind the scenes. Sadly, we had to do it this time, but I don't want to do it again. I would have half the kids with me and the other half would be with her. And we would figure out a way for conjugal visits and all, but it was logistically challenging.
By the way, congratulations on your wedding! Do you now feel any different now that you are a married man?
Do I feel like a married man? Yes, I do. We have six kids and all of them were asking us when we were going to get married. So, we thought it would be a lovely thing to do with the whole family. But it was more than just a ceremony; I was surprised at the depth of commitment it signifies.
You live part of the year in France, why is that?
The idea was to get our kids to a place that is away from what they are subjected to in Los Angeles; a place where they can just be kids. We also wanted everyone to learn another language and expand their view, so the kids started with French. Now, they all speak fluent French. We also wanted a European base to travel to some of the other areas around. Plus, we wanted the kids to see where Angie has worked.
So how is your French?
I think my French is pretty good. My writer/director—being my wife—has put a lot of French in the film we are now doing. So I am determined to learn the language.
So Angie is directing you in the film that you are now doing. What kind of a boss is she on the set?
She's tough as nails; there's no hiding that. She wrote this beautiful intimate, elegant European story about a couple dealing with grief; I am surprised at what a challenging piece it was. I watch her set the shots and I am immensely proud. She knows what she is doing and she is good at it.
There are several couples in the film; there's a couple who is just starting out, there's us as a couple, who are 14 years in and are at that stage where we are questioning what the next step is. How do you go through life after having been through all that you have and where does it go from here? And then there are a couple of older men too who run a café, and it all takes place in a hotel room. It is really quite beautiful and elegant.
You have turned 50, what did you imagine that you would be doing when you turned 50?
Yes, I am pretty clear about how I want to live my life and what I want from my kids and my family. That determines everything. I have never been one of those guys who think about the five-year plan or the 10-year plan, I have always gone by instinct and I have great confidence in it. I have developed a radar of what feels right, and it has been my guide.
With everything that you have accomplished, what goals are yet to be achieved?
It's just improving in these fields – films, fatherhood, as a husband and a partner. We spend so much of our lives trying to shake off our own personal demons; I like that about getting older. I still have design aspirations (I'm interested in designing houses) and things that I want to mess around with.
What is the one thing in your life that still amazes you?
I think that it is easy to forget that I came from Oklahoma, Missouri; a place where creating films is not on the list of vocations. So I started out as an extra, and slowly but surely, learned something about the industry. And I think that it is amazing to see where I am today. I am humbled.
What where your dreams and aspirations when you were in your teens? Did you always want to be involved in films?
As a teenager, I was just interested in cars and girls. I did not think that far ahead, other than the realisation that I loved films. I just thought I'll go give that a shot. I have been very fortunate not to be kicked out of the business because as you know, I learned on the job.
Written By : Noel de Souza