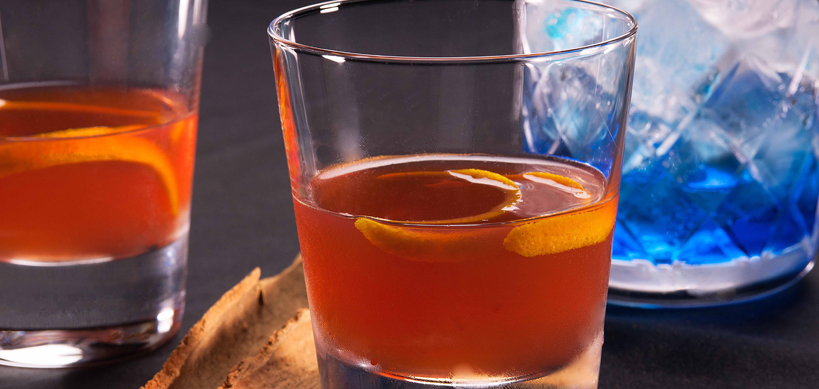 Whiskey is the drink of gentlemen. Its rich, sublime flavours are perfect for an evening spent in the company of a fine Cuban cigar and soothing jazz. Add a gregarious spin to this premium spirit by using it as a base for classy cocktails.
Mixing these scintillating concoctions, Dinesh Babu, Bar Executive at Reflections, JW Marriott Mumbai, says that the trick to whiskey cocktails is to balance the flavours well by opting for a sweet and sour mix instead of letting the flavour of the single malt dominate. "Keep experimenting with various cocktail recipes till you find the perfect balance of flavours," he advises.
1. THE GLENTLEMEN'S
An ideal balance of rich flavours form the perfect cocktail.
Ingredients
120ml boiling water
45ml Glenfiddich 12 Year Old Single Malt Scotch Whiskey
15ml sweet vermouth
10ml cherry liqueur
1 tsp absinthe (bar spoon)
pinch of cinnamon powder
Method
Take two large metal mugs. Add the boiling water to one and the remaining ingredients, except for the cinnamon powder, to the second one.
Using a blow torch or a smoke gun, ignite the second mug with fire for a smoky flavour.
Roll the ingredients in both the mugs thoroughly.
Then mix the water with the other ingredients.
Once thoroughly mixed, add cinnamon and quickly cap one mug with the other.
Serve with an orange peel as garnish.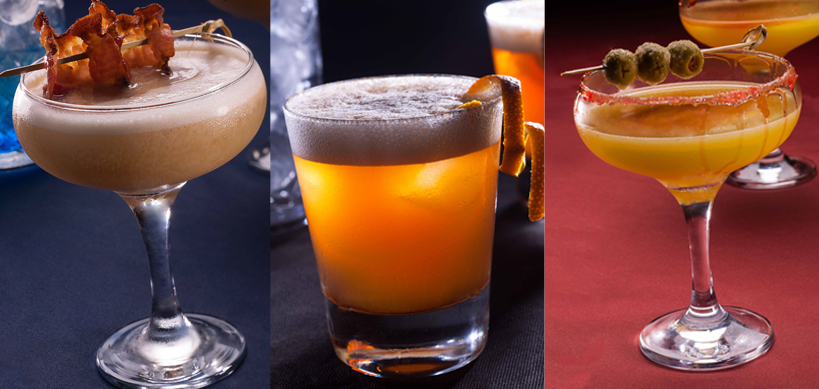 2. BACON MARTINI
A concoction of bacon and whiskey. Need we say more?
Ingredients
60ml American whiskey
1 egg white, finely beaten in a blender
25ml maple syrup
20ml lemon juice
1/4tsp Angostura bitters
Method
Fat fry some bacon and mix it with the whiskey. Freeze this mixture for two hours.
Remove the solidified layer of fat and double strain the whiskey. This infuses your whiskey with a bacon flavour.
Dry shake all the ingredients without ice.
Add ice and shake again it again before pouring the mixture into a glass.
Garnish with a bacon crisp.
3. THE VESSEL 75
Versatile and edgy, this cocktail is perfect for a party.
Ingredients
60ml bourbon
1 tsp Angostura bitters
4 egg whites
180ml water
120ml maple syrup
60ml lemon juice
For garnish
2 tbsp whipped cream
1tbsp maple syrup
Orange peel
Method
Place all ingredients into a canister. Refrigerate them for 2-3 hours.
Strain the mixture into a glass.
For garnish
Mix the whipped cream and the maple syrup together and beat it till it becomes foamy.
Garnish with an orange peel and serve.
4. MAGIC OF 3
Three distinct flavours come together in this interesting mix.
Ingredients
60ml Singleton 12 year old single malt
30ml freshly squeezed orange juice
30 ml honey water syrup
1 lime juice, freshly squeezed
1/4 tsp Angostura bitters
Method
Put the Angostura bitters at the bottom of the glass.
Fill it with ice and add whiskey, orange juice, honey water syrup and lime juice.
Shake and strain the mixture into a glass.
Garnish the rim with dust of Campari.
For Campari dust
Pour some Campari in a plate and store it in a dark and dry place for 2-3 days.
Remove the residual sugar from the mixture formed. Serve the Campari dust.
Written By : Manasi Rawalgaonkar