Have you ever stepped into what men commonly refer to as the 'man cave'? A place where no rules apply, and where women aren't meant to step in. Yes, it is here where you will find the staples that fuel the male appetite: beer, chips and meat! And while this is fine when you're hanging out with the lads over a night of poker or watching a big game. But what happens when the lady friend pays a visit? Or when your mother or sister comes over for an unexpected visit?
Here is when you need to scramble for the basics and bring out that inner chef. If you're a bachelor living on your own, it's easy for people to assume that you don't really cook well or cook at all, for that matter. Eating out all the time or filling up on junk doesn't just affect your health, but it can also be heavy on the pocket. You can change all that by whipping up a few kitchen basics with these simple, easy-to-make recipes that you can whip up at any time of the day.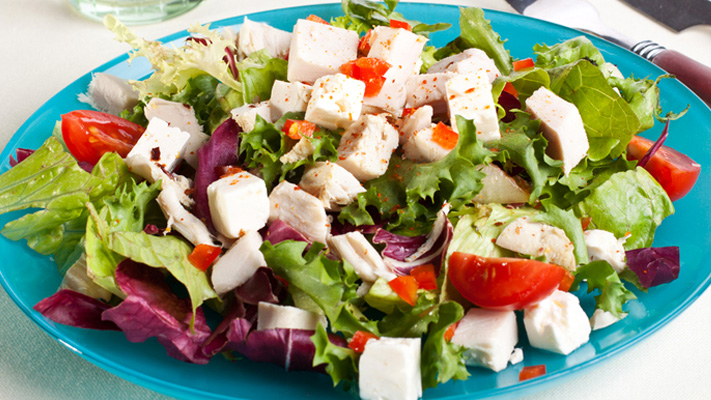 Warm Roasted Tomato and Paneer Salad
Quick and easy, this delicious salad makes for a light meal.
Serves: Two
Time: 15-20 minutes
Ingredients
3 tomatoes, halved
1 clove of garlic
300g fresh paneer, cubed
2 tbsp olive oil
300g spinach leaves
1 tbsp roasted almonds, slivered
salt, for seasoning
Method
Preheat the oven to 300°C and grease a baking sheet.
Toss in the tomatoes and top them with olive oil, garlic and a pinch of salt. Roast for about 10 minutes tossing occasionally.
While the tomatoes are in the oven, heat a bit of olive oil in a pan and sauté the spinach leaves for just about a minute and spread them out onto a serving platter.
Place the tomatoes on top and the juice that is in the baking tray.
Add the paneer cubes and sprinkle the slivered almonds on top for a bit of crunch. Serve fresh.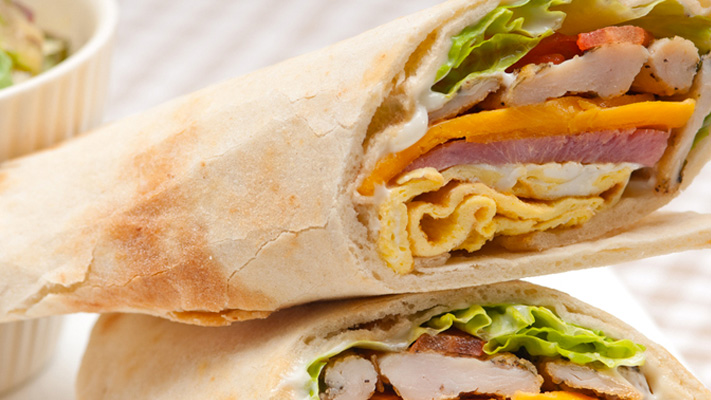 Easy Spicy Chicken Wraps
Crunchy tortilla and spicy chicken make for a tasty yet healthy combination.
Serves: Four
Time: 20 minutes
Ingredients
3 tbsp any vegetable oil
800g chicken pieces, boneless
2 tbsp lime juice
3 large tomatoes, chopped
1/2 cup grated cheese
8 readymade tortilla wraps
1/2 iceberg lettuce head
1 large onion, sliced
1 packet sweet corn kernels
4 tbsp peri peri (or any hot sauce)
1 tub plain yoghurt
salt and pepper, for seasoning
Method
Brush the chicken pieces with oil, a pinch of salt and hot sauce, and cook in a pan for about five to seven minutes until the chicken is cooked all through. Remove and transfer to a bowl. In the same pan, heat the tortilla wraps until they are just warm and remove.
Use the same pan to toss in the tomatoes, corn kernels and lime juice. Cook this mixture until the juices of the tomato have been released and keep aside. Season with salt and pepper.
To assemble the wraps, lay the tortillas flat in a plate. Fill them with the chicken pieces, top with the tomato and corn kernel mixture, add a few slices of onion, a few lettuce leaves and top with a dollop of yoghurt and a generous amount of cheese.
Wrap them up, and your burrito is ready to eat.
Tip: For a hit of extra chilli, add a couple of sliced jalapenos.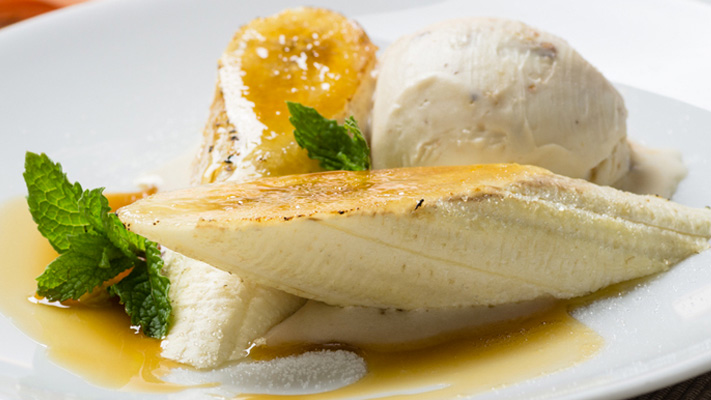 Caramelised Bananas with Ice Cream
Vanilla ice cream, bananas and caramel, what's not to like?
Serves: Four
Time: 15 minutes
Ingredients
1 tub vanilla ice cream
2 tbsp butter
1/2 cup brown sugar
2 tbsp dark rum (optional)
3 bananas peeled, halved and sliced lengthwise
Method
In a pan, heat the butter, sugar and rum on a medium flame for about four to five minutes until smooth and bubbly.
Add the bananas and swirl them around the pan until soft and gooey for about two minutes.
In a bowl, put two generous scoops of vanilla ice cream and top with the caramalised bananas and a few spoons of caramel sauce. Serve immediately
Written By : Gitanjali Diwan