What do you look for in choosing a single malt?
Broadly speaking, you can categorise single malts into smooth/sweet and stronger/peatier/smokier. I'm simplifying things to a large degree, but this is true at a broad level. I love both, smooth and peaty, and what I drink really depends on my mood. I have a list of potential acquisitions on my phone and I look for those when shopping. When I walk into a store, my research is already pre-done and I systematically strike the names off my list as I get my hands on them. What goes on my list could either be something I've tried, something I've read about or something someone else has recommended to me.
Your first and last dram.
My first was a regular plain vanilla Glenfiddich and the last one was the Bruichladdich Black Art.
Some of your favourite smoothest whiskies.
Yamazaki 18 years from Suntory, The Glenlivet Nadurra and Glenmorangie Quinta Rubin.
Name some of your favourite stronger/smokier/peatier whiskies.
Ardbeg Corryvreckan, Laphroaig Quarter Cask and Lagavulin Distiller's Choice. They generally hail from the Isle of Islay.
Any others worth mentioning that don't fall into either of the above categories?
The Balvenie 30 and Talisker 18.
How do you drink your whisky?
I prefer it neat, followed by a second pour with two to three cubes of ice depending on the size of the cubes. It's like having two different drinks.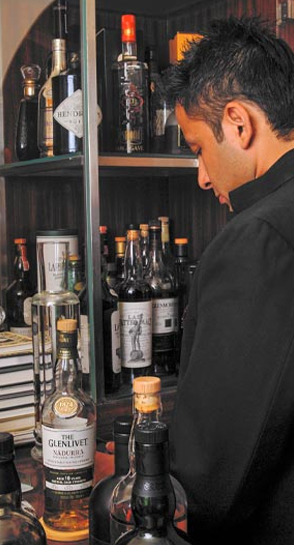 Your favourite time to enjoy a single malt.
At home, in the evening, after the kids go to bed, right before dinner, chilling with my wife, while she sips a glass of wine.
One dram you can't live without.
The Balvenie 14.
Your definition of the perfect single malt bar.
The perfect single malt bar should either be transparent or open-faced to easily spot forgotten bottles that haven't been touched in a year or longer. The repertoire should be a well-balanced mix of peaty, smoky and smooth. From a geographical perspective, you want to see a good representation of distilleries from different regions of Scotland—the Highlands, the Lowlands, Speyside, the Isle of Islay and the Isle of Skye. Also, throw in Japan and other exoticisms for good measure. For example, Amrut from Bengaluru, which is regarded by many around the world to be one of the finest whiskies today.
Your favourite bottle.
My favourite bottle is actually not a single malt at all but a blended whisky. It's called Nikka Whisky from The Barrel. I love the bottle for its simplicity of design and unexpectedness. It almost looks more like a giant bottle of cologne than a whisky. And it's an excellent whisky, I might add. My favourite blended malt.
Written By : Manish Mishra