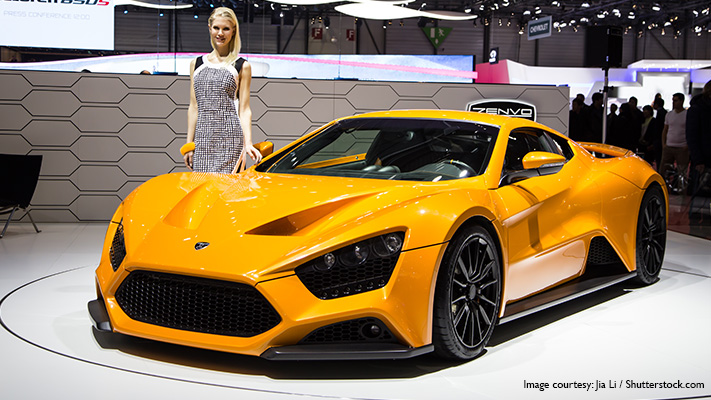 #7 Zenvo ST1
Developed by a little-known Danish company, Zenvo Automotive, this track rocket was designed for everyday driving. To that end it has three modes: Normal with 650 bhp output, Sport with 850 bhp and Race with an atrocious 1,104 bhp. In Normal and Sport modes, traction control is at hand, but in Race mode, the driver is left to fend for himself. All this power is developed by a 7-litre V8 engine with twin chargers. The car will breach 100 kmph from standstill in less than 2.9 seconds, with a top speed of 374 kmph.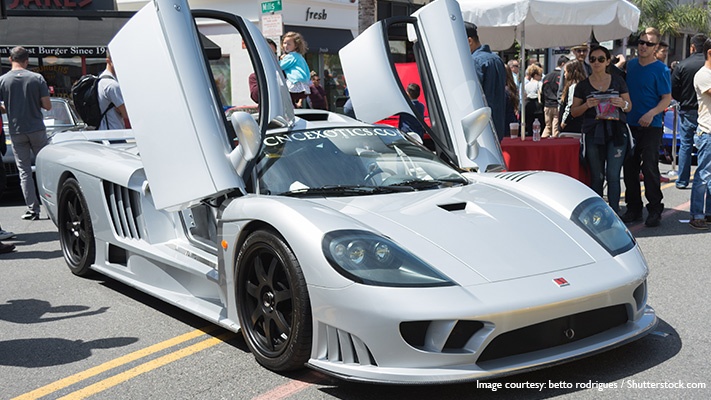 #6 Saleen S7
Back in 2000, Saleen, a well-known American muscle car tuner, developed Saleen S7 from the ground up, featuring an Aluminum twin turbo V8 engine that developed speeds of 750 hp. It reached 100 kmph from standstill in about 2.8 seconds and would hit 399 kmph when allowed to run free. The model was removed from production in 2004 as they developed their next highlight, the S7S Raptor, which was designed to go even faster and run on E85 ethanol. Unfortunately, the company went bust before the S7S Raptor took to the roads, but there are still a few S7s running on the roads.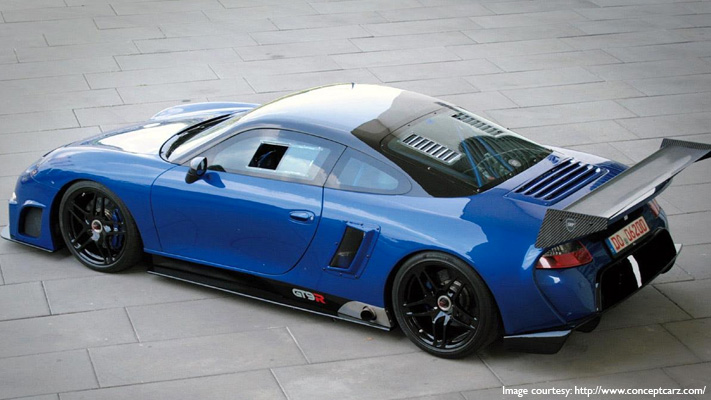 #5 9FF GT9-R

Developed in Germany using a German product, car tuning company 9FF specialises in converting stock
Porsche
911 GT3s into little rockets, which can speed to a 100 kmph from standstill in 2.9 seconds with a top speed of 413 kmph. All this with a 4-litre twin turbo flat six engine which develops 1,120 hp. 9FF believes that no two cars developed by them should look the same, so they offer a host of modifications both on the exterior and interior apart from stripping the interiors and fitting a roll-cage for safety. All the cars produced by them are road legal.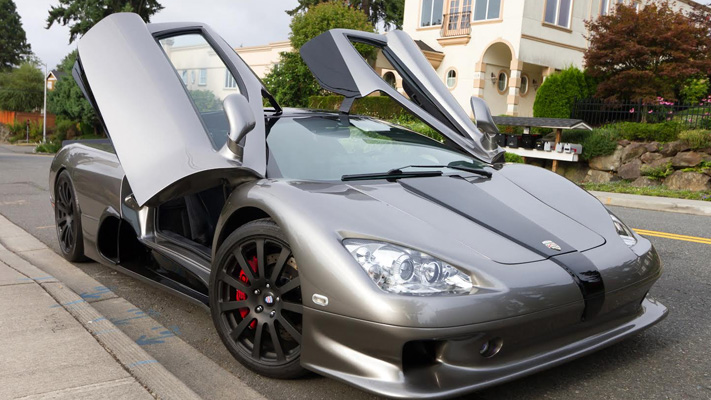 #4 SSC Ultimate Aero
At number 4, the SC Ultimate Aero features a twin turbo V8 engine that produces 1,183 hp, which enables it to go from 0–100 kmph in just 2.7 seconds with a top speed of 413 kmph. This was in fact the fastest car between 2007 and 2010. This car set the high speed record on a public highway in Washington where it was clocked running at 413 kmph!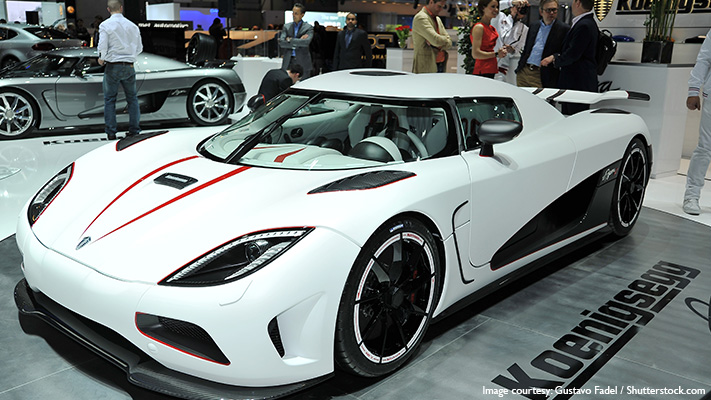 #3 Koenigsegg Agera R

Koenigsegg, a company developed by Swede Christian von Koenigsegg, converted its founder's childhood dream into reality. The company's reputation has grown overtime and it is well known for its temperamental fast cars. The Agera R, meaning 'take action', has a top speed of 418 kmph and takes 2.8 seconds to reach 100 kmph from standstill. Powered by a 5-litre twin turbocharged V8 engine, the motor develops 1,140 hp. Designed to look stunning, this car features scissor doors, a perfect fit for a hypercar. It is also available as a
convertible
with a manually removable roof panel. The 'roof' can be stored in the hood of the car.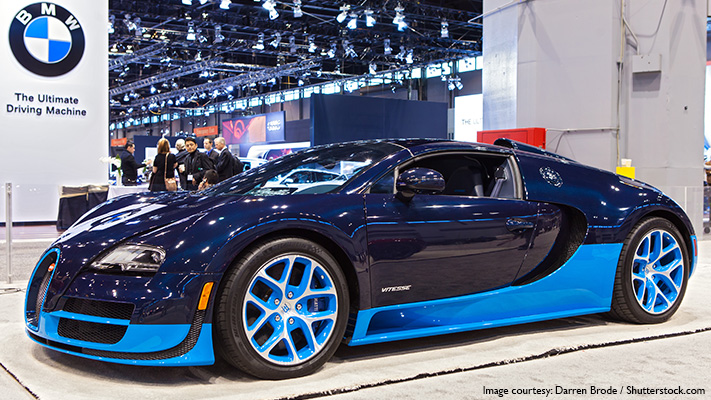 #2 Bugatti Veyron

Bringing back the Bugatti brand into prevalence, the folks at Volkswagen developed this masterpiece, which was the fastest car in the world from 2010 to 2014. With a 0–100 kmph in the time of 2.4 seconds and a top speed of 431 kmph, this is more than just a
car
. It is powered by an 8-litre W16 cylinder motor and produces 1,200 hp. Seeing is believing as the car epitomises elegance and uses the best technology in the automotive world.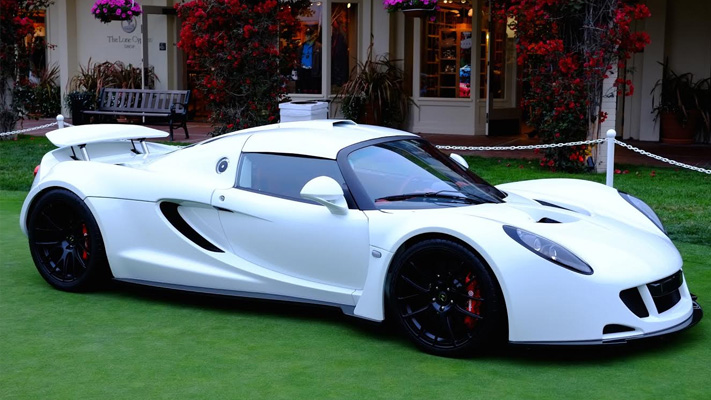 #1 Hennessey Venom GT
Here it is … inarguably the fastest car in the world! The car has been clocked doing 435 kmph on the NASA Runway which stretches just over 5 km. In order to have the honours of being christened the fastest car in the world, a car has to do the run both ways on the same track. However, NASA did not allow the second run! The 7-litre twin turbo engine generates 1,244 hp and allows the car to go from 0–100 kmph in 2.5 seconds.
Written By : Rishabh Agarwal