When it comes to European fare, Indigo certainly tops the list of restaurants in Mumbai that serve a wide range of authentic European dishes. So when the European Union launched their 'Tastes of Europe' campaign with a Restaurant Week in the city in a bid to promote the varied cuisines of Europe, Indigo was an obvious choice.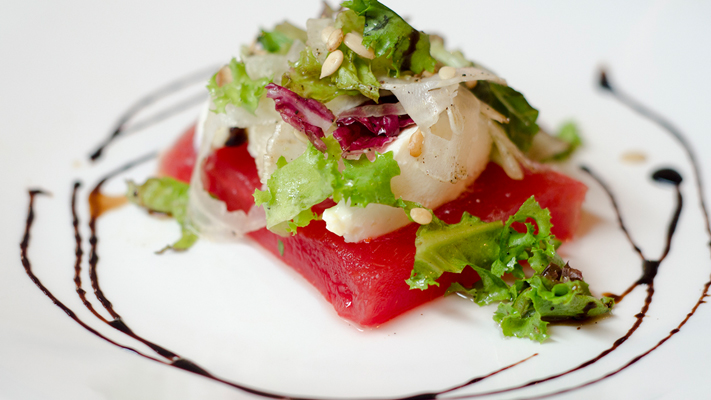 The interiors
The interiors of the quaint bungalow Indigo resides in are spelled by solid-coloured walls, teakwood furniture, sandstone flooring and minimalist décor. Sitting in the dining room on the ground floor, I was fortunate to bag a table adjacent to the serene blue pond decorated with marigold flowers that was illuminated with natural light peeking through the ceiling. The music was soothing and didn't overpower our conversations, which was really appreciated.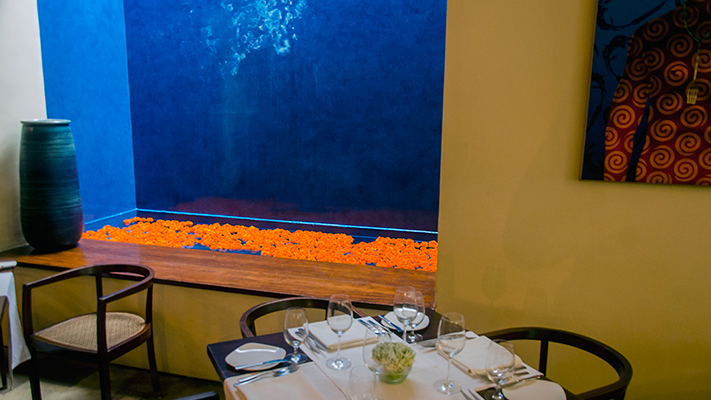 The inspiration behind the menu
As I browsed the special menu, I was fascinated by the unusual ingredients that were chosen such as rhubarb, artichokes and truffles, in combinations like cauliflower fettuccini with truffles, panna cotta with rhubarb confit and strawberry champagne consommé, and smoked artichoke hearts with parmesan crème brûlée, shaved fennel and olive melba. I quizzed Chef Nitin Patel about his inspiration for these curious combinations and he shared, "I planned the menu keeping in mind the onset of summer, so the food is light and prepared using fresh, local ingredients. Also, Indigo is known to be a trendsetter for experimenting with new ingredients, so we always look for exclusive ingredients that are not easily available and those that people don't use at home because that is why they come to a restaurant. You have to give them something unique."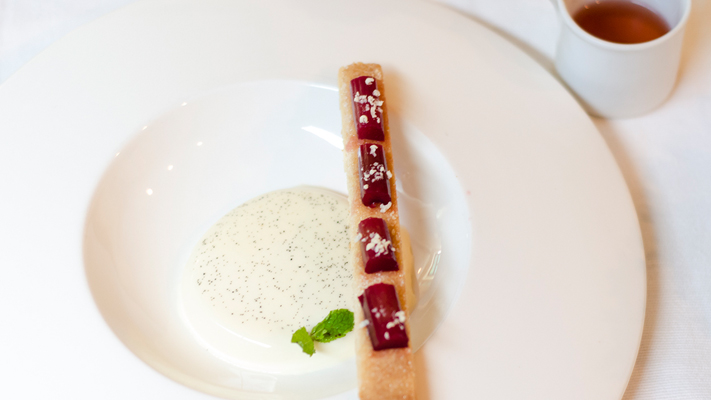 The food
Being vegetarians, my colleague and I ordered the pressed watermelon chilli vodka with whipped feta, fennel and pumpkin seeds and the pan seared herb gnocchi, peanuts forest mushroom, garlic purée, arugula for our first course, the fresh green garlic fettuccini roasted cauliflower, cauliflower sauce with truffle and the beetroot risotto with roasted beets, gorgonzola, radish and fenugreek leaves for our second course. Still, I was quite apprehensive to try the unusual preparations seeing that most restaurants don't quite give impetus to vegetarian food as compared to non-vegetarian dishes. However, I was pleasantly surprised to see that the vegetarian fare was quite delicious.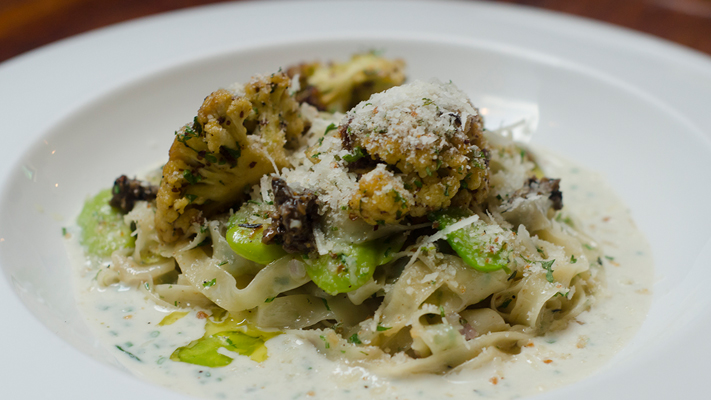 The cauliflower fettuccini with truffles was an interesting combination, but I didn't particularly enjoy the chunks of cauliflower in it. I asked Chef Nitin what made him consider cauliflower and truffles a good match, "I wanted to do something with truffles, which have a predominant flavour, so I needed to pair them with something that doesn't cut down its flavour, but enhances it instead. For this I needed something that was neutral in taste and had a buttery flavour, and so I chose cauliflower."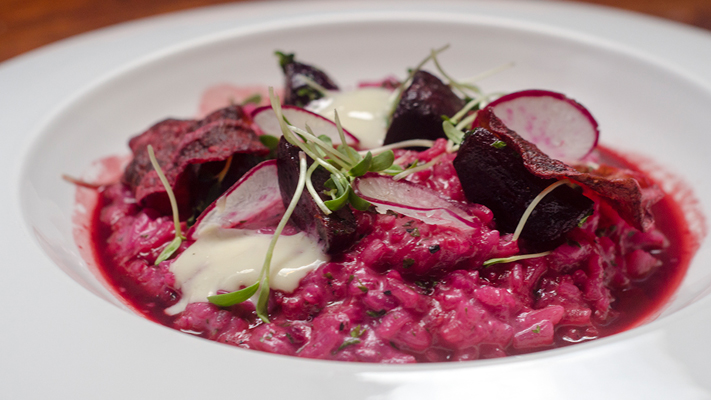 The beetroot risotto was really delicious, but when it comes to beetroot, not many people like the vegetable at all. Chef Nitin wanted to change that very perception, "Beetroot is not universally liked, so I wanted to prepare it in a way that made it interesting. I used beetroot puree and a reduction of beetroot juice with a little red wine when preparing the risotto." And he wasn't wrong. The beetroot combined with creamy gorgonzola, radish and fenugreek leaves was a delicious mix of flavours that paired really well together as no one flavour overpowered the other.
The desserts
Selecting a dessert is certainly one of life's most difficult choices, so we just ordered all three! The not so sweet chocolate truffle with chèvre brûlée was beautifully offset by sour cherries, but the truffle itself was a hardened and not easy to take a bite of. The delicate panna cotta with rhubarb confit would truly be incomplete without the intoxicating strawberry champagne consommé. The macchiato brûlée had a lovely balance of flavours and was not too sweet, but the custard doughnuts were a little doughy. However, it was the perfect way to end the meal. As Chef Nitin put it "We came up with the macchiato brûlée because we wanted to represent the European culture of drinking coffee after their meal."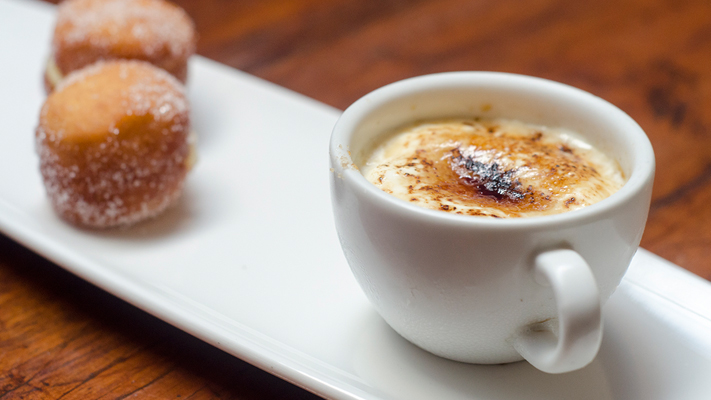 In conclusion, this was one of the best vegetarian meals I'd ever had with flavours that teased the palate and introduced me combinations that unexpectedly synchorised well together.
Written By : Ruchika Vyas Photos by Ravi Bohra