Appenzell in north-eastern Switzerland is perhaps one of the last landscapes relatively unexplored by most tourists. Barely a couple of hours by train from Zurich, Appenzell borders Austria and Liechtenstein, with the curling Rhine and the massifs of the Alpstein range for picturesque natural borders. The Swiss canton's rural charm and rugged hiking trails draw visitors from all over, and adventurous Indians are only beginning to discover its charms. From discovering folk traditions and crafts to savouring the fabled local
cheese
, here's a brief guide to getting the most out of Appenzell.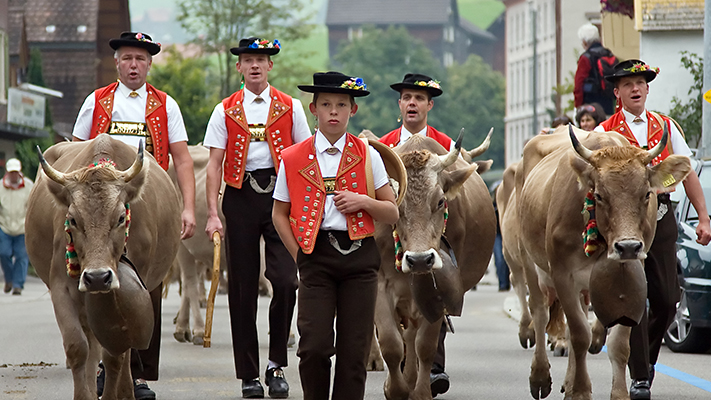 The herds descend
Summer's end (late August and early September) is the time of the Alpine Descent—when herds of cows make their ceremonious descent from the hills. Harmonised cowbells tinkling, the beauteous bovines low as they head downhill, led by cowhands in festive costumes—yellow-painted leather breeches, white knitted knee-length socks and red, collarless jackets over white shirts. Townsfolk line the streets, offering the herdsmen refreshing cider as they pass in procession with their goats, sheep, dogs and horses.
Yodel all the way
Yodelling is the sound of summer in the Alpstein. Herdsmen are often heard before they are seen, if you will pardon the pun. Naturjodel began as a rustic form of signalling across the mountains and has since evolved into an art form. Men and women perform a capella or to the accompaniment of dulcimers, accordions and strings in a performance that often culminates in Talerschwingen, in which a five-franc coin is rolled inside a heavy glazed bowl. Throw in an alphorn, and you have a party.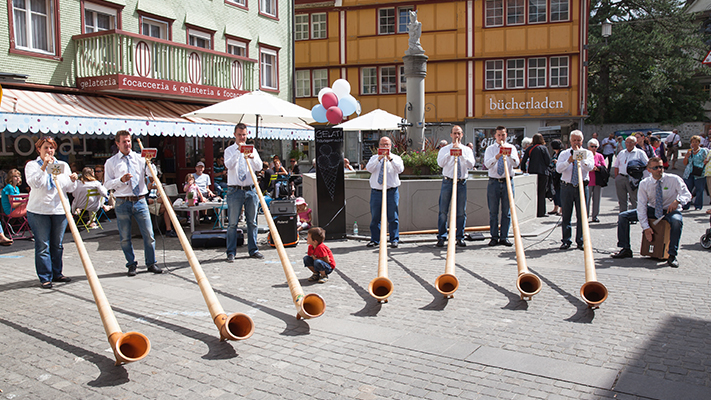 Locks of love
Among the most intriguing craftsmen in residence at the Appenzell Museum, which showcases a treasure of crafts, is Jakob Schass, a gentle young man in a wheelchair who makes remarkably beautiful jewellery from human hair. Disturbing as that may sound, it's quite endearing. Locks of hair, collected from the head of a loved one, are washed before Schass braids them with gold and silver thread and tiny gemstones, conjuring up exquisite creations. Nudge him a bit and the shy artist will show you his wedding ring, which he fashioned from a lock of his wife's hair.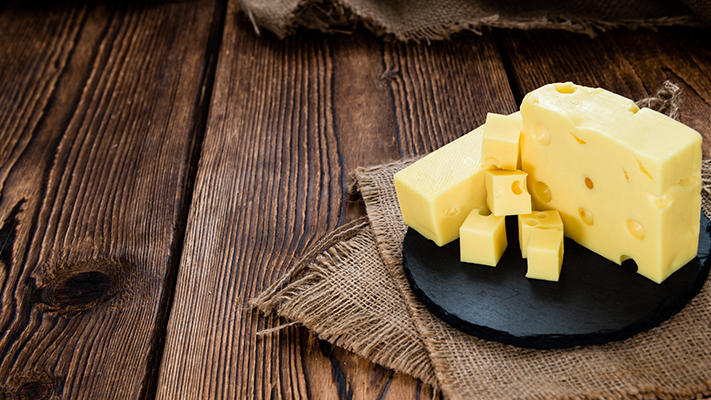 Cheese and prayers

What's a Swiss trip sans cheese? In Appenzell, you can visit
artisanal
cheese dairies set against breathtaking alpine backdrops and clear mountain lakes, and spend time in conversation with the farmers' families, learning about their pastoral life and rubbing noses with their cattle. Come eventide, the bearded paterfamilias walks to a cliff edge where stands a tall wooden cross and recites Betruf, an evening prayer call, in a sonorous singsong voice that echoes in the amphitheatre of hills. It's like a scene out of
Heidi
.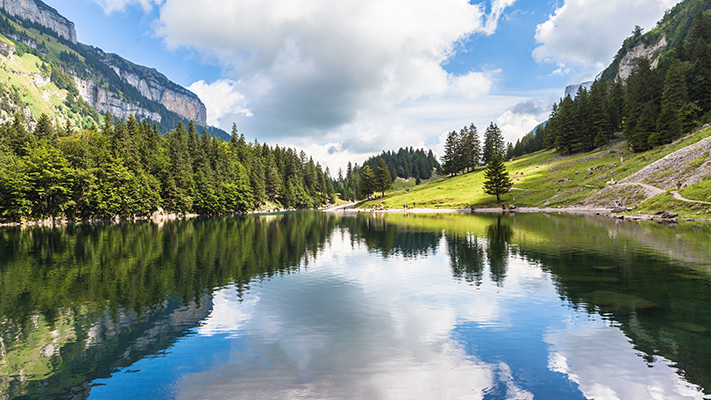 Lights out, mountain inn
Want to holiday as the Swiss do? The recipe is a long day of alpine hiking, followed by an innervating supper of bratwurst, Rösti and fresh apple cider, a hot shower and a restful night at a mountain inn. The berggasthaus, or mountain inn, is usually family-run and open for business during the summers. Spartan and bucolic but also cosy and comfortable, the berggasthaus complements the active lifestyle of the Swiss perfectly. It's not uncommon to share your dorm with fellow-hikers in their 60's. Appenzell's mountain inns overlook some of the most stunning scenery in the Alpstein and it's a shame to miss out on the experience.
Written By : Bijoy Venugopal