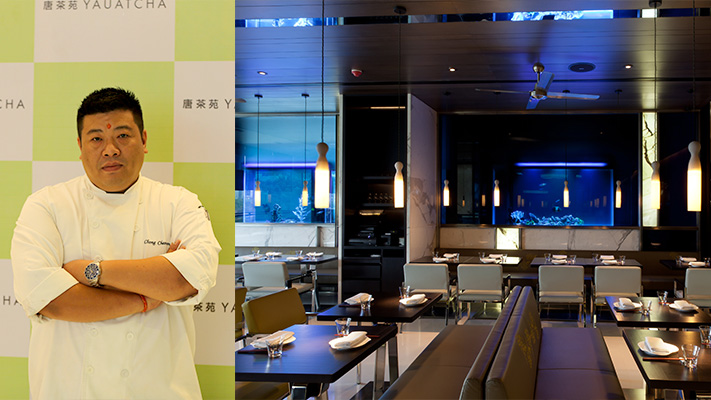 Almost a Mumbai staple now, it is surprising to realise that it has only been three years since Yauatcha's Michelin-starred Cantonese fare came to set a new standard for dim sums and
tea
at the Bandra Kurla Complex. If its filled-to-brim seating and 'by reservation only' edicts are any indication, then it certainly is popular in Mumbai's bustling business district. However, Yauatcha's constant innovation, especially when it comes to suiting local tastes and preferences (while keeping the flavours inherently Chinese), keeps its food current and its list of admirers growing.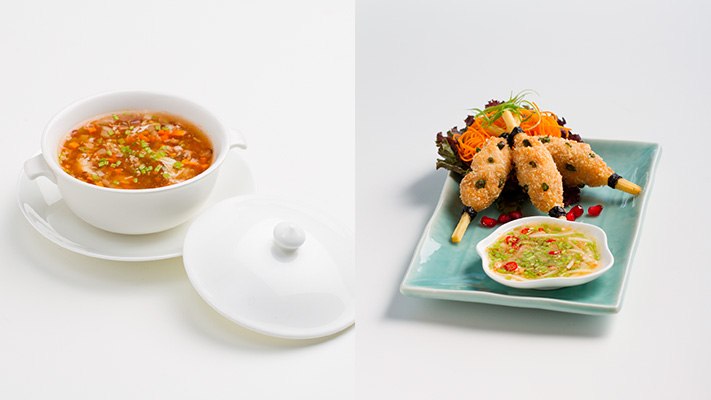 What's new?
Celebrating its third anniversary with delicious additions to the menu to whet local palettes, Yauatcha's expat chef Chong Chee Loong created a list of novel dishes including the chicken and prawn sugarcane roll, the shredded lamb soup with celery and mushroom and the pan fried satay chicken bun among others. Unable to resist, we went for a tasting and noticed a buzzing crowd dotting its seductively lit bar area and its 200-strong dining area almost fully occupied. The closely-set tables and diners are offset by the restaurant's wall of bay windows, which, in the evenings offer a glitteringly view of BKC's high rise office complexes that somehow complement the two large aquariums, which form the basis of its minimalist, bluesy décor.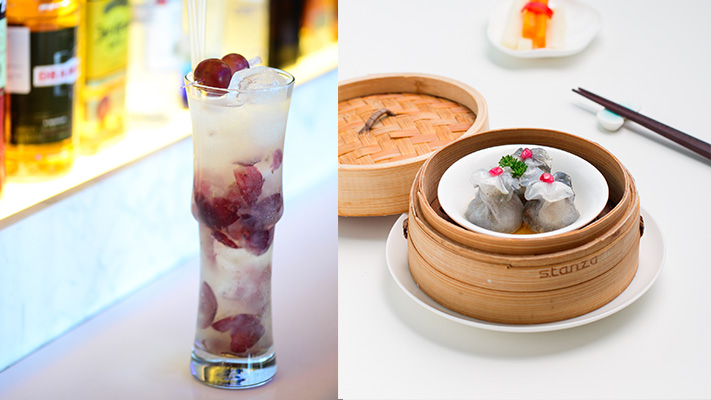 Appetizers

If there's one phrase we would use to describe Yauatcha's
cocktails
, it would be 'creatively Cantonese'. This time too, both the chili martini (which had that tantalizing hit of red chilli to counter its sweetness) and the lalu (Ketel One vodka with lemongrass and oolong tea) were perfect accompaniments to the appetizers. The new ying yang dumplings, which contained immensely fragrant king mushrooms tossed with a few spices, also had a bit of sesame added to the dough, both, to balance the flavour and add a touch of that delectable, dark colour. It was our favourite vegetarian appetizer. We also enjoyed the prawn and seaweed dumplings, which came in a bowl floating on a mix of soulful light and dark soy, which Yauatcha has perfected.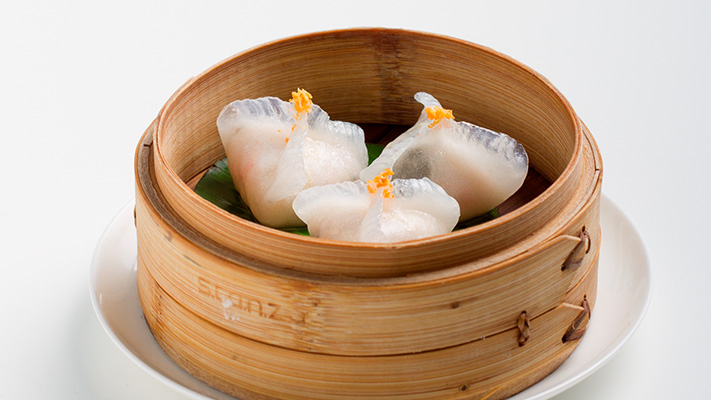 Another standout starter was the endamame prawn cheung fun—endamame flavoured rolls featuring crispy Japanese seaweed and succulent pieces of prawn along with a sliver of an omelet—which had the perfection of texture and superior taste that had us reaching for more. I have to mention the black pepper
duck
puff, whose crispy outer crust of taro and flour beautifully complemented its shredded duck and onion filling. And if you haven't had enough of the prawns (and who can really say that?!), don't miss the crispy golden pumpkin prawns, which is so different (and so scrumptious) that it, for us, was the poster boy for Yauatcha's new menu.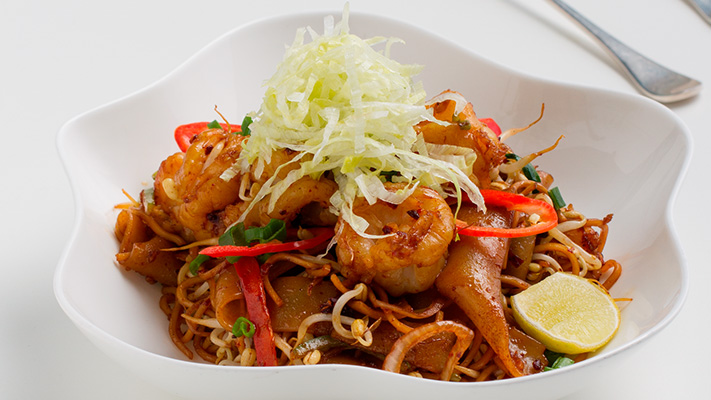 Mains
Though we couldn't do justice to the mains after such an emperor's feast, we were impressed with the Penang style old town prawn noodles as well as the ubiquitous egg fried rice, elevated by the sticky grain and fresh spring onion, so much so that my colleague and I simply added Yauatcha's signature chilli oil to our egg fried rice and took to the task with our chopsticks! The four style vegetables in mountain chilli sauce was a nod to vegetarians with crunchy, fresh ingredients while the chicken in hometown chille sauce had a sweet and sour flavor, inspired by the Chef's home style cooking.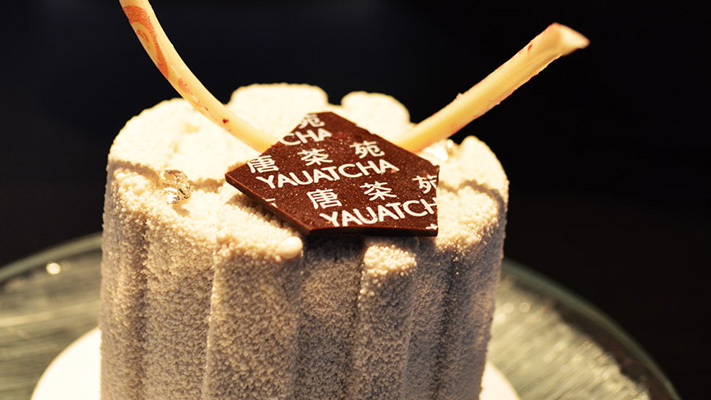 Just Deserts!
With dwindling room for dessert, we rallied ourselves only to see the elegant jasmine tea cake with jasmine ganache, mousse and honey milk panna cotta brought to our table. The subtle flavour of jasmine with the honey simply soothed our taste buds and brought our long, but supremely enjoyable, culinary visit to a close.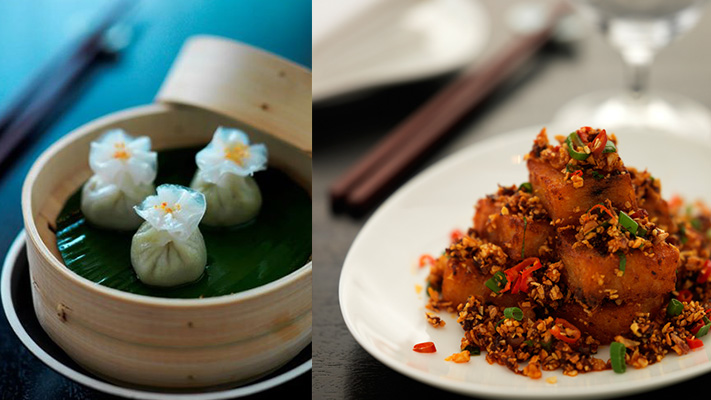 The Verdict
Yauatcha's dim sums clearly steal the show (and they're meant to; after all, the restaurant is known as a dim sum house) so we'd recommend you skip the mains and celebrate your meal with the appetizers and desserts. Apart from the ying yang dumpling, endamame prawn cheun fun and the duck puff, don't forget old favourites like the fried turnip cakes (crispy turnip topped with fried garlic and spring onion) and the truffle endamame dumplings. Try the raspberry delice for that hit of tart fruit with dark chocolate, and if you are in the mood for something heavier, the hazelnut chocolate mousse, which always, always does the trick. Bon Appetit!
Price: Meal for two at approx INR 3000 + taxes
Location: Yauatcha Mumbai, First Floor, Raheja Tower, Bandra Kurla Complex, Bandra East, Mumbai, Maharashtra- 400051
Written By : Nirati Agarwal