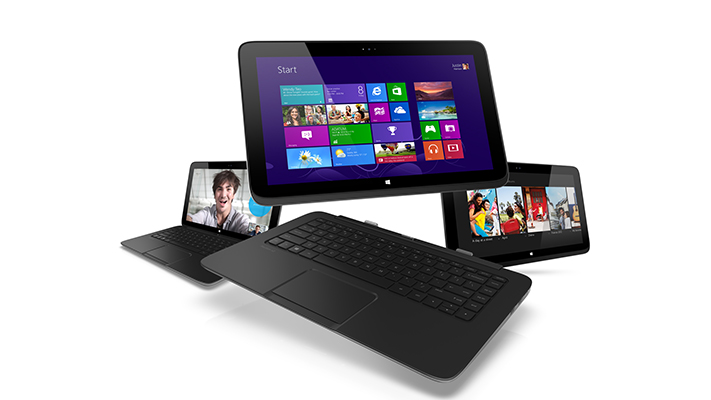 Specifications:
11.6-inch Touchscreen (1366×768 pixels) | 2GHz quad-core Intel Pentium N3510 processor | 4GB DDR3 RAM | 64GB SSD + microSD slot (tablet) + 3-in-1 memory card reader (base) | 1080p front and rear cameras | Wi-Fi, Bluetooth 4, HDMI | 2-cell battery (tablet), 2-cell battery (base) | Windows 8 | Price: ₹59,990
While the iPad is the current king of tablets, with Android hot on its heels, Microsoft has adopted a different strategy. Where Apple and Google share an OS for mobile phones and tablets, while having a different OS for their computers, Microsoft shares its OS between its tablets and PCs. Mobiles are put on a different platform. The result is that tablets running Windows 8 have the familiar Windows you have known for all these years, wrapped in a new touch-friendly 'Modern UI', made up of glitzy, always-updating tiles.
The Hybrid's Limitations
This distinction is important because it's what makes it worthwhile to have tablet-notebook hybrids running on Windows 8, where the tablet gets attached to a keyboard dock. HP's latest, the Pavilion11 x2 thinks this is how a Windows machine should now work and the company might not be entirely off-base about that.
The Pavilion11 x2 is mainly a notebook PC for the office-goer on the move. Fire up the desktop mode on the 11-inch touchscreen and it's got everything you'd need to run most of the tasks needed in the office—a full-fledged MS Office suite, a proper desktop internet browser, and a few other programs that you may have come to rely on in the course of your professional life. To put it bluntly, there's no need to relearn the tools of your trade; it's what you've been using all these years. And that's a big factor, if you ask me. After all, technology is meant to get out of the way and let you be productive. If Windows already works for you, there's no need to relearn how to do the same tasks in new software on an iPad or an Android, especially since those platforms don't offer apps with the same robust features as something like MS Office or professional software like Adobe Photoshop.
Build and Stability
Attached to a keyboard, this is a proper laptop just like any other you would find. It does the job without complaints. Usually, such tablet-laptop hybrids have a weak hinge and the screen wobbles as a result; but the Pavilion11 x2 is an exception with a sturdy, stable screen. The dock also has a trackpad to use as a mouse so you needn't moving your hand from the keyboard to the touchscreen all the time.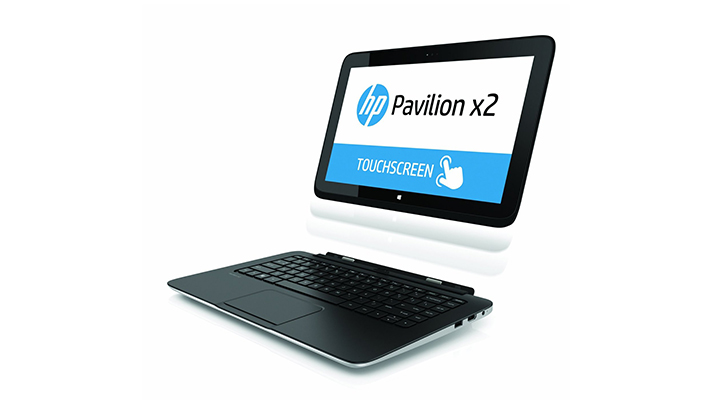 Inner Capacity
Under the hood, the dual-core Intel processor is fine for the office tasks we noted above, but not for more resource-intensive uses like heavy image editing, video editing or even a power user's needs of opening 20 tabs in Chrome while multi-tasking between several other programs—the Pavilion11 x2 can't keep up with you if that's how you use your computer.
The one bright side of the hardware is the battery life. Individually, both the tablet and the keyboard dock give about 3.5 to 4 hours of battery life. Together, you can expect to use the Pavilion11 x2 for seven to eight hours without needing to reach for a power outlet. That's more than what most Windows laptops will give you.
The App Store-y
When you detach the screen and use it as a standalone tablet, you realise the limitations of Windows 8 as a tablet OS. The iPad has a huge App Store full of great programs and games made for it, and Android is slowly building a similar database. Windows is far, far behind at the moment. You will miss out on some of your favourite apps and games, and the alternatives don't match up to what you get on iOS or Android. If you're going to do very basic tasks—say reading a book on the Kindle app or playing Angry Birds or browsing a few websites and checking email—then it's fine as a tablet experience. And remember, on its own, the tablet's battery life is only 3.5 to 4 hours, which is less than half of the iPad or many Android tablets like the Samsung Galaxy Note 10.1. So if you expect HP to replace your iPad, think again.
This is a notebook that's good for the professional traveller who doesn't want to carry a second tablet with him. But you need to be a frequent traveller to really get value out of the ₹59,990 you spend on it. If that's not you, you're probably better off with a good Windows notebook PC for around 40,000 and an iPad Mini.
Written By : Clark Wayne