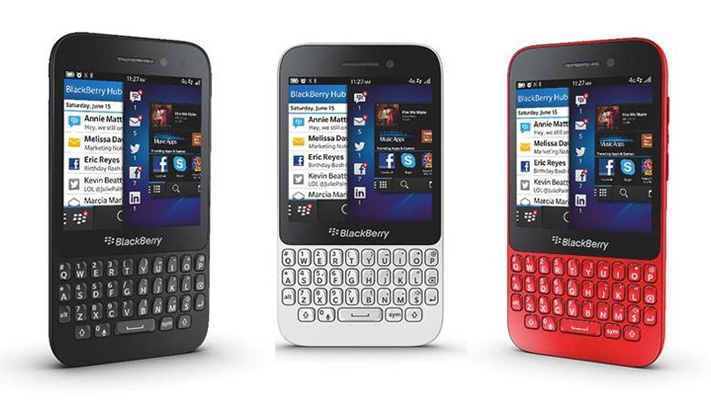 Once an artefact that no professional would be caught dead without, BlackBerry has crashed from its heights to the low of being sold to a consortium of investors for just $4.7 billion. The BlackBerry 10 OS was supposed to be what saved it, and the Q5 was going to be the phone that made it more affordable. It's a good old BB with a physical keyboard and all the bells and whistles of a modern smartphone—but is it too little too late?
Look and feel
At a price of Rs 25,000, you expect some finesse. The BlackBerry Q5 is a rugged, professional device, but it's more like a bullish CEO than a suave founder. Its all-black body with the matte plastic finish does look more refined than the older glossy, plastic-and-chrome BBs. But the phone is thick and clunky. Additionally, you can't remove the back plate and swap out the battery, which is a pity considering many BB users like to change batteries through the day when one dies out.
Screen
The 3.1-inch IPS touchscreen is smaller than what you'd get on an Android phoe or an iPhone, but it's incredibly sharp—understandably so, given the square screen's resolution of 720×720 pixels. The screen is bright and the colours are true, but it's practically unusable in direct sunlight. That said, the touch response of the screen is fantastic.
Keyboard
The Q5 comes with a physical QWERTY keyboard like all the BlackBerry phones of yore, and it's a pleasure to type on. It's not as comfortable as older BBs, but after a few days, you get used to it and you'll be as fast as ever. The Q5 also does a fantastic job of predicting and correcting your words. Full marks on the keyboard.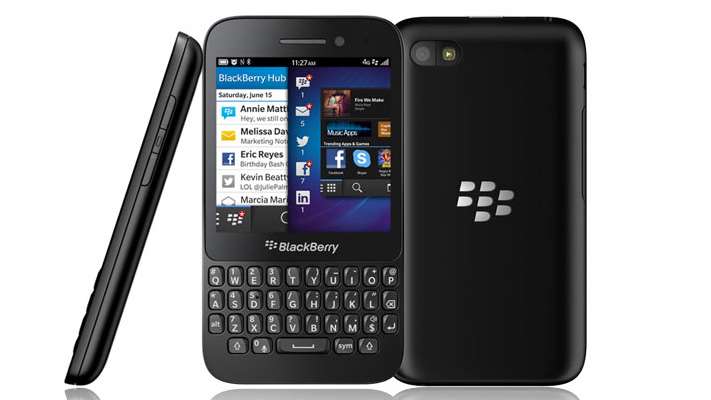 Interface
The BB10 OS is a hit-and-miss affair. The gesture-based interaction is a delight to use, where you swipe in from different edges of the screen to take an action. For example, swiping from down to the centre of the screen will activate the Hub, which is your one-stop notification centre for all the things that require your attention—missed calls, messages, emails, tweets, social updates and more. But it gets a few basics wrong, like syncing between email services (check a mail on your PC and it'll show up as unread on your BB).
Apps
Is BB10 a smart operating system? Yes. Can it go up against an Android or an iOS? Theoretically yes, but not because of its apps ecosystem, which is very poor. Most of the popular games and apps are yet to make it here, and of those that have, some are priced higher on BB. There are also problems with built-in services: BlackBerry Maps doesn't work in India, so you have to rely on third-party apps like Map My India. There's no Google Maps here! And it doesn't inspire much confidence given that developers don't seem to release games for BB with the others (the new Angry Birds Star Wars II came out on Android, iOS and Windows Phone at the same time).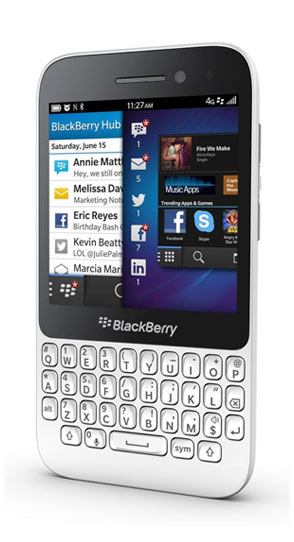 Camera
The 5MP camera on the BB Q5 is a bit deceiving. The shutter is fast, but the quality of the images isn't good. Unless you're in direct sunlight, you won't get photos that can be shown off to others. And this performance is also seen with videos. At ₹25,000, you expect a lot more. The front camera works as advertised.
Multimedia and gaming
The square screen of the Q5 is disastrous for watching videos on it. You will always get two black bars at the top and bottom since most videos and movies are widescreen. As if the screen wasn't small enough, it just got smaller! This problem is also replicated in gaming. A lot of games will still work full-screen, but the characters look stretched and not as good as with a widescreen display.
Battery
Even though you can't swap out the battery for a new one, you probably won't ever need to with the Q5. The battery life of this handset is fantastic, lasting me for just about a full day's worth of medium to heavy usage. Chances are you'll only need to charge this phone once a day.
Is it worth it?
All said and done, ₹25,000 is not a small price to pay for a handset. But then again, the BlackBerry Q5 is the only true smartphone with a physical keyboard, so if that's what you want, look no further. However, for almost every other scenario, there are better options for your money.
Written By : Clark Wayne