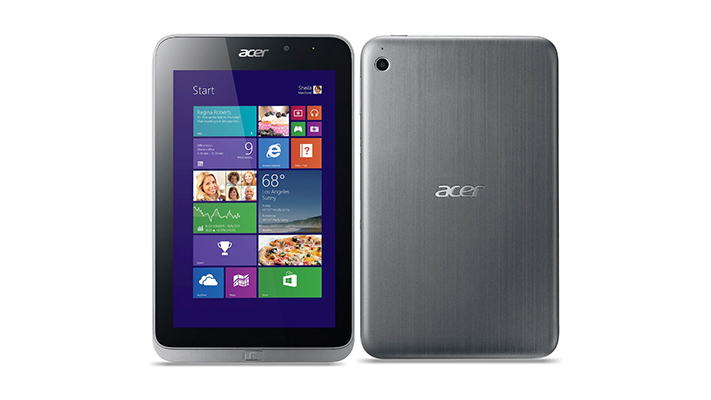 Specs:
8-inch IPS display (1280×800 pixels) | 1.8GHz quad-core Intel Atom Z3740 processor | 2GB RAM | 64GB storage + microSD slot | 5MP rear camera, 2MP front camera | Wi-Fi 802.11 a/b/g/n | 415gms | 4950mAh battery | Windows 8.1
Recently, Apple launched the new iPad Mini with Retina Display in India. To me, the 8-inch tablet is the perfect size of slate at the moment. So when Acer launched a competitor running Windows 8, I was intrigued. Remember, this is the full-fledged Windows operating system that you would find on your desktop or laptop. But unlike Apple, which makes the hardware and the software, there are two companies involved here: Acer who makes the device and Microsoft who makes the OS.
Look and feel
On its part, Acer has done a remarkable job. The Iconia W4 is solidly built, even if it's all plastic. It's made to look like metal, but you won't be fooled once you hold it in your hand. Still, it's a beautiful tab, albeit a tad on the heavy side. But that might just be because of the battery, in which case, it's a worthy trade-off as the Iconia W4 easily lasts for over seven hours of continuous video playback. Apart from the volume and power buttons, there's a physical Windows key; and the tablet also includes a mini-HDMI port to hook it up to a monitor.
The make-or-break experience of a tablet lies in its screen and Acer gets full marks on this front. The high-res display works well in sunlight, is a pleasure to read on, and has great viewing angles. It also performs well for most tablet-oriented scenarios, although I'd recommend using the default Internet Explorer over browsers like Chrome or Firefox, which tend to slow it down. Don't go by the installed '32GB/64GB of memory' though; Windows quickly chomps through that and you'll have to rely on a microSD card.
And really, it's Windows that is the problem with this device. If the Iconia W4 were to be running on Android, I would have recommended it whole-heartedly. But Microsoft's operating system is not a great tablet OS, and not comfortable to use in its Desktop mode with touch input.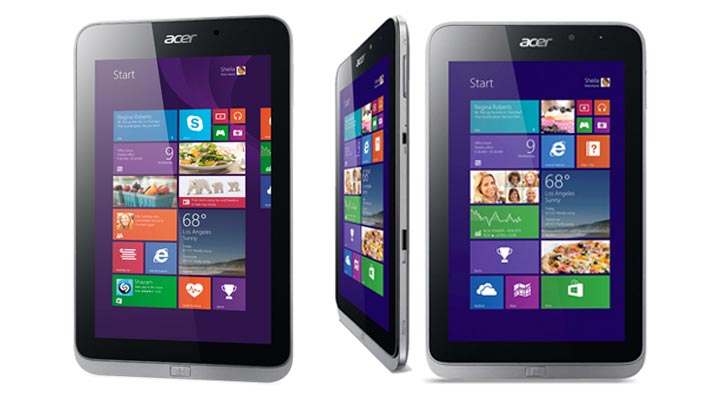 Interface and portability
For those who don't know, the Desktop mode on Windows 8 is the regular Windows interface you have gotten used to with Windows Vista or Windows 7. If you hook up a Bluetooth mouse and a keyboard to the W4, it becomes a good device; but that completely defeats the point of an 8-inch tablet, which is all about portability. You aren't going to be carrying those accessories with you, are you?
And then there's the Modern UI, a tablet-friendly 'skin' that Microsoft has introduced with Windows 8. It's super smooth and gorgeous, but unfortunately, this one puts form over functionality. Each app is shown as a 'live tile' with updates in real-time, but the lack of a notification bar can be felt clearly. However, the biggest problem is the bare cupboard when you open the Windows Store to look for apps. Compared to both Android and iOS, Windows 8 has a severe lack of good apps, which are important for a good tablet experience. These apps are designed for a touch-based input, unlike websites and traditional Windows software. So without a good app ecosystem, you end up not wanting to spend much time on the Modern UI.
That, in a nutshell, is the reason the Acer Iconia W4 leaves you disappointed. On paper, it's got everything right. But when you actually try to use it, Windows is an unpleasant experience. In its touch-based Modern UI avatar, it doesn't have enough apps to keep you occupied. In its classic and familiar Desktop mode, the device itself isn't conducive to be used that way. Where the iPad clearly tells you how you should interact with it (even a baby can figure it out—really, just YouTube it), the Iconia W4 leaves you guessing as to what you should do.
The verdict
In all good conscience, it's impossible to recommend the Acer Iconia W4. It fails as a tablet when the iPad Mini is cheaper. It fails as a computer when you get convertible laptops for just a few thousand more. Indeed, it's the proverbial Jack of all trades, master of none.
The Acer Iconia W4 retails At Rs. 26,999 for the 64GB version and Rs. 24,990 for the 32GB version. While I wouldn't suggest it, if you absolutely must buy it, then spend the extra two thousand bucks and get the 64GB. It's a small price to pay for a smoother Windows experience in the long run.
Written By :