The world's largest beer festival may be quintessentially German, thanks to its country of origin, but its spirit of indulgence and merriment has long traversed the confines of Munich and Bavaria to bring us its many delights right here in Mumbai! Almost every other restaurant and bar in the city is out there to regale us with its offerings of sausages, schnitzels, potato salads, soft German pretzels, decadent black forest cake and, of course, the beer, the liquid gold that takes centre-stage amidst all the celebrations. But if you're having a hard time deciding where to head with your drinking buddies, check out our round-up of what's on offer at some of the city's most happening bars.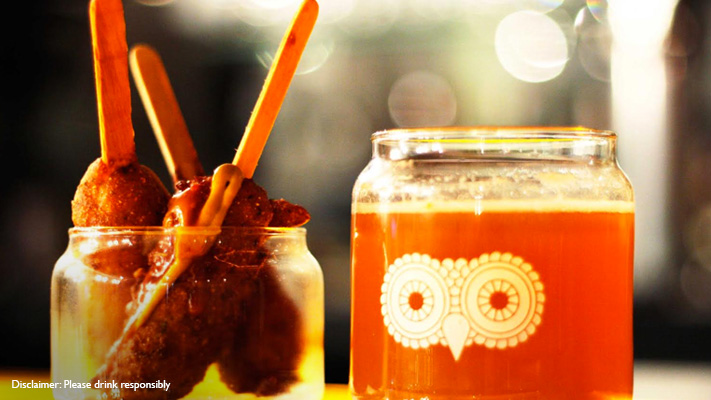 The White Owl – Brewery & Bistro
One of the first places in Mumbai to brew their own beers, The White Owl, in keeping with the spirit of the German Oktoberfest, has launched the brand new Munich Lager, a moderate-bodied beer with a mild malt flavour, a sweet and slightly spicy aroma and a light colour that is typical of German beers. Apart from the new brew, it also offers a special menu created by Chef Dinesh Bherwani, which pairs traditional German delicacies with in-house brews. We started off with the chicken schnitzel sliders, succulent chicken patties ensconced in mini buns. While the mustard aoli beautifully brought out the flavour of the chicken, the braised red cabbage complemented its crunchiness.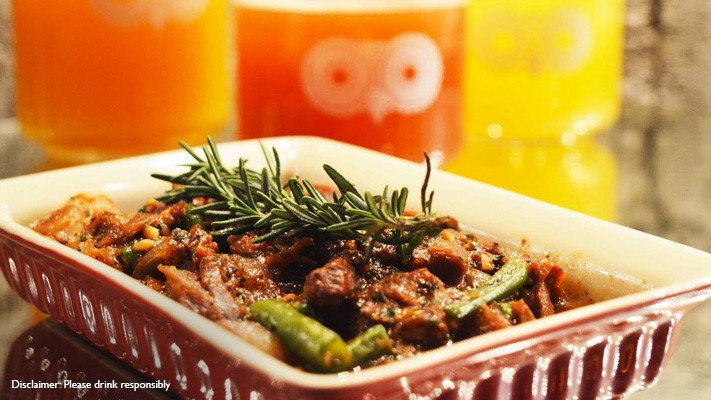 Staying true to the German soul of the beer fest, we also treated ourselves to currywurst, chicken sausage served on a bed of curried tomato sauce, with sautéed onions and garlic mash. Now, for the not-so-hard-core non-vegetarians, a sausage can be a miss if it isn't cooked well. Fortunately, that was far from the case with this currywurst, with the flavour of the tender sausage much enhanced by the delicious curried sauce. We enjoyed the dish with a serving of Torpedo, a strong, citrusy, moderate-bodied brew with a pleasant tropical aroma. For egg and potato lovers, the roasted herb potato and poached egg is a must-try. Small chunks of potato crisp on the outside and soft on the inside, generously doused in chives and thyme lie at the base of this dish, topped with a beautifully poached egg and slathered with a creamy cheese and beer sauce. The mellow flavours and silky texture of the dish pair well with Halcyon, an easy-to-drink craft beer that blends sweet hints of banana and clove with a little hoppy bitterness.
The chef's take on the traditional German spätzle here is a true delight, especially if you're a vegetarian. Beautifully plated in a mug, the dish presents the button-like boiled German noodles, cheddar and parmesan baked together and topped with browned onions. Flavoured with a hint of nutmeg, the spätzle's texture is rich and melt-in-the-mouth creamy, balanced by the crisp and slightly sweet browned-onions.
Our verdict: Visit The White Owl – Brewery & Bistro for the newly launched Munich Lager and the flavourful currywurst and spätzle. If you like your beer dark, opt for the Diablo, a red Irish ale with hints of caramel.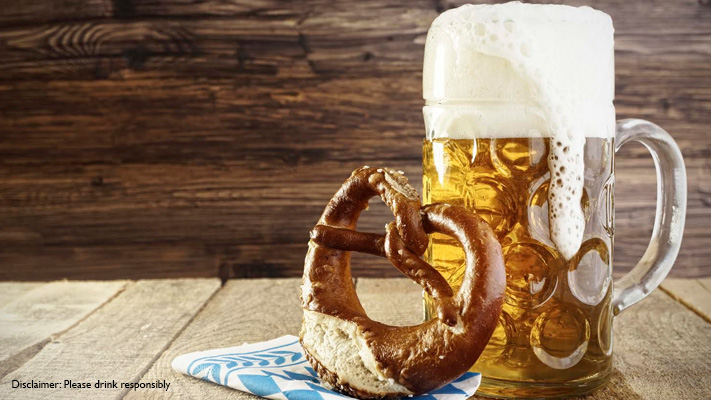 Grand Hyatt Mumbai
In keeping with the soul of Oktoberfest, The Bar at Grand Hyatt is decked up in blue and white ceiling décor, red check napkins and, most prominently, has its serving staff sporting Bavarian Lederhosen (shorts) and suspenders. If that doesn't get you in the spirit of things, then its wide array of eats and drinks certainly will. No Oktoberfest is complete without brews, and The Bar's offerings are extensive. Two of the ten most popular beers in Germany—Paulaner and Erdinger—were on the menu, and we tried the Paulaner Muncher Hell, which floored us with its golden colour and smooth flavour. English brand Shepherd Neame's Spitfire was cool and dark with a great bitter balance while its Double Stout had a dark caramel colour and a strong coffee aroma perfect for any hard-core beer drinker.  For those who like their brews even stronger, we'd recommend the Bishop's Finger, the first strong ale to be brewed by Shepherd Neame and an award-winning brew that's dark coloured, coffee flavoured and smoky as sin. For those who like softer flavours, we'd recommend the Bira 91 White, a beer brewed in Belgium but crafted for India, which has a light wheat hue and a fresh tart taste with distinctly lemony hints.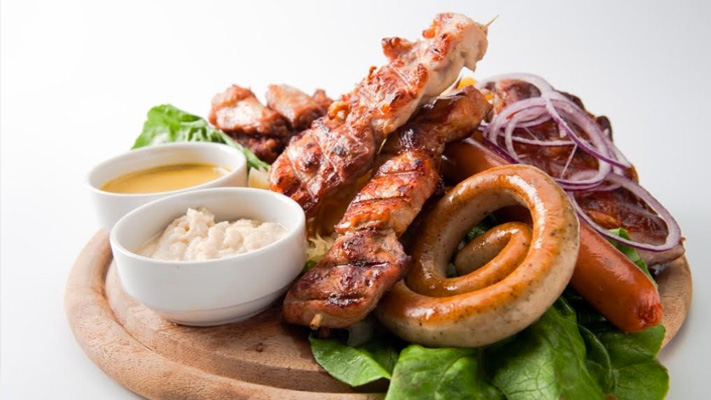 As we sipped and chugged, we also tried the traditional German pretzels with a smoked paprika cottage cheese dip—a perfect accompaniment to the darker ales. Complementing the lagers, The Bar offers chicken and pork frankfurters—fresh and flavourful sausages served with lovely minced horseradish, mustard and sauerkraut (fermented cabbage)—crispy chicken and pork schnitzels, smooth and tasty mashed potatoes and a balsamic side salad along with sourdough bread, which may be ordered à la carte, as well as other German delicacies courtesy of Executive Chef Hermann Grossbichler. What took the cake, quite literally, was the traditional Black Forest, which had intense flavours, the perfect sponge and steeped cherries that were tart and terrific. Our authentic Bavarian feast was only highlighted by the rock `n' roll and classics belted out by the talented band Falcon Blues.
Our verdict: Visit The Bar at Grand Hyatt for global brews, authentic and flavourful non-vegetarian food and the live music.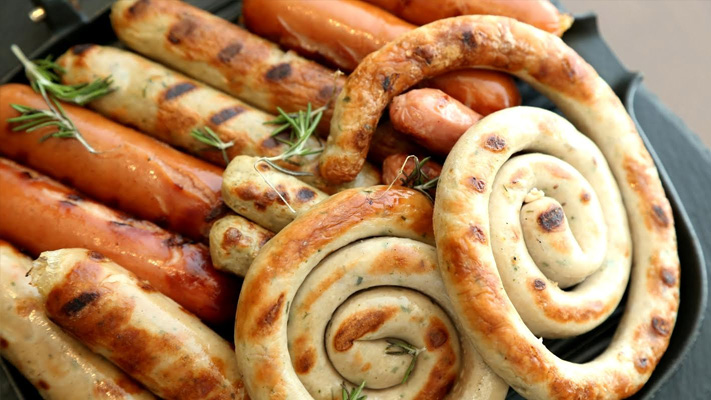 JW Marriott Mumbai Sahar
To celebrate the spirit of Bavaria, JW Cafe has made a special German addition to their buffet. Before we delve into the details, here's a disclaimer: The buffet is one meaty experience. While they do offer some vegetarian options, they've stayed true to the classics.
We started off with the sausage spread that comprised bratwurst, noremburg, bockwurst and weiswurst among others. We settled down with a plateful, grilled to perfection, with sauerkraut and mustard for company. With a variety of frankfurters that range from smoked, simply salted and spiced with herbs, there's a kind for whatever your taste buds crave.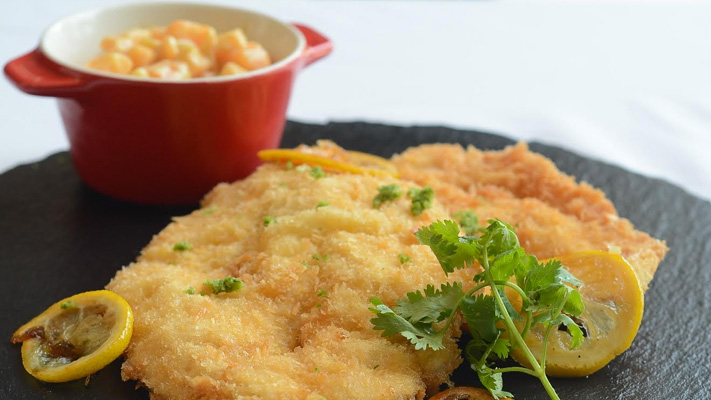 For mains, we tried the chicken schnitzel which was spiced just right and cooked to crispy perfection, along with the lamb goulash. With a rich tomato gravy and a healthy portion of potatoes, the lamb literally fell of the bone and melted in the mouth. The other lesser-known German mains were just as impressive— the chicken frikadellen (herbed mince patties), were juicy and grilled enough to allow the crust to crisp up and caramalise. The mushroom ragout deserves a special mention too. Although the mushrooms were swathed in a creamy sauce, they were cooked to perfection and the sauce was seasoned with restraint. The Kartoffelpfannkuchen (potato pancakes) were perfect accompaniments to the meal. Made using shredded potatoes and eggs, the pancakes weren't stodgy, but had all the delicious goodness you'd expect from a deep-fried potato.
Finally, for dessert, we quite enjoyed the apple strudel, with its crisp, flaky pastry that gave way to a spiced apple and raisin filling. However, the dessert that stole the show was German yeast bread. A dough filled with strawberry jam, boiled and served with vanilla sauce and a sprinkling of black sesame powder, it doesn't look appetising, but trust us, you're not going to be able to stop at just one bite. The sauce adds a hint of richness, and the sesame powder lends a nice, rounded nutty aftertaste to this humble dessert.
Even though we were disappointed as we couldn't try the beers, by the end of the meal, we'd completely forgotten about it.
The buffet is priced at `1,888 + taxes, with an additional charge of `1,000 + taxes for the beer package.
Our verdict: This buffet is steep, but worth every penny if you'd like to treat yourself to a range of authentic German feast packed with flavourful, meaty goodness.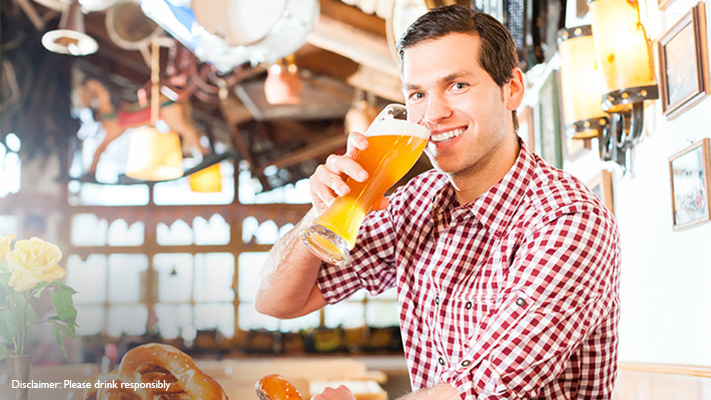 Similar Products
What to wear to an Oktoberfest event
A red or blue check button-up shirt with blue jeans and smooth leather shoes is the perfect Oktoberfest outfit. Wear a white shirt if you don't have a red or blue checked piece in your wardrobe and add suspenders for zing. If you're wearing a hat, keep it traditional with a felt hat and skip the temptation to sport a floppy farmer hat. Add a vest or a jacket as a semi-formal accent to your outfit, and most importantly—have a blast!
Written By : Neehar Mishra, Shirley Mistry and Nirati Agarwal