For years now, Indian literature and Indian authors have carved a niche for themselves in the minds of readers worldwide. Known for the complexities and depth, Indian literature's fictional works have often incredibly reflected the true diversity of the country. Whether it was R K Narayan's 'Malgudi Days' or Sankar's 'The Middleman,' Indian authors have always brought out the stories of real India through their words. The same stands true even today – contemporary Indian authors are doing the same thing with a different approach, thus, redefining fiction by penning down contemporary or period stories that a reader could relate to or visualise.
In a fair world, these critically acclaimed authors would be rocking the bestseller list. While it is impossible to rank the most important authors in contemporary literature, if you haven't discovered them yet, we have set you up with Indian authors who are retracing the boundaries of Indian literature, and engaging with the forces of globalisation and modernity, which are reshaping their country, thus, offering some incredibly memorable reads.
Akhil Sharma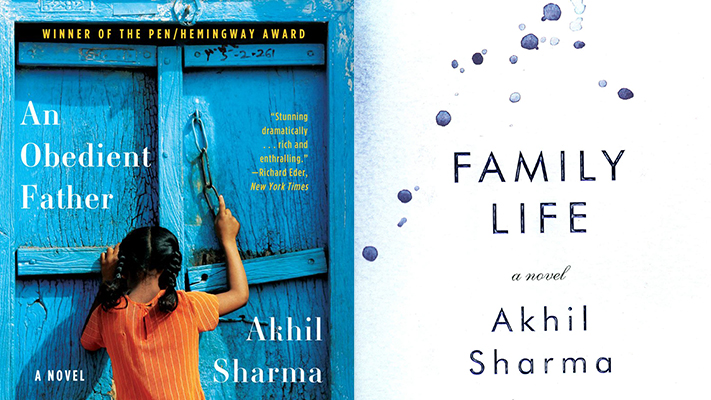 In his own words, it took him twelve and a half years and 7000 pages of drafting to release his 224-pages long second novel, "Family Life," that was named one of the 10 best books of 2014 by the New York Times Book Review and New York Magazine. Born in Delhi, he immigrated to the United States when he was eight. After trying his hand at screenwriting, disappointed with his fortunes, Sharma left to attend Harvard Law School. Sharma's first book, "An Obedient Father", won him the 2001 PEN/Hemingway Award. His recent book "Family Life" is a restrained and meticulous story, of a family that emigrates from India to America where an accident turns their life upside down. Beautifully narrated from the perspective of a young boy, the story talks about how we assimilate new cultures and drastic changes –imperfectly, at great cost with glimmers of unsettling gain. One of the greatest features of his writing is the amount of exposition he gives to each character; they always contain tenderness. While a dramatized scene is a way of proving and guaranteeing an emotional experience for the reader, exposition assumes that the reader is sophisticated and can see the universal. In his own words, exposition suggests a great trust in the reader, and this expression of trust makes a book feel tender. Akhil Shamra today, lives in New York City and teaches MFA program at Rutgers University, Newark.
Jeet Thayil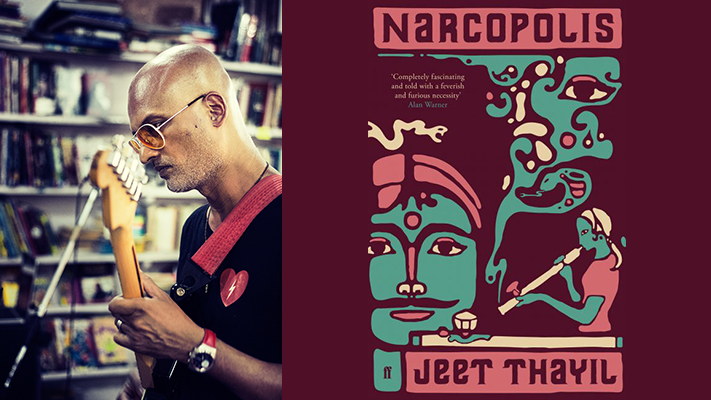 A poet, novelist, librettist and musician, Jeet Thayil donned many hats. Best known as a poet, in 2012, Thayil turned his hand to prose, with his debut novel Narcopolis. The book was an instant hit, winning him the DSC Prize for South Asian Literature and a shortlisted nominee for the 2012 Man Booker Prize. Born in Kerala, Thayil is the son of the writer and editor TJS George, who at various times in his life was posted in several places in India, in Hong Kong and New York. His first novel, Narcopolis was set in the backdrop of the 70s and 80s' Bombay (Yes, that's what we used to call it). The book focuses on the seething underbelly of the city of Mumbai and the dissolute and depraved individuals who populate the margins of this society. Through his book, he recreated an era when opium gave way to new cheap heroin. In his own words, with Narcopolis, he wanted to honour the people he knew in the opium dens, the marginalised, the addicted and deranged, people who are routinely called the lowest of the low; and he wanted to make some record of a world that no longer exists, except within the pages of a book. Having struggled with addiction earlier in his life, the book represents his incisive observations of the various stratifications of Mumbai life and lends it a feeling of authenticity. His writing style introduced new areas of feelings and emotions to Indian literature, which were quite emblematic to the likes of English poet John Keats and French poet Charles Baudelaire. Although a book old, Jeet Thayil is one of the most exciting Indian authors who deals with the complexities of globalisation and the modern world with extreme verbal artistry and lyrical intensity.
Jhumpa Lahiri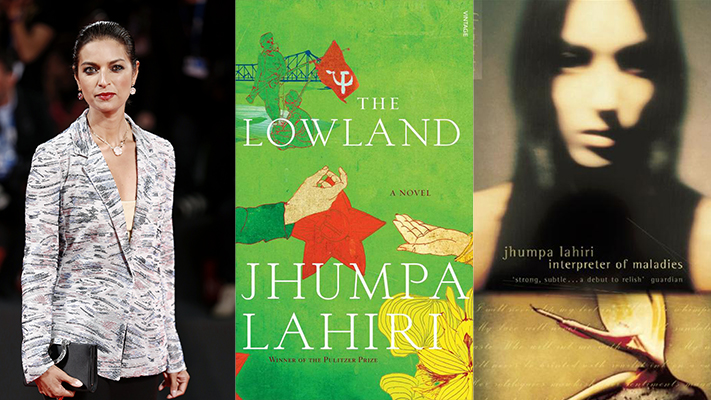 Known for her detailed focus on the India diaspora through her work, Jhumpa Lahiri has become one of the most prolific Indo-American writers who harkens back to their predecessors. Lahiri shot to fame with a debut shot story collection, Interpreter of Maladies in 2000 that won her the Pulitzer Prize in the fiction category. The book dealt with sensitive dilemmas in the lives of Indians or Indian immigrants, with themes such as marital difficulties, miscarriages, and the disconnection between first and second generation United States immigrants. In 2013, she released The Lowland that got shortlisted for that year's 2013 Man Booker Prize. Set in the backdrop of Calcutta, the book narrated the story of two brothers who came of age in the 50s or 60s; where one flies off to the United States and the other gets involved in the Naxalite movement of the late 60s. The book narrates their life and the consequences of each of their choices. Through her works, she is constantly focusing on the fixed categories of nationality and culture, which are persistently subverted and revealed to be fluid, opaque concepts. She aptly highlights the slow process of cultural assimilation for the second generation immigrants in a manner that few writers are able to do. Her plain, yet deep language and Indian characters is what distinguishes her writing from others.
Vikram Seth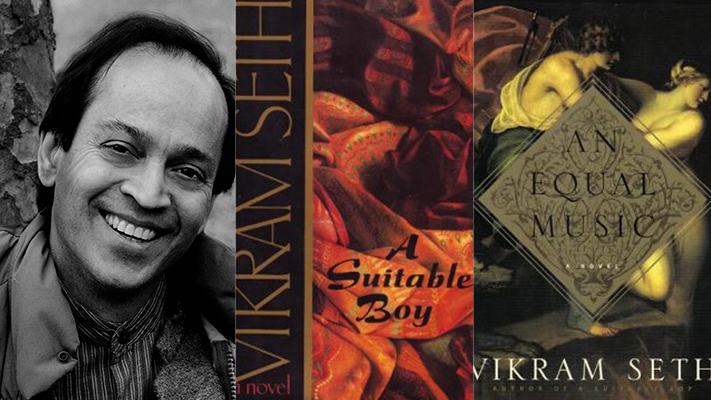 Born in Calcutta, Vikram Seth, shot to fame with his second novel, "A Suitable Boy" that had over 1,300 pages containing over 591,000 words – set in a fictitious province called Purva Pradesh in India; A Suitable Boy was the longest novel in English ever written. A reticent man, Seth prefers to talk only when he has a book in the works. Seth is known to dabble in poetry, painting, sculpting and of course, writing prose. He is known for his scattered use of Hindi and Urdu words in his prose that often seems quaint to readers who are not familiar with the language. His writing style annunciates audacity where he's not afraid to play with words and toy with vocabulary. A great example of this could be his second novel "A Suitable Boy" where has used some interesting metaphors. He uses the language to clarify and describe the characters. Written in the omniscient mode, there is no narrator in the book that allows him to put in excellent descriptions of objects and the landscape, sometimes in clever phrases. In fact, it is this omniscient approach that allows both, Seth and reader to look deeper into the private lives of the characters without the need for any particular consciousness. Post "A Suitable Boy," he wrote An Equal Music, which takes a rather conventional approach and renders it compelling and novel through the seductive clarity and precision of its prose. He's an indian author famous for expansive, 'unrestrained' works of fiction, who could also write with the formal and verbal restraint, economy and discipline of Seth-the-poet. Currently, Seth is working on "A Suitable Girl", which is said to be the sequel of "A Suitable Boy."
Amitav Ghosh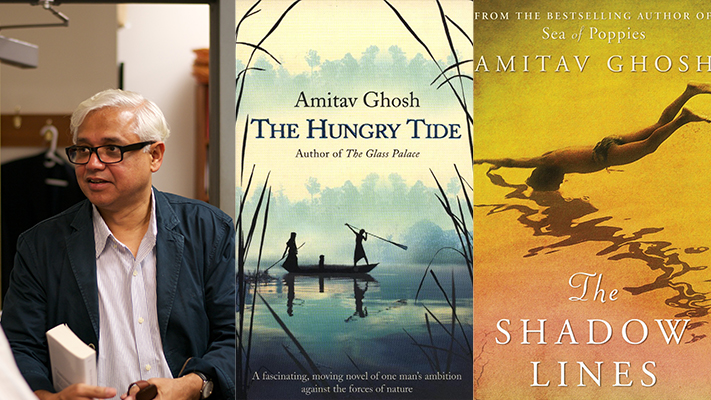 A slightly above average height, a shock of white hair and a benign smile – Amitav Ghosh, is the author extraordinaire of The Circle of Reason, The Shadow Lines, The Glass Palace, Calcutta Chromosome, The Hungry Tide, Sea of Poppies and River of Smoke. As an Indian author, he draws heavily upon the character, traditions and dichotomies of his native land, yet one can easily make out that his protagonists and themes often extend beyond the sub-continent's actual boundaries. His works expose the cross-cultural ties between India and Great Britain as well as with its kindred neighbours. In his book The Shadow Lines, Ghosh juxtaposes the lives of two different yet intertwined families—one Indian and one English—to question the boundaries between their cultural and geographical settings. The title alludes to the blurring of the lines between nations and families, as well as the blurred lines within one's own self-identity. He depicts the characters of the novel as caught between two worlds, and the struggle to come to terms with both, their present lives as well as their past forms the core of the narrative. The generic heterogeneity or discursive inventiveness in his work enables him to retain sensitivity to various kinds of discourses, voices and agents, while narrating into existence unforeseen connections between them. Today, he is hailed as one of the new generation cosmopolitan Indian intellectuals writers in English. Currently, he is working on his upcoming book, Flood of Fire.
So, do these authors feature in your library? Do you agree with our list? Do let us know.
Written By : ROUNAK GUHAROY