From sky-diving to paragliding, river-rafting, canyon-swinging, bungee-jumping, heli-hiking, caving and fly-boarding, New Zealand remains the undisputed capital of adventure sports. It is the birthplace of bungee-jumping after all. You only have to put your finger on your kind of extreme sport whether it's underground, on land, in the sky, or in the sea, New Zealand has it all. Oh! and they also adhere to the highest standards of safety. Win-win!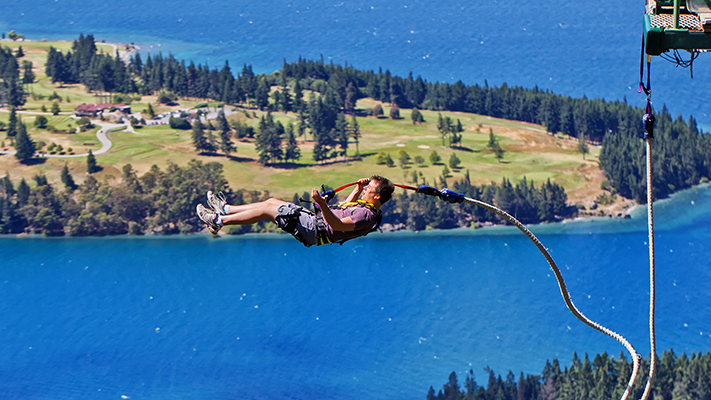 Bungee jumping
If you haven't bungee jumped at the Original Kawarau Bridge Bungy Jump in Queenstown, you haven't bungee jumped at all. Home to the original 43-metre bungee jump, the site offers options where you can choose to topple over forward, backwards, with someone else, spin, somersault, touch the water, bob over it or be fully immersed in it. And that's just getting you started…
Rafting
Now here's a sport for everyone from amateurs to seasoned junkies. New Zealand has many fast flowing rivers that course through its mountains and forests. Grade 1 rivers have waters tranquil enough for amateurs while grade 5 rivers offer an opportunity for some white-knuckled rafting. Try black water rafting through the underground Waitomo caves or the rafting rivers in the North Island on the central east coast area of the Bay of Plenty and Hawke's Bay. Queenstown, Christchurch and the West Coast in the South Island are other destinations apt for this water sport.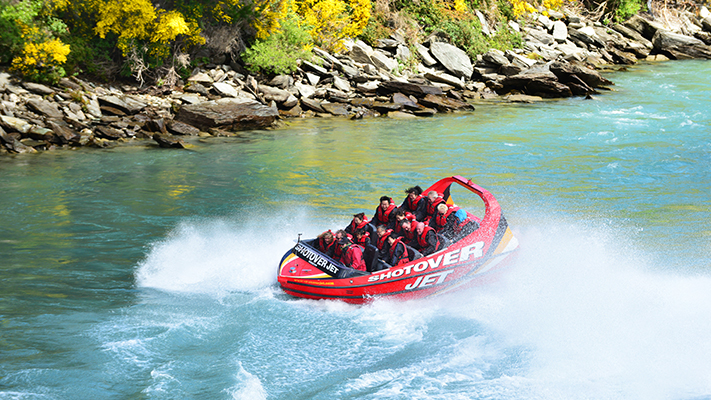 Jet boat ride
Exhilarating is the only word to describe the 360-degree spins in a jet boat in the Shotover River and through Skippers Canyon. Another picturesque six-hour tour is through the UNESCO World Heritage-listed Mt Aspiring National Park. For a truly thrilling adventure, try the high speed jet-boat ride down the Dart River and a guided walk through the wilderness and a backcountry safari. The mystifying peaks, hidden valleys, exquisite flora and fauna are sure to take your breath away.
Scuba diving
From the sub-tropical reefs to the beaches of North Island to the unique topography and temperature waters of the South Island, it could take over a lifetime to uncover all the diving sites along New Zealand's coastline. However, most of the hot-spots are easily accessible via the mainland where there's a healthy wealth of dive shops ready to help you with trips to off-shore islands and reefs. What's more–you can explore kelp forests and dive with exotic schools of fish. Honestly, there is no other destination as dreamy for a diver than New Zealand.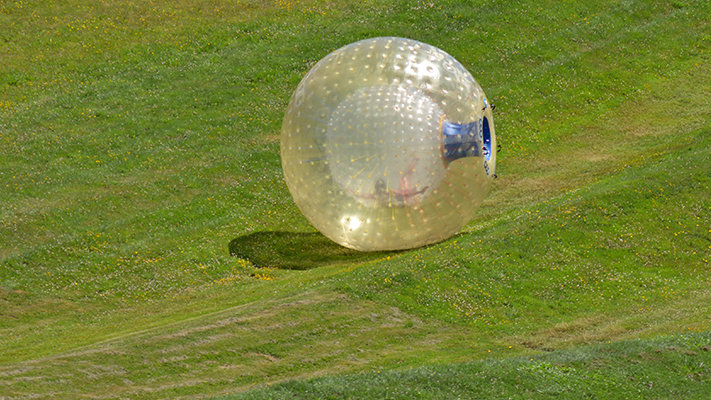 Zorbing
Zorbing, also known as a ball-rolling operation is currently all the rage in the world of adventure-sport. Set your heartbeats racing as you roll down Rotorua hillside in a see-through plastic Zorb that reaches speeds of up to 50 kph over both land and water. A sport so fun, you can't help but laugh as you and your friends get all topsy-turvy wild, while rolling down a scenic hill. What's not to like? Nada!
Mountain Biking
Zipping through the hills on trails especially meant for cycles that range from idyllic countryside to alpine challenges is nothing short of electrifying. With stunning scenery and varied local attractions–you're guaranteed a cycling holiday to remember.
Written By : The Label Team