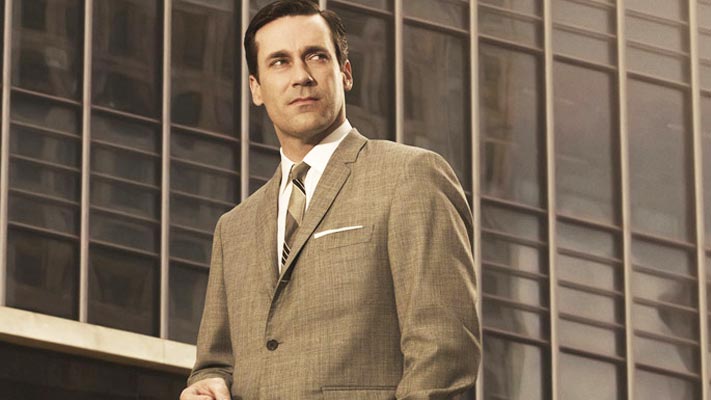 Talk about how Mad Men has impacted you, now that the series is ending.
It's obviously been a significant portion of my life in many ways. It'll have been almost a decade from the start of the pilot, to what will be the end of the series. The other day, we were looking at pictures from season one and we got very nostalgic. We've all grown in our lives, but it's been a significant change in all our careers as well. We've had the incredible good fortune to work on this show, which we are so proud of and which has been so well received. There are so many good shows on television and people work hard on them, but our show was able to find traction and last this long. So it's amazing to see the light at the end of the tunnel, so to speak; yet it's daunting, heart-breaking, bittersweet…all those adjectives that you can put on the end of that. But all good things come to an end and this is no exception. I would never want to read a book that didn't have an ending, so I'm glad that we're coming to the end of ours.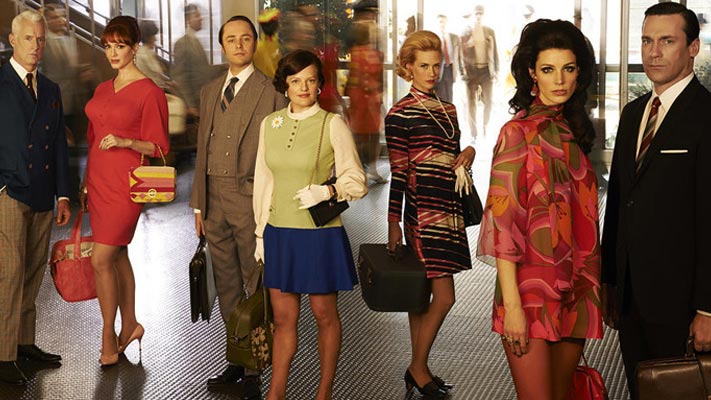 A cast photo of the final season of
Mad Men
Can you briefly sum up Don Draper's journey from the beginning to now?
I think that Don has always been a survivor, and we've seen that from the very beginning, even in the flashbacks that show him as a little boy. He has been a keen observer of not only the human condition, but also the environment, and has always been wildly aware of how to use that best to his advantage. And that basically comes from necessity. He had to take care of himself at a very early age. You see, the incident in Korea and him making that decision, and committing to it, could have gone wildly wrong, and he could have ended up in prison or even worse. Instead, it started his relationship with Anna Draper, which was one of the most important relationships in his life. She didn't care that he was a liar or a fraud; she just found him to be a good man, and Don continues to live his life in survival mode, always adapting. Now he's realising that life doesn't have to be like that, and that he can live his life in a sharing, acceptance mode. His has been a life out of balance.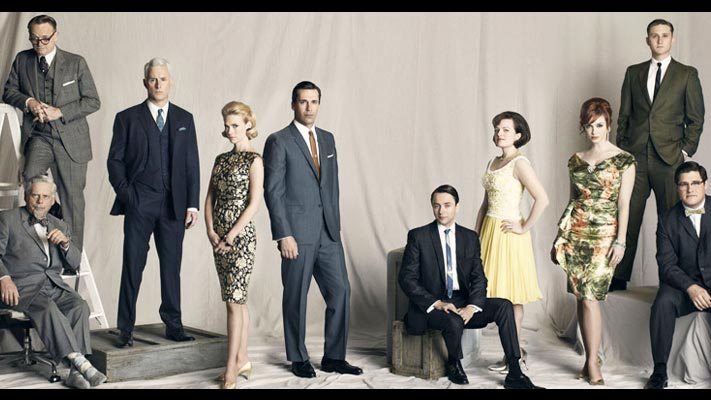 A cast photo from an earlier season of
Mad Men
But you yourself are in a very happy relationship. What have you learnt not to do from Don?
Basically, everything. What's the quote? "Nothing succeeds like excess!" That's probably not true. Don is living a life very much out of balance. My hope for Don, in these final episodes, is that he finds some balance in his life. He's very much a seeker of truth and honesty.
What have you seen in his dark side that has made you appreciate the relationship you have?
I can talk at length about my own relationship. We've been going on 16 years now. [Actress] Jennifer [Westfeldt] is currently in New York doing a play and I'm here in Los Angeles filming, but I travel back and forth. She's been the source of stability in my life with all the craziness and nonsense that has gone on over the last six or seven years. It's been pretty great.
Parts of your new film, Million Dollar Arm, were filmed in India. What were your first impressions of the country?
My first impression when I landed in India was even before I'd gone through customs. I had just gotten off a 16-hour flight, so I'm sure I looked like yesterday's dirt. But there were these three boys, they must've been 18-19 years old, and they were walking towards me. Two kept walking, but one of them stopped, and he pointed at me and said, "Don Draper!" And I was like, "Whoa! Yeah, hi!" He was the only one who spoke English, so there was a lot of Hindi going back and forth, as he explained to the other two. They were very sweet and nice and friendly. And all this was literally five minutes upon arrival in Mumbai. So I got through customs, and then there was the harrowing drive from the airport to the hotel, which was an experience in itself. But that experience, meeting those kids, was a nice encapsulation of basically my entire experience in India. From the west, we went to Agra, Lucknow and flew out of Delhi. But every single person that I met was incredibly friendly, gracious and welcoming. It did take a little while getting used to the pace of the city, the crowdedness and the noise that just doesn't stop. But it was fascinating and I enjoyed every bit of it. It was phenomenal, it was unique, and it was beautiful and completely confounding and absolutely incomprehensible for the first week that I was there. I was like, "This system should not work how it works!" And then once you get immersed in it a little bit, it's fascinating.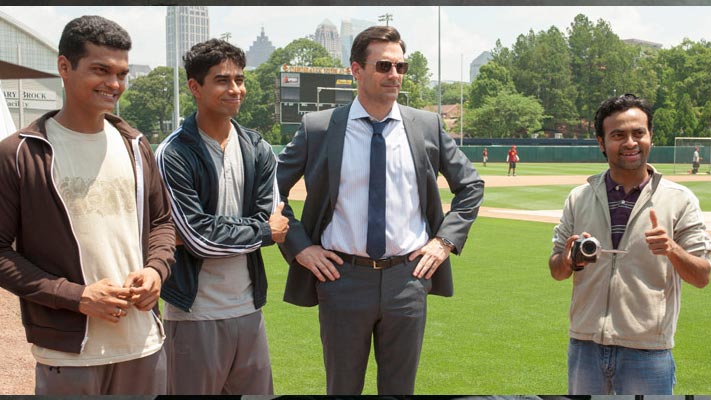 Let's talk cars. What cars did you drive on the show and what's your personal connection with cars?
I love
cars
. I am a huge car geek, and fortunately, I represent a brand that makes very good cars—
Mercedes-Benz
. They let me drive really cool ones, one of which I drove here today. The car that I drive in the series is an absolutely stunning Cadillac, which probably represented the height of
automobile excellence
in the United States during those times. It's really fun to drive. It's a two-door, about 90 feet long, and has a trunk as big as the table in front of us. It's everything awesome about American excess in the post-war years. I have a lot of my dad's old cars. Very briefly, I've been around cars and advertising my whole life. Even my father used to be in advertising.
Jon Hamm with his partner Jennifer Westfeldt
How do you keep in shape?
I don't
work out
; at least not in a gym. Fortunately, I live close to one of the largest parks in the country and I have a dog that Jen and I walk in the hills. I play tennis and baseball. Gyms depress me and the thing is: today, everyone has a
camera phone
and the last thing I want is someone taking photos of me when I'm a sweaty mess, or on some machine that I didn't know how to use. But I've always maintained some sort of athletic presence in my life, and I generally like to play sports.
Draper is dapper. How many of his outfits do you have in your own closet?
If you mean stuff from the show
wardrobe
, the answer is none. Those are all rented costumes and put together by our wardrobe department. I don't get to take them home. I do, however, have a lot of suits in my own closet, so much so that I'm running out of space.
What makes you happy—work, love, sex?
A combination of all those things.
What make you crazy mad in real life?
What makes me crazy mad? You know, all those things in life that you have no control over and when those things tend to blow up, you get frustrated. Just because you're a public figure, liberties are taken with covering your personal life and that's no fun. That's the sort of thing that make me frustrated and mad. But I've also experienced the other side of it—waiting by the phone and wishing that you get a job. So this is better than that.
Photo Courtesy: AMC and Walt Disney Pictures
Written By : Noel de Souza