Few Indian musicians have made a mark globally the way Zubin Mehta has. An Indian conductor of Western classical music, he is the Music Director for Life of the Israel Philharmonic Orchestra and the Main Conductor for Valencia's opera house. He began his conducting career in Vienna in 1958 and soon elevated to the ranks of a chief conductor, eventually making a mark for himself in several parts of the world including USA, Canada,
Israel
and Italy.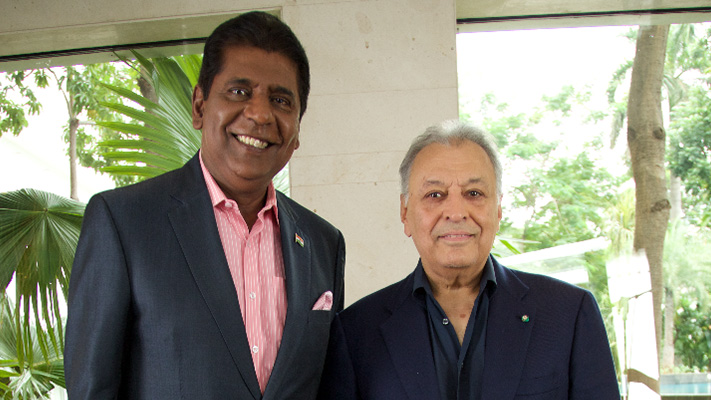 Here is an excerpt from the interview …
Amritraj: Going to college at that time, especially with education being so critical for every Indian parent, talk about how you got into medicine, which was I guess the first thing that you got into?
Mehta: Well, I was brainwashed like all middle-class Parsis—you'll be a doctor, you'll be an engineer, you'll be an accountant. So, my brother was chosen to be an accountant. He did go right through with it and is a Chartered Accountant from London. But I just did 2 semesters in St. Xavier's College of pre-med and I knew this is not for me. It is not that medicine was not for me, it was that music was overpowering. Every time I sat down and I looked at some chemistry experiment to do, my head was singing symphonies by Bram and Mozart.
Amritraj: With your dad so involved in music and being a tremendous conductor on his own, were you in love with it right away?
Mehta:
It was my world right from the start. When I went to
Vienna
at the age of 18, I knew more music than most of the students sitting around me because of my father training me and because of the immense collection of records we had at home, records interpreted by the greatest conductors like Toscanini, etc. So I went there already knowing, superficially of course. I hadn't studied the music in depth; that was in Vienna and I was there for 7 years. I had one of the finest teachers in Europe for conducting and I started playing in orchestras first and then I got my first chance.
Find out more about Zubin Mehta in this uncut version of the interview.
Written By : The Label Team