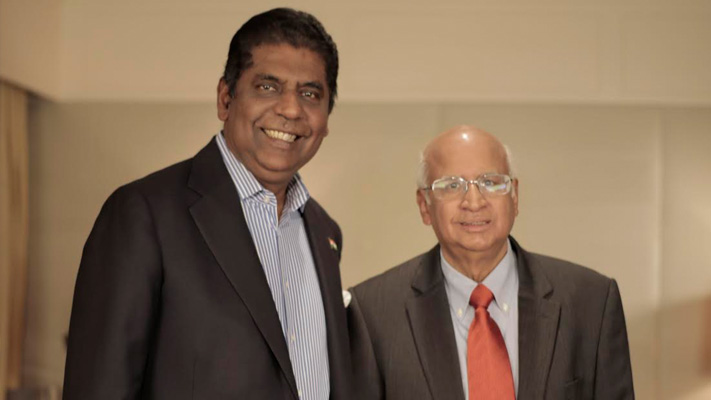 Excerpts from the interview:
Vijay: Tell us little bit about your early life growing up. You were born in Nagpur and ended up taking care of your own education in Delhi, right?
Ramadorai: Yes, I was born in Nagpur, which was part of Madhya Pradesh at that time. My early childhood was spent at my native village, close to Tanjore. Soon after, we moved to Delhi, as my dad was in the Indian audit and account service. So most of the schooling, up to college, was completed in Delhi, but we had the opportunity to visit Tamil Nadu almost every year during the summer vacations. Our roots and the place we belong to are very much there. I make it a point to visit the village at least once every three years.
Vijay: You grew up in a large family and moved to various locations, did that change your perspective in any way?
Ramadorai: I think growing up with siblings is always a very exciting experience. You learn a lot and you teach the younger ones, but more importantly, it's not just your own siblings; it's the extended family that become a part of your life. We grew up as a community, helping each other, finding a sense of belonging. I feel it's what helped us connect with people from all sections of the society.
Vijay: When you were growing up, were there any major influences in your life? A mentor; someone you drew inspiration from as a youth?
Ramadorai: There were three people who influenced me very early in my life. One was my paternal grandmother, second was my maternal grandparents, and third was my parents. They played a very important role in my life. Their value systems, their teachings, being a good human being and the importance of education; they taught me so many invaluable life lessons.
Vijay: As you grew in your professional life, you learned to successfully juggle many things simultaneously. You're on various councils of different companies, you're an advisor to the Prime Minister, and you're the Chairman of the NSDA. How do you juggle all these jobs?
Ramadorai: The support of your family is most important. Whether it was the time I was at TCS or in any of these new positions that I've taken up, if my family didn't support me, I wouldn't have gotten very far. Having said that, building a team that you can trust and give responsibility to is very crucial; if you have a great team that understands you, work will run smoothly and you will be spending more time with the family. So, I spend my time connecting with the people either over email, SMS, Skype, video conferencing and even in person, occasionally, when there is a need to be present. I think as long as you have the ability to connect with people, you can run multiple things simultaneously. Also, you need to compartmentalise yourself so that one problem doesn't stop you from solving another.
Want to know S Ramadorai better? Catch the uncut version of this interview
here
.
Written By :