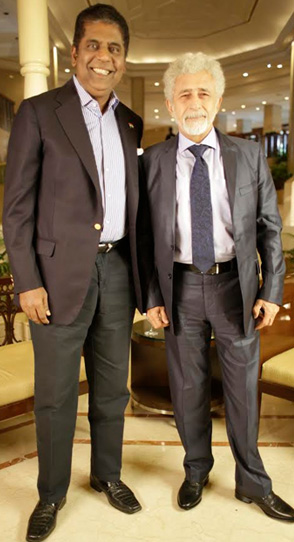 Excerpts from the interview:
Vijay: Before we begin, I have to ask you about tennis. You play regularly right?
Naseer: Yes. I have two wives. I was honeymooning with one when I discovered the second. I don't think Ratna is ever going to forgive me for it. We were at Taj Aguada in Goa and they have a wonderful clay court, so I just picked up a racket and started playing. I figured I was pretty decent at it and wondered why I had never tried it before. I was always fond of cricket instead, which I played well as a child. So, that's where tennis and I discovered a lifelong love for each other.
Vijay: Do you still play now?
Naseer: I still play, but I have been off it for a few weeks because of some back trouble. I will play as long as I can walk.
Vijay: Well, join the club on back trouble; we all have the same issues these days. But it's so wonderful to hear that you play tennis because I come from that background. Speaking of sports; when it comes to entertainment, how would you compare a sport with cinema?
Naseer: It is the state of readiness that one has to be in as a sportsperson and as an actor that makes them seem alike. His strategy is worked out: he knows his movements, he knows what he is going to do, where to attack, where to defend, but the unexpected might still happen and catch him unaware. The difference however is that acting is a sport where everyone wins. It's not an 'annihilate the opponent' kind of sport; it's a game that is played together in harmony with the desire to bring the best out of the other, which is true of a sport as well, but there, the ultimate aim is to win.
Vijay: Who was your inspiration at that time?
Naseer: The one person I really looked up to was Geoffrey Kendal, who ran a theatre company called Shakespeareana. He used to visit my school every year. He has been my guiding light; I worshipped the ground he walked on. I have never heard Shakespeare spoken better than at Shakespeareana till today; which includes all the acts I have seen in England. Shakespeare is written for the popular audience, but people try to intellectualise it too much. I still believe Mr Kendal is the greatest actor I have ever seen, not just because of his abilities, but because he dedicated his life to it instead of trying to get supporting parts in prevention theatre in England. I think his contribution to theatre awareness amongst school children in India is unparalleled.
Written By :