Co-founder of Infosys and the pioneer of the ever-booming IT industry in India, N R Narayana Murthy is one of the most revered entrepreneurs the country has ever seen. His efforts to change the face of computer science in India and create employment opportunities are greatly responsible for establishing India as a hub for outsourced IT jobs. A Padma Vibhushan and Padma Shri award winner, Murthy was featured among the 12 greatest enterpreneurs of our time by Fortune magazine. Having stepped down from the post of CEO at Infosys, he is now the company's Chairman Emeritus, and also funds promising startups through his investment firm, Catamaran Ventures.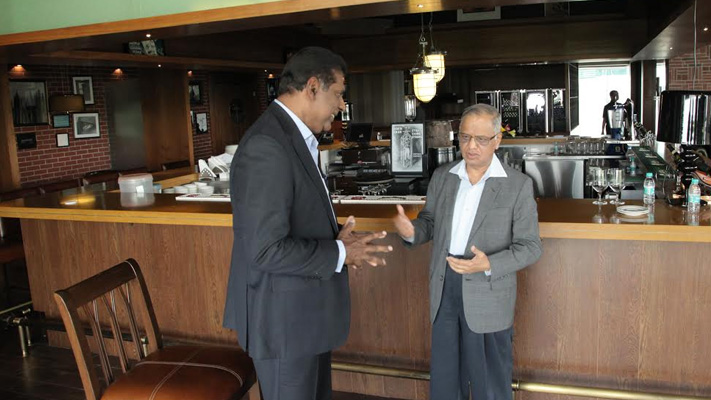 Here is an excerpt from the interview …
Amritraj:
You are very much associated with
Bengaluru
, but your early life was spent pretty much all across Karnataka …
Murthy: Yes, my father was a very junior civil servant. He was, for most of his career, a high school teacher and therefore, in keeping with the norms those days, we would be transferred once in 3 years from one small place to another. So, most of my years growing up were spent in more facilitated areas of Karnataka, but towards the end of the '50s, we moved over to Mysore city, one of the biggest cities in the state, and we spent about 9 years there. I did my last year of high school, pre university as well as my engineering studies out there before I went on to go to Kanpur.
Amritraj: So, then you went on to IIT Kanpur that sort of got its claim to fame after you came out of there. Is it fair to say that?
Murthy:
No! I think IIT Kanpur is truly an extraordinary institution, particularly the IIT Kanpur of the '60s, because at that time a programme called the Kanpur
Indo-American
program was in play, which meant that 8 of the finest universities in the US sent professors to IIT Kanpur; they contributed by way of computers; they contributed by way of books from the library. We used to get books at 1/3
rd
the dollar price, now the worth for a book that costed those days 4 dollars and 50 cents, we used to just pay at pay  just 4 rupees and 50 paisa.
Find out more about N R Narayana Murthy in this uncut version of the interview.
Written By : The Label Team