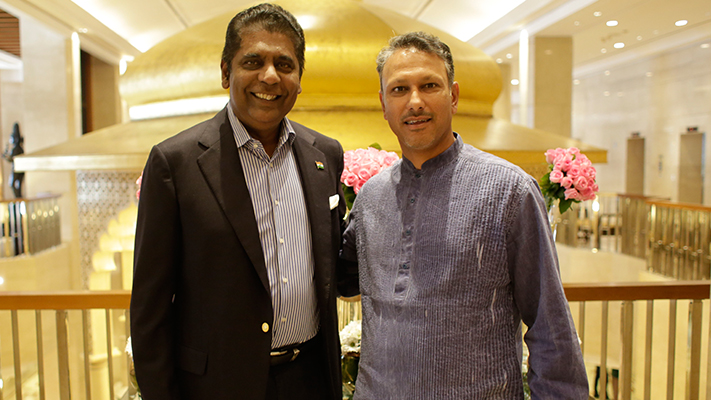 Excerpts from the interview:
Vijay: It might have been daunting at first, being the son of a world-famous athlete; especially since you took up a different sport.
Jeev: Being Milkha Singh's son, there used to be a lot of pressure on me in school. Every sports day, people would say "Milkha Singh's son is supposed to win the race". I never did, but as I grew up, I realised that my father is a very well-known person and I've got to respect him for his achievements. He always emphasised on hard work, discipline and determination, which helped me get to where I am today.
Vijay: Since you grew up with a parent who was extremely successful as a sportsperson, was there ever a pressure of following in his footsteps, instead of focusing on higher education?
Jeev: Actually, my father never wanted me to be a golfer; he always encouraged me to study. One summer, when I came home for from Bishop Cotton in Shimla in the seventh grade, I worked really hard on my golfing and I did well in the junior tournaments. That's when I told my father I really want to play this game. He said, "Okay, if you want to go ahead, but studies will still be your first priority."  I went on to get a golf scholarship in the States, but I still wasn't sure I wanted to play professionally. So I got a degree in business and administration. By the time I was 21, I knew golf would be my life so I called my father and said "I want to be a professional golfer" and he gave me his blessings. I never expected that. And there's been no looking back ever since.
Vijay: But you know, golf and tennis were not the kind of sports we grew up with in India. It was always football, hockey, and of course, cricket. Was golf sort of a unique sport at that time?
Jeev: At the time there weren't many professional golfers. The only professional tours then were the Asian tour, the US tour and the European tour. But I got into it professionally anyway. But as the years went by, I would often be asked by extended family and friends when we met what I really do. They'd say "You play this game for fun, but what do you really do?" It was hard for them to believe that I made a living out of it. But then things changed; the media picked it up well, there was a lot of awareness about the game after about 7-8 years. That's when people started recognising it as a profession.
Vijay: I read somewhere that Tiger Wood's mentioned that you play too much. You play for almost 35 weeks in a year and you must slow down so that you can give your body time to recover. Do you agree with that?
Jeev: Every time he tells me that I start laughing because that's the first thing he says when he sees me! But you know, I love playing and I feel I am fit enough to play for 35 weeks a year. I practice a lot on the golf course, whereas others do it off the course. But when I am off the course, I simply spend a lot of time with my family.
Written By :