Salads are quite underrated. A delicious mix of tastes, textures and flavours, they are great as a
snack
or light meal. If you don't like a simple mix of salad leaves and dressing, don't get put off, because salads are much more than just that. They pack in lots of nutrition in every bite and can be lip smacking if you master the art of pairing ingredients and flavours together.
Jeon, Sea Princess Hotel, Juhu's new all-day restaurant has given us the recipes for 3 of their best salads to ensure that you kick-start your fitness resolution on scrumptious note.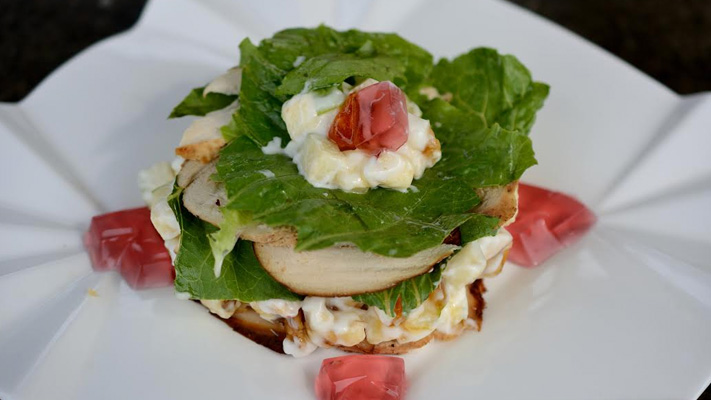 SMOKED CHICKEN SALAD
Perfect after a long day at work, this salad requires only a few ingredients.
Ingredients:1 smoked chicken breast; Romaine lettuce – 40g; apple – 20g; walnuts – 20g; fat-free mayonnaise – 15g; cranberry jelly – 60ml; salt to taste
Method
✔
Set a layer of the cranberry jelly in a mould that is roughly 5 inches in width.
✔
Next, wash and roughly tear the lettuce leaves and thinly slice the apples and walnuts.
✔
Then unmould the jelly onto a plate and use a 4-inch ring cutter to cut a clean disc. Remember not to lift the cutter once you have cut the jelly.
✔
Mix the lettuce, walnuts, apples and mayonnaise and season with salt.
✔
Spoon the salad over the jelly into the ring cutter.
✔
Thinly slice the smoked chicken breast and place it on top of the salad.
✔
Then slowly remove the ring cutter and serve.
✔
You can also layer the
chicken
and salad mixture and cube the jelly before dotting the plate with it.
PALM HEARTS AND CHESTNUT SALAD
If you want a salad that is unique, try this one on for size.
Ingredients: palm hearts – 120g; water chestnuts – 70g; charred fennel – 15g; green apples – 120g; 3 cherry tomatoes; balsamic reduction – 5ml; juice of 1 lime; olive oil – 10ml; salt to taste
Method
✔ First, core and cut the apples into thin slices. Then slice the palm hearts and roast them over a griddle. Afterwards, cool them and set aside.
✔ Next, slice the fennel bulbs and cut the cherry tomatoes into half.
✔ Add all the vegetables into a bowl and season them with salt.
✔ To serve the salad, drizzle some balsamic reduction on a square plate and arrange the vegetables onto it.
✔ In a separate bowl, whisk the olive oil and lime juice together until it forms an emulsion.
✔ Pour it over your salad and chill it before serving.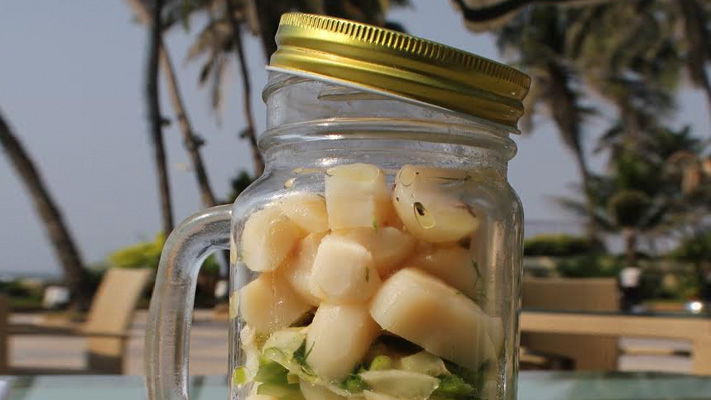 QUICK LAYERED SALAD
Don't order a greasy sandwich for lunch at work! Instead, try assembling this super quick
salad
the night before.
Ingredients: For the salad: shredded iceberg lettuce – 20g; diced yellow bell peppers – 20g; diced red bell peppers – 20g, diced green bell peppers – 20g; diced cucumber – 10g, deseeded and diced tomatoes – 10g; salt to taste
For the honey vinaigrette dressing: Combine olive oil, vinegar, honey and crushed garlic (optional) until it forms an emulsion
Method
✔ In a large jam jar or a Mason jar, layer all the vegetables, taking care to layer the watery ones such as cucumber and tomatoes at the base, and the crisper ones such as the peppers and lettuce on the top.
✔ Carry the dressing separately and pour it into your jar before you eat. Be sure to screw on the lid and give it a good shake before you tuck in!
Written By : Shirley Mistry