We often pass by or through petrol pumps without batting an eyelid, even getting frustrated from waiting in fill-up queues, but that's a necessity when you drive around. However, it still might be a good idea to hire a car on your next trip to the US or Canada, because some of the gas stations there are really worth stopping at for a while. Observe the designs, take in the attention to details that make them environment-friendly, or simply enjoy the art installations that some of them have become.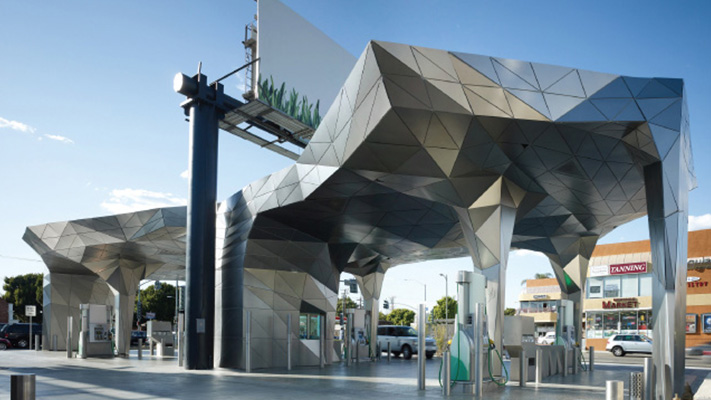 Helios House
The stainless steel jewel of Olympic Boulevard, a road that is also home to the Grammy Museum, Helios House is a fitting tribute to Hollywood. Known as the 'station of the future', this posh pump is architecturally the greenest gas station in the world. Although it looks like something out of Kubrick's
Space Odyssey
, it exceeds current environmental standards with farmed wood from renewable sources, tiles made of 100 per cent recycled glass, and a stainless steel canopy that can be dismantled and reused. Its water filtration and distribution system both purifies site water and collects rainwater, with a special method of preventing hydrocarbons from polluting groundwater. The structure's roof contains 90 solar panels, which produce enough energy to power three homes and is also landscaped with drought tolerant plants, which reduce the need for unfriendly heating and cooling systems. If that wasn't enough, Helios House also has a cell-phone recycling centre, LED lighting and specially trained staff, who help customers with information, tips, and also answer queries on overall green living and the station's special eco-friendly features.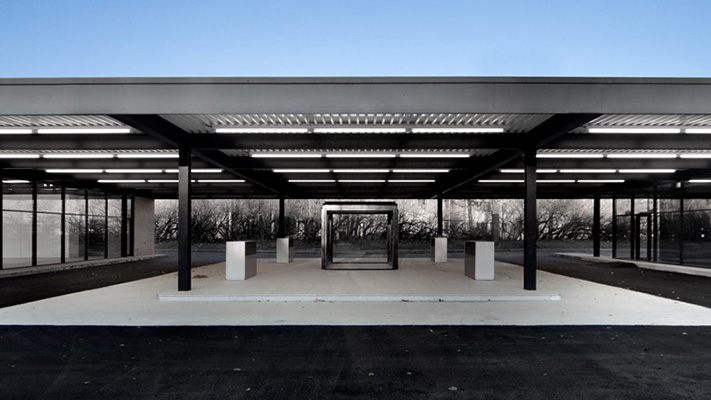 Nuns' Island gas station
If you enjoyed the British science fiction comedy-drama
Misfits
or Batman's secret bat-bunker at the Wayne Enterprise docks, you would feel right at home at this Montreal
automobile
oasis. It was designed in 1969, by Ludwig Mies van der Rohe, a German-American architect, best known for his role in shaping the Chicago skyline and for his quotations, "God is in the details," and "Less is more." Although the gas station was recently voted to be converted into a community centre, '
La Station
' on Nuns' Island was built in the modernist style, breaking away from classical and gothic styles that overran the nation.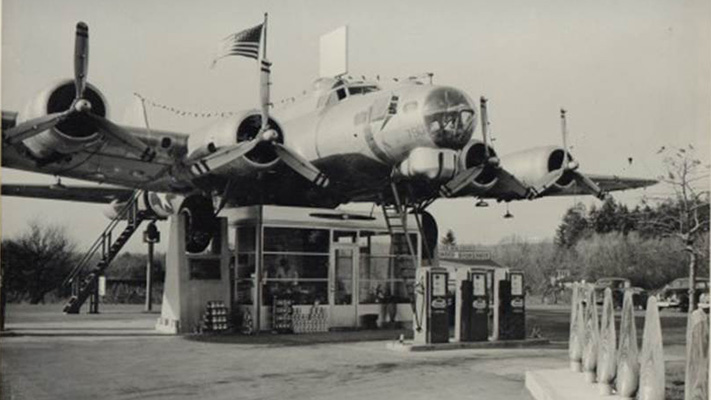 Art Lacy's Bomber Station
A frequently visited landmark, Bomber Gas in Portland is home to Lady Lacy, a World War II restored B-17G aircraft that has attracted people of all ages since 1947. Although the gas pumps were retired in 1991, the adjacent
restaurant
still serves hearty diner food and a souvenir Bomber placemat.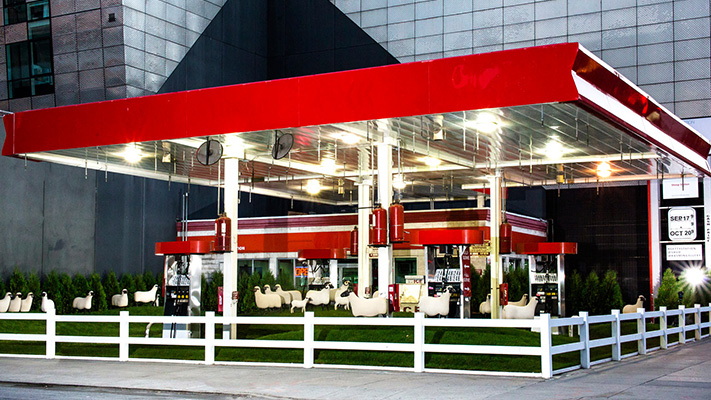 Sheep Station
If you feel you're not in Kansas anymore, it maybe because you are staring at the Getty Station on the corner of 24th Street and 10th Avenue in New York. A public art installation created by one half of the art duo Les Lalanne, it may seem an odd home for Francois-Xavier Lalanne's surrealistic petting zoo; however, the defunct petrol pump has become a major tourist attraction where one of Lalanne's sheep can fetch a whopping ₹1.2 crore at art auctions.
Crochet Gas Station
Located in Syracuse, NY, don't be hasty to write off this archaic form of art. Sure, quilting and patchwork have a sense of grandmotherly-ness to it; however, artist Jennifer Marsh made quite the statement with her artistic initiative. She revealed her crochet-covered gas station as part of her World Reclamation Art project, which sprang forth from a childhood passion for crocheting. Collecting submissions of squares of work from fibre artists all over the world, she covered the gas station as a way of bringing attention to the world's dependence of oil.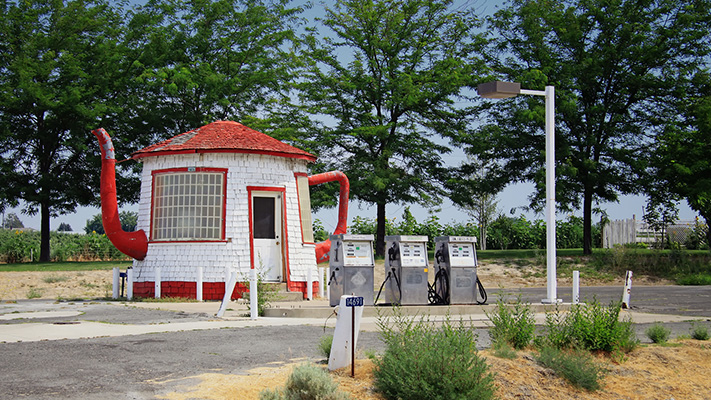 Teapot Dome Service Station
Nestled on Route 12 in Washington is a service station out of a nursery rhyme. Built in 1922 as a reminder of the Teapot Dome scandal, an oil bribery incident that took place between 1920 and 1923, the roadside attraction still retains its sheet metal handle and concrete spout. Now run on donations to an organisation called 'Friends of the Teapot', the town of Zillah is adamant to restore and keep it around for the future.
Written By : Srijeeta Mitra