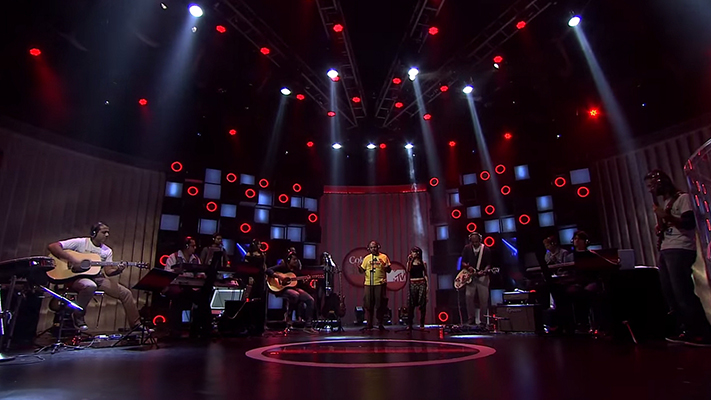 The genre of Indian fusion music has exploded in the last decade, with a huge number of fantastic bands, solo artists and international collaborative projects. Most of this has been possible because of the ability of the artists to reach out to a wide audience through shows and performances across the country and abroad, as well as through social media. Here's a pan-Indian selection of Indian fusion tracks you must listen to.
'Madari by Clinton Cerejo' featuring Vishal Dadlani and Sonu Kakkar
Part of the Coke Studio series, this awe-inspiring track combines Clinton Cerejo's amazing talents as a guitarist, composer and orchestrator, the flawless, precise vocals of Vishal Dadlani, and the powerful, intricate vocal interludes of Sonu Kakkar. Bulle Shah's profound mystical lyrics offer a new nuance while you listen to the fusion song over and over again.
'Abyss' by Karsh Kale and Anoushka Shankar
From their beautiful collaborative album 'Breathing Under Water', two music heavyweights weave their magic with the Hindustani raaga
Yaman
to produce a deep, water-filled fusion track that leaves you with the ethereal feeling of floating on the ocean floor. The track has fantastic flute, santoor and vocal interludes, punctuated by Anoushka's superlative sitar playing and Karsh's light touch on the tabla.
'Shiva Moon' by Prem Joshua
Reminiscent of a quiet trance bar in Goa, this beautiful lounge track has quiet sitar and flute interludes playing all through, with Joshua's subtle groove beats and a low but steady didgeridoo-like background track. This and the rest of the fantastic tracks in the album by the same name, set the perfect mood for a great after-hours trance party.
'Piya Bavari' by Abhijit Pohankar
This melancholic but hauntingly beautiful track defines the lounge-fusion genre of Indian music.  Pohankar's flawless, understated rendition of the song, combined with a calm, ocean-filled background track and a gentle tabla accompaniment, makes this a perfect Indain fusion music to listen to during a quiet moment.
'Miliha' by Advaita
Advaita's ability to seamlessly blend in Indian instrumentation with a heavily acoustic western blend of stringed and keyed instruments, make this quiet, cleverly orchestrated track perfect for a sit-down with friends. Smartly introduced Sarangi and piano interludes, a string orchestral background, some pleasant
alaaps
and poetry, all come together in this piece to produce great east-west magic.
'Nee Nenaindal' by Shankar Tucker ft. Vidya and Vandana
A delicious take on a Carnatic composition by Periyasaami Thooran, Shankar Tucker's version appeals to the contemporary ear. Tucker weaves soulful clarinet interludes in the raaga
Darbari Kanada
, while Vidya and Vandana, whose fame skyrocketed on social media with this fusion music, sing a plain, soulful version of the original song that compliments Shankar's playing beautifully.
'Kandukondein' by Harmonize Projekt
Originally a song by AR Rahman from the film of the same name, this fusion song when performed by this talented acapella group from Chennai, takes on a calm and wistful quality. With a tight harmonic background, a great lead vocal and a pleasantly understated bass guitar accompaniment, this fusion song is just a beautiful listen, any time of the day.
'Masti ki Basti'  by The Dewarists featuring Rewben Mashangva and Raghu Dixit
A peppy track, combining the creative energies of two famous artists, Masti Ki Basti was a collaborative effort brought about by The Dewarists, a project aimed at getting artists from around the world to make fusion music together.  Guru Rewben Mashangva's unique Folk Blues genre blends easily with Raghu Dixit's own Folk-rock genre, resulting in a foot tapping track.
Written By : Sriram Aravamudan