Did you always know you wanted to be a restaurateur?
I knew I wanted to be an entrepreneur, but having worked with Citibank for 10 years, I certainly never thought of becoming a restaurateur. Logically, having lived abroad and being exposed to new and different cultures allowed me to bring a lot more to the table at this stage in my life. So I knew this was the right time to make the switch.
What drew you to the art of pizza making?
I found the pizza industry underserved. The typical Indian is either subject to Dominos, Smoking Joes and Shiv Sagar pizza, or the 5-star restaurant pizza, all of which have been Indianised and not really authentic. My intention primarily was to offer simple, good quality food, and pizza was an easy way to do that.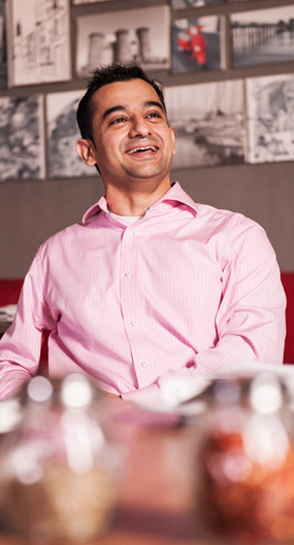 What sets Di Napoli apart from other pizza joints in the city?
Everything at Di Napoli is made by hand. All our pizzas are hand-stretched, using high quality ingredients, which include Italian flour and tomatoes. Even our oven is imported from Italy. Traditional Italian ovens are locally made using volcanic salt, and you can taste the flavour of the lava stone, which is what gives the pizza its authenticity; just like it is done in Naples.
The décor of Di Napoli is reminiscent of a fast food joint. What was the thought behind its interior design?
I wanted it to exude modernity and yet remain simple in design, making it look like an evolving restaurant that attracts people who are seeking good food at an affordable price. I want Di Napoli to expand into a chain of sorts, which is why I feel that it needs to look like it can be easily replicated.
What is your advice for budding entrepreneurs?
I'm not really in a position to give anyone advice yet, but if I had to, I'd say just say go for it. Just keep two things in mind: don't get married to your idea and don't invest everything into one idea. But at the same time, don't doubt yourself or think too much.
Written By : Nazneen Joshi