The only football player to hold the record for winning the Ballon d'Or for over 3 times, Barcelona forward Lionel Messi added another feather to his cap by winning the title for the 5th time, for the year 2015, at a ceremony held in Zurich. Here is a snapshot of everything you need to know about how Messi made it back to the top.
✔
 After winning the award 4 consecutive times from 2009 to 2012, Messi was pushed aside by his arch rival Christiano Ronaldo who won the award in 2013 and 2014. While 2014 was a trying year for
Messi
, he did state that winning the award for the 5
th
time in his career has been much more than anything he had dreamt of as a kid.
✔  Why is Messi's Ballon d'Or win so spectacular, you ask? Primarily because he bounced back like never before after having a bad 2014. For starters, he was involved in an unsavoury tax fraud case, apart from being accused of bullying ex-teammate Alexis Sanchez. Messi's troubles didn't quite end here as his performance was overshadowed by that of Ronaldo's. Coupled with a turbulent relationship dotted with fights with coach Luis Enrique, a disappointing World Cup loss and injuries to boot, Messi sure had a lot to recover from.
✔
 The world trained its eyes on Messi to hop right back into form in 2015 and that's just what he did. Between him and
Neymar
, the duo was responsible for 137 of Barca's record 190 goals in the past year and Messi himself helped score 52 goals for Barcelona and Argentina. A ligament injury didn't stop the skilled player from scoring in the UEFA Super Cup and the Club World Cup finals, helping Barca bag 5 trophies in the year.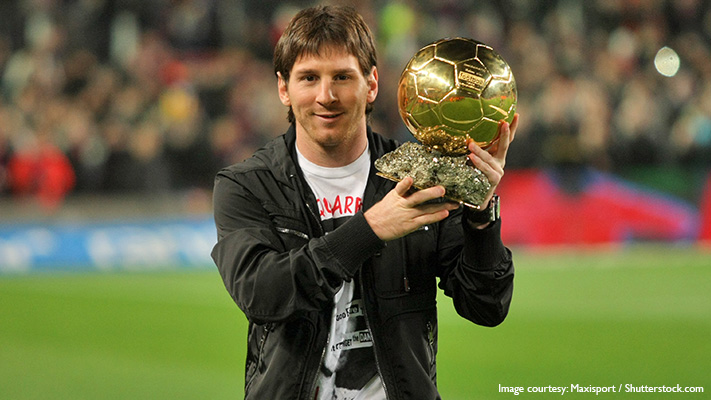 ✔
 A suitable winner for the Ballon d'Or is won by taking into consideration the votes of 3 members of each international football team. For 2015, Messi's vote count was the 3
rd
highest in the history of this celebrated award. He bagged a 41.33% that set him up for a landslide victory as fellow
footballers
Ronaldo and Neymar secured only 27.76% and 7.86% of the votes respectively.
✔  While there are talks of club loyalty, nationality and politics negatively tinting the voting process, the Indian captain had his vote spot on. Sunil Chhetri voted for Messi, Ronaldo and Neymar (in that order) who ended up being the 3 finalists.
Written By : Shirley Mistry