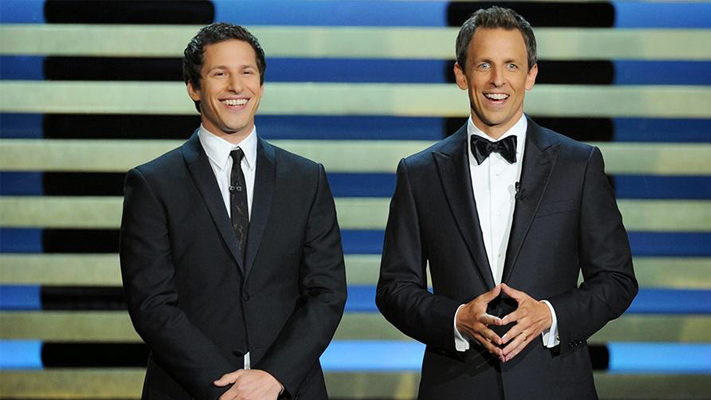 Host Seth Meyers (R) with Andy Samberg
The Emmys started with quite the burst of laughs, with the line-up of host Seth Meyers' opening full of relevant and topical references to television's glorious present, the emergence of Netflix, the broadcast vs. cable battle and digs that were made, at HBO, at the death of How I Met Your Mother's titular mother, the Game Of Thrones actors having no job security and The Big Bang Theory's leading actors making $1 million per episode, were priceless. It was quite a way to begin the awards presentation, even if most of the meaty material of the evening was exhausted in the first segment itself.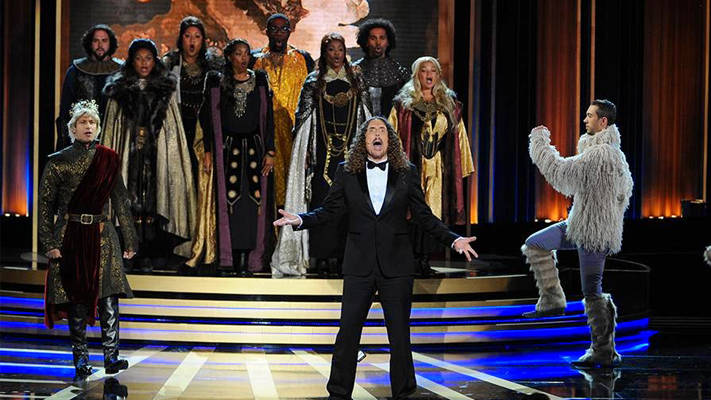 Weird Al Yankovic's performance on TV show themes
While some other presenters, such as Jimmy Fallon, went on to make less than funny jokes that fell flat, the interaction with the audience members such as Jon Hamm and Melissa McCarthy, didn't strike the right chord either. However, Seth Meyers kept returning with bits of freshness, especially during his presentation with Andy Samberg. The worded medley of TV show themes by Weird Al Yankovic that followed was quite entertaining, especially the Game Of Thrones bit at the end. Andy Samberg as King Joffrey interrupting Lena Headey's presentation was hilarious. Among the other presenters that brought the house down were Ricky Gervais and Julia Roberts, despite the latter's delayed announcement of Outstanding Lead Actor in a Drama Series.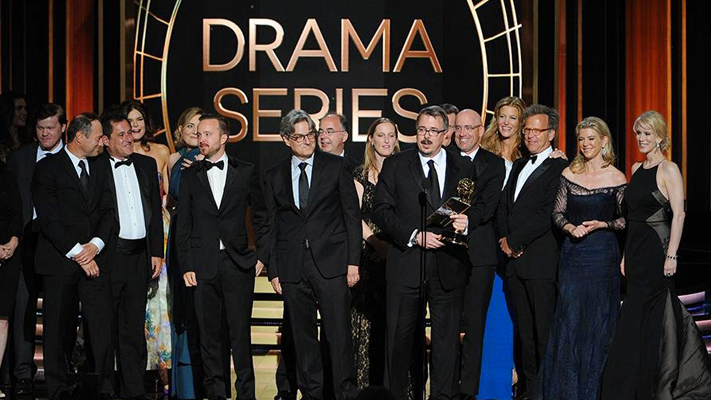 The Breaking Bad cast on their Outstanding Drama Series win
And that brings me to the results… I can honestly say that I do not remember the last time that I was this satisfied with the results of an awards show. Breaking Bad won big, and deservedly so. Aaron Paul and Anna Gunn winning supporting actor and actress, respectively, was not a surprise, given their exceptional performances in the last few episodes of the series.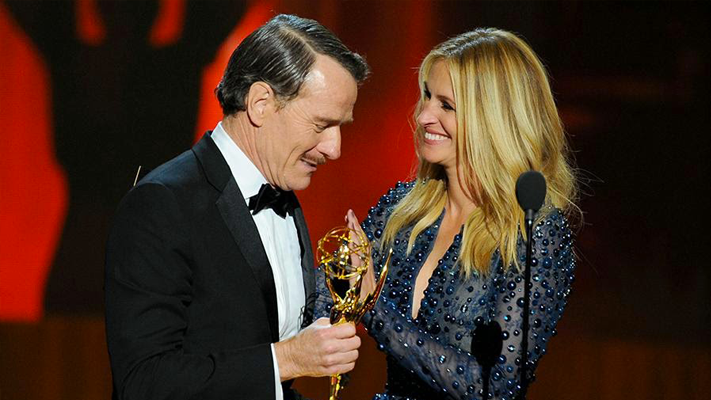 Bryan Cranston receives his Emmy from Julia Roberts
However, Bryan Cranston's win definitely came as a surprise for many; not because he didn't deserve it (definitely not), but because everyone was pretty sure that Matthew McConaughey would win for True Detective. Many even believed that True Detective would win Outstanding Drama Series, but Breaking Bad's amazing swan song was rewarded with the big prize instead.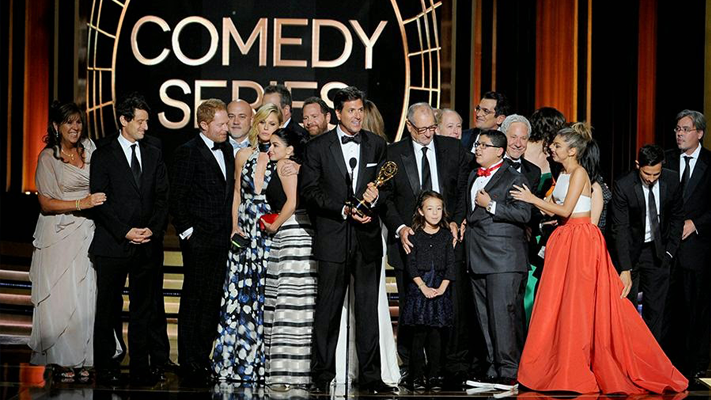 The Modern Family cast on their Outstanding Comedy Series win
The other big winner of the evening was Modern Family, and not just because it won Outstanding Comedy Series and Ty Burrell's Outstanding Supporting Actor – Comedy win. The show's win for comedy series put it alongside Frasier, becoming one of two shows that have won the highest number of Emmys for Outstanding Comedy Series. Modern Family's fifth consecutive win in this category may have garnered polarized views, with people going 'yawn' or 'yay', but I think that it's a show that deserves to have that distinction, owing to its consistent quality year after year.
While jokes were made about broadcast vs. cable, Julianna Margulies, made a strong point, when accepting her well-deserved Emmy for The Good Wife. She said, "But truly, this belongs to [showrunners] Robert and Michelle King; all our writers, who never cease to amaze me with 22 episodes a year." This made a strong point about how the show's quality is at par with any of the cable (or Netflix) dramas that are considered among the finest on television, despite how the volume of material that a show like theirs produces is far more, sometimes even three times more, than what the cable shows produce. And it was actually refreshing that this time at the Emmys, even though no broadcast show was nominated for Outstanding Drama Series, it turned out that they won as many awards as cable shows did in the main categories—outstanding series, acting (lead and supporting), and direction. I was pleasantly surprised by Allison Janney's win for Mom. The nomination itself was a surprise, but for the Academy to have given her the award is quite commendable.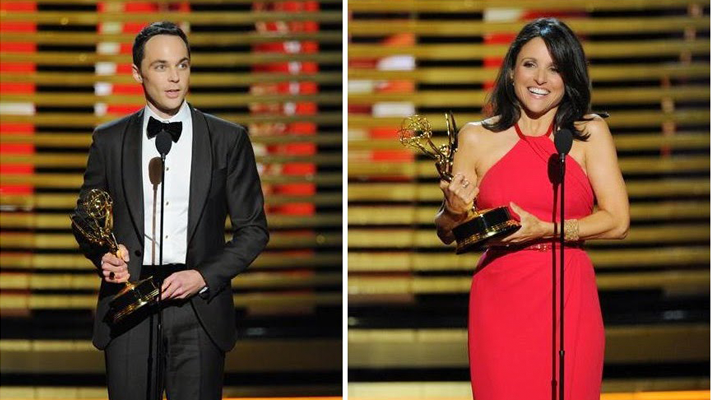 Jim Parsons and Julia Louis-Dreyfus receiving their Emmys
While several results were predictable—Jim Parsons for The Big Bang Theory and Julia Louis-Dreyfus for Veep, for instance—the Emmy winners were in no way undeserving. And regardless of the few moments of forced humour, it was a well-balanced show. The 'In Memoriam' section was kept short and sweet, yet allowing Billy Crystal to do justice to his tribute to Robin Williams, perhaps because of the criticism that the Emmys got last year for dragging it out. And if the results are as satisfying, to the point of being able to say that no one was really snubbed, then I'd say that it was a good Emmys! And of course, we'll always remember how Bryan Cranston reminded Julia Louis-Dreyfus of when they had worked together on Seinfeld, a long time ago!
Take a look at this list of some of the main winners and share your thoughts on the Emmys in the comments section below.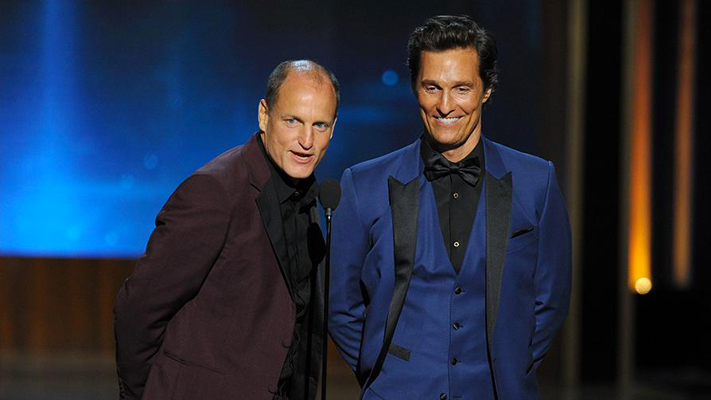 Woody Harrelson and Matthew McConaughey of True Detective while presenting an award at the 66th Emmys
Outstanding Drama Series
TRUE DETECTIVE
DOWNTON ABBEY
BREAKING BAD 
GAME OF THRONES
HOUSE OF CARDS
MAD MEN
Outstanding Comedy Series
THE BIG BANG THEORY
LOUIE
MODERN FAMILY
ORANGE IS THE NEW BLACK
SILICON VALLEY
VEEP
Lead Actor in a Drama
Bryan Cranston, BREAKING BAD
Jeff Daniels, THE NEWSROOM
Jon Hamm, MAD MEN
Woody Harrelson, TRUE DETECTIVE
Matthew McConaughey, TRUE DETECTIVE
Kevin Spacey, HOUSE OF CARDS
Lead Actress in a Drama
Lizzy Caplan, MASTERS OF SEX
Claire Danes, HOMELAND
Michelle Dockery, DOWNTON ABBEY
Julianna Marguiles, THE GOOD WIFE
Kerry Washington, SCANDAL
Robin Wright, HOUSE OF CARDS
Lead Actor in a Comedy
Louis C.K., LOUIE
Don Cheadle, HOUSE OF LIES
Ricky Gervais, DEREK
Matt LeBlanc, EPISODES
William H. Macy, SHAMELESS
Jim Parsons, THE BIG BANG THEORY
Lead Actress in a Comedy
Lena Dunham, GIRLS
Edie Falco, NURSE JACKIE
Julia Louis-Dreyfus, VEEP
Melissa McCarthy, MIKE & MOLLY
Amy Poehler, PARKS & RECREATION
Taylor Schilling, ORANGE IS THE NEW BLACK
Supporting Actor in a Drama
Aaron Paul, BREAKING BAD
Jim Carter, DOWNTON ABBEY
Peter Dinklage, GAME OF THRONES
Josh Charles, THE GOOD WIFE
Mandy Patinkin, HOMELAND
Jon Voight, RAY DONOVAN
Supporting Actress in a Drama
Anna Gunn, BREAKING BAD
Maggie Smith, DOWNTON ABBEY
Joanne Froggatt, DOWNTON ABBEY
Lena Headey, GAME OF THRONES
Christine Baranski, THE GOOD WIFE
Christina Hendricks, MAD MEN
Supporting Actor in a Comedy
Andre Braugher, BROOKLYN NINE-NINE
Adam Driver, GIRLS
Jesse Tyler Ferguson, MODERN FAMILY
Ty Burrell, MODERN FAMILY
Fred Armisen, PORTLANDIA
Tony Hale, VEEP
Supporting Actress in a Comedy
Mayim Bialik, THE BIG BANG THEORY
Julie Bowen, MODERN FAMILY
Allison Janney, MOM
Kate Mulgrew, ORANGE IS THE NEW BLACK
Kate McKinnon, SATURDAY NIGHT LIVE
Anna Chlumsky, VEEP
Outstanding Directing For A Drama Series
BOARDWALK EMPIRE ("Farewell Daddy Blues"), Tim Van Patten
BREAKING BAD ("Felina"), Vince Gilligan
DOWNTON ABBEY ("Episode 1"), David Evans
GAME OF THRONES ("The Watchers on the Wall"), Neil Marshall
HOUSE OF CARDS ("Chapter 14"), Carl Franklin
TRUE DETECTIVE ("Who Goes There"), Cary Joji Fukunaga
Outstanding Directing For A Comedy Series
EPISODES ("Episode 309"), Iain B. MacDonald
GLEE ("100"), Paris Barclay
LOUIS ("Elevator, Part 6"), Louis C.K.
MODERN FAMILY ("Vegas"), Gail Mancuso
ORANGE IS THE NEW BLACK ("Lesbian Request Denied"), Jodie Foster
SILICON VALLEY ("Minimum Viable Product"), Mike Judge
Outstanding Writing For A Drama Series
BREAKING BAD ("Ozymandias"), Moira Walley-Beckett
BREAKING BAD ("Felina"), Vince Gilligan
GAME OF THRONES ("The Children"), David Benioff and D.B. Weiss
HOUSE OF CARDS ("Chapter 14"), Beau Willimon
TRUE DETECTIVE ("The Secret Fate of All Life"), Nic Pizzolatto
Outstanding Writing For A Comedy Series
EPISODES ("Episode 305"), David Crane
LOUIE ("So Did The Fat Lady"), Louis C.K.
ORANGE IS THE NEW BLACK ("I Wasn't Ready"), Jenji Kohan and Liz Friedman
SILICON VALLEY ("Optimal Tip-to-Tip Efficiency"), Alec Berg
VEEP ("Special Relationship"), Simon Blackwell, Tony Roche, and Armando Iannucci
Photo courtesy: Academy Of Television Arts And Sciences, NBC
Written By : Ranvijaysinh Jhala