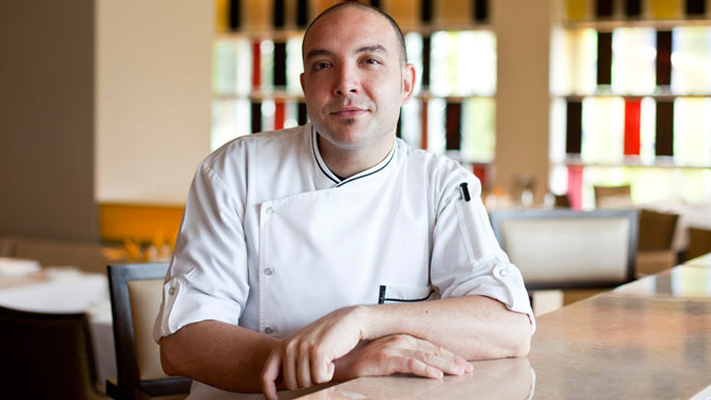 Chef Alessandro Stefoni strikes a pose at Vetro, The Oberoi
He's shy and reserved, but ask him about cooking and his eyes light up and his passion for food overtakes his quiet demeanour. Having worked with some of the most celebrated chefs in Europe and LA, he made his way to India right from the Michelin-starred, fine-dining Italian restaurant, Imago, where he was the Sous Chef. Chef Alessandro Stefoni, who recently revamped the menu at The Oberoi's Italian restaurant Vetro, shares with us some fond memories of his culinary career thus far.
How did your culinary journey begin?
It all began at home. I used to cook a lot with my father, who was a manager at a restaurant. I was only 12 when I started cooking and soon after, by the time I turned 17, I began working too. All this led to one of the most beautiful experiences I've ever had. I got the opportunity to work with Chef Marchesi at Hotel Hassler, which was truly amazing.
Who is your role model that inspired you in your career?
It's chefs like Francesco Apreda at Hotel Hassler that inspire me. Every moment is under control with chefs like him, and it is this discipline that has urged me to get better at my job.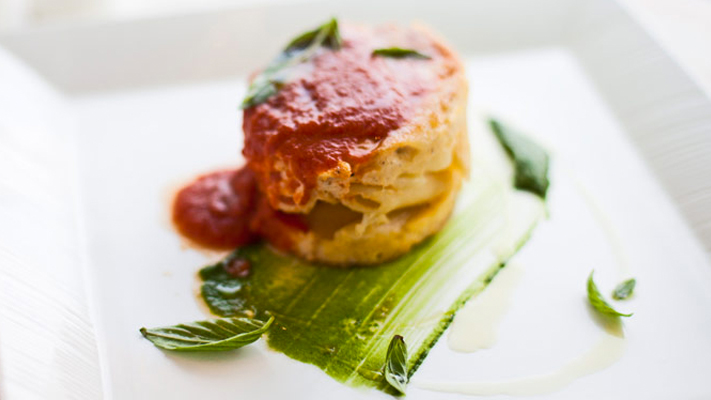 The Frittata di Pasta
What is your favourite Italian dish?
Pasta! Without a doubt. Bucatini pasta is my favourite. A typical pasta from Rome, it is thick like spaghetti and has a hole in the middle. I make this pasta with Pecorino Romano cheese, some black pepper and a little olive oil, that's it. It's an easy but technical recipe because when you use the cheese, it is crucial not to cook it directly above a flame or it will lose its flavour. So the trick is to add it more or less towards the end.
Your guilty pleasure.
A simple homemade margherita pizza.
What's the most adventurous thing you've eaten?
I am not sure of its English name, but I tasted a little insect with paprika and lime during my time in LA. I think it was the Mexican Red Kneed Tarantula.
In an interview, culinary genius Heston Blumenthal spoke about how food is often connected to one's memories. Which dish (prepared by you) has the most beautiful memory for you?
One of the dishes on Vetro's new menu, the Frittata di Pasta (omelette penne pasta, pecorino sardo cheese and tomato sauce) is inspired from my grandmother's recipe. When I was younger, my entire extended family would meet for a lavish meal every Sunday where my grandmother would feed us with delicious food. So, to me, it is this food that would bring my family together.
Do you share your new recipe creations on your family?
Only on my girlfriend! I've tried pasta with wasabi kneaded into the dough and pasta with rope fish. She's my official taster (smiles).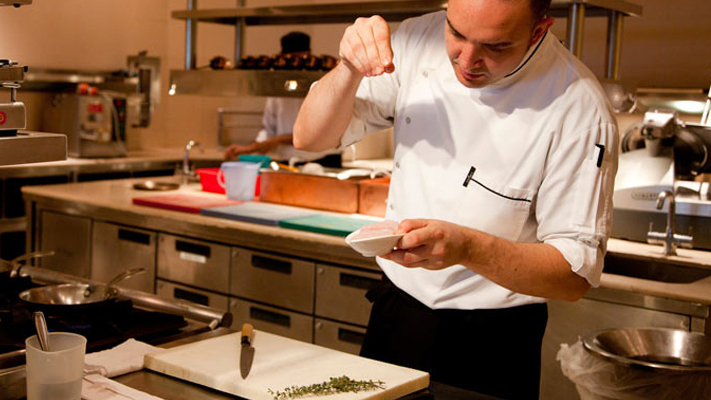 Chef Alessandro Stefoni demonstrates his culinary skills
What tips would you give an aspiring chef?
Be passionate and work hard.
3 essentials of Italian cuisine
Rice: Risotto is a religion for me.
Buratta cheese: It is a lot like mozzarella, but creamier. You can use it for everything from starters to main course.
Olive oil: From making a simple pasta to a risotto to making a chocolate cake sponge, olive oil is one of the most versatile ingredients used in Italian cuisine.
Written By : Ruchika Vyas