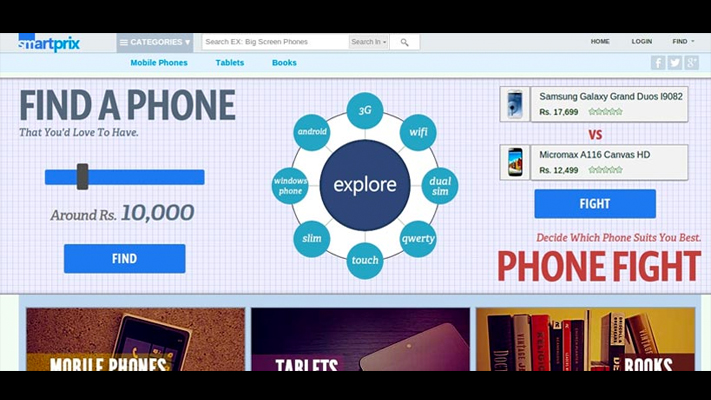 Smartprix [www.smartprix.com]
The first place you should visit is a little-known website called Smartprix. Not only does this list every smartphone available in India, but it also gives you all the information you would need about it.
For starters, when you go to the site, you can set your budget and hit the large 'Find' button to get a list of all the models available in that range. Alternatively, you could click on any one of the tags available, such as Android, Windows Phone, Slim, Touch, QWERTY, Dual-SIM, 3G or Wi-Fi, and get a list sorted accordingly. There are also other ways to browse, such as popular mobiles, new mobiles, upcoming mobiles or by brands.
When you are on any such listing page, a bar on the left gives you plenty of options to further filter your list, whether it's by specifications (size of screen, camera megapixel count, etc.) or features (dual-SIM, the operating system it's running, etc.).
Our favourite feature, though, is the 'Phone Fight'. If you already have an idea of two phones that you fancy, then just put them into the two slots and Smartprix will generate a comparison sheet for the two models.
A similar function can also be accessed by adding any phone you are looking at to the 'Compare Queue' bar at the bottom of the page.
Each phone has a detailed listing of all the information you would need about it: the product's salient features, images, full specifications and reviews, by both experts and users. There's also a quick summary of the pros and cons of each phone, collated from different reviewers.
What we particularly liked about the specifications is that Smartprix doesn't indulge in unnecessary jargon. Iit actually explains what each element is and whether it's good or bad. It's a huge deviation from most sites, which will just give you the specification and leave you to figure it out for yourself.
In the Expert Reviews section, the site collates reviews from established and respected tech publications, such as GSM Arena, Engadget, PC Mag and others.
Finally, and most importantly, Smartprix will also give you the best price possible across all the online stores in the country.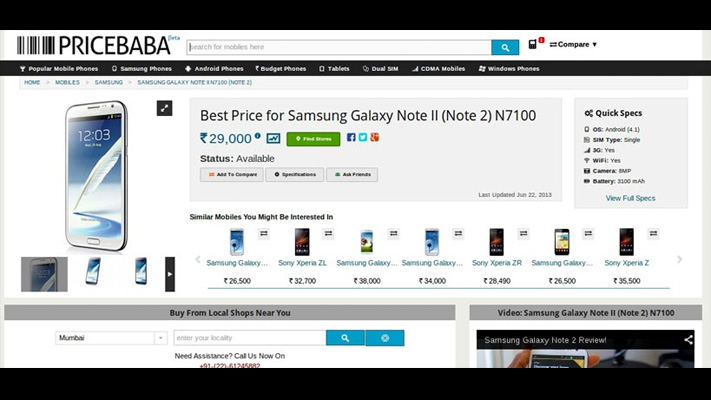 PriceBaba [pricebaba.com]
Many a time, the best deal possible on a mobile phone is in a brick-and-mortar retail store and not at e-commerce sites. And to help you find the best deal on a phone in the real world, there's a new Indian startup called PriceBaba. It currently works in Mumbai, Navi Mumbai, Thane, Pune, Noida, Delhi and Gurgaon.
When you visit the site, key in the name of the smartphone you are looking for and PriceBaba will find it. In a section called Buy From Local Shops Near You, choose your city and area. The site will quickly sort out the best prices from shops around you.
We recommend doing this and looking at Smartprix's online retail listing options, and figuring out which is the best price for you.
Remember to also check out all the freebies that any seller is offering. For example, sometimes, retail stores will throw in services like putting on a screen guard or transferring your old data to your new phone—something e-retailers don't do.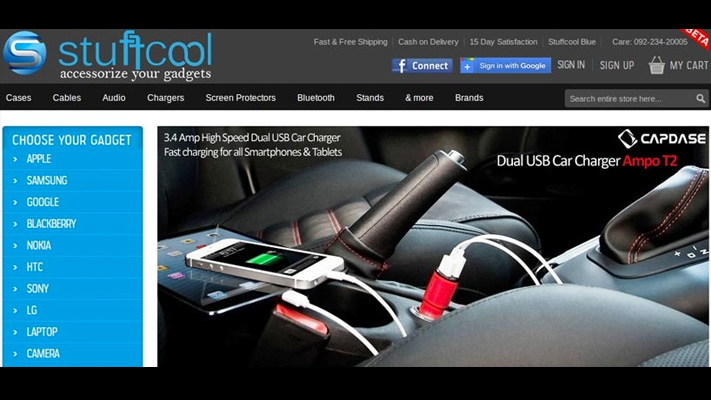 Stuffcool [www.stuffcool.com]
Now that you have your phone, you obviously want to customise it and set it up just the way you want. You will want a great case for it, perhaps high-quality earphones or a Bluetooth headset. And of course, the essential car charger to juice up your battery on the move.
For all your accessory needs, Stuffcool is the place to go to. This e-store has a vast collection of cases, cables, audio equipment, chargers, screen protectors, Bluetooth devices, stands and more, all sorted neatly by the brand of the maker or the brand of your phone.
The site has great options from some of the best accessory-makers, like Griffin and Capdase. No doubt, you'll find exactly what you're looking for here. We quite dig the rugged Griffin Survivor Heavy Duty case for the iPhone 5 and the Capdase Skin Tack non-slip mat to stick your phone on your car's dashboard without the fear of it falling off.
Written By : Clark Wayne