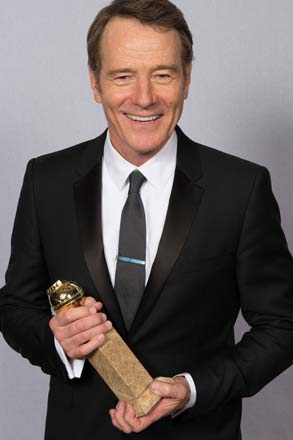 Bryan Cranston with his Golden Globe
After three Golden Globe Award nominations over the years, Bryan Cranston finally won the Globe for his performance in Breaking Bad. He was brief in his acceptance speech, saying, "What a lovely way to say goodbye to a show that meant so much to me." But after the show itself won Best Drama Series, with the whole cast, backstage, he added, "If we'd know that this would happen, we would've gone to Vegas first, put some money down. We're no dummies; we've got to finance the spinoff."
To what would you attribute your success in this business?
I would say luck. I certainly don't want to construe that talent is not important; it is a component. What I'm trying to say is that you could have tremendous talent, patience, persistence, you could be in it for the long haul, you could be constantly looking, eager to find out where your next break is coming from, but if you don't have a healthy dose of luck, you will not have a successful career in this business.
How would you relate to luck, as far as your career is concerned?
You have to meet someone who will open a door for you. You have to sense that I have an opportunity here, and I'm going to wedge in there and do my thing and prove to them and instil confidence in them that that I can do the job. And then you have to do the job, or else it's not lucky. So that's the component I'm talking about. I was 40 when I got the series Malcolm in the Middle and that ran for seven years. We were hoping for an eighth year but then that didn't happen, and then Breaking Bad came along. I would say that was luck.
Did you have a say in how your character, Walter White, looked in the series?
In my initial meeting with the creators of the show, before I was offered the part, I pitched them so many things on how he should look, what he should weigh. I felt that he should be a little overweight because he just didn't care anymore. The man is depressed when we first meet him. I wanted people to relate to that. He had missed opportunities. He didn't point the finger at anyone. He just imploded, and he just put one foot in front of the other and got on with life. He loved his wife and special-needs son. I wanted to take the colour out of his face and hair because I wanted him to be invisible. I wore clothes that were similar to that colour, so that he would blend into the wall and be invisible to himself and society. When he was going through chemotherapy, he would lose his hair, so I shaved my hair on camera and it was a transformation of Walter White from milquetoast kind of genteel person to becoming a dangerous person. The most intimidating look that a man can have is a bald head and facial hair, because hair often softens a look.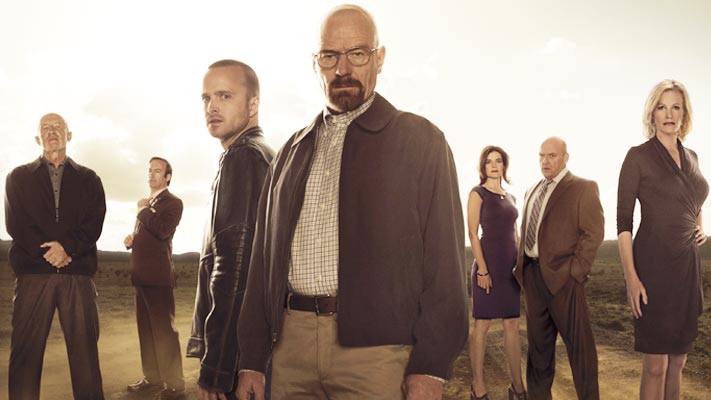 A publicity photo of the Breaking Bad cast
What do you prize the most in your life?
I think that the thing I prize the most in my life is a foundation of sensible living, I have a good marriage and a great kid, and we just celebrated 24 years of marriage. So when you have a sane life as a foundation, I've always felt that you can be tethered to that, and then you can go crazy. Try things and do odd, weird stuff, but you can always just come back to the bedrock, and that's the way I thought that I would set my life. I just feel so lucky. I was going to be a policeman, but when I was 19 I realised that the girls in acting classes where so much prettier than those in my classes, so I took some acting classes, hoping to date some of those girls. Because when you're 19, that is all you think about. But then I discovered that I was pretty good with the acting part of it and I dedicated myself to it.
Cranston with his costars and Breaking Bad creator Vince Gilligan at the Golden Globes
You speak of the love you and your wife have. What have you done for love?
I think I've done a considerable amount for my wife. You know, and from a typical guy's standpoint we think it gets us points that we can. We do something romantic and it's like: Okay honey, so that should be good for a couple of years, don't you think; and give me a little slide on this. When she had her bridal party, all her bridesmaids and girlfriends were having a bachelorette party and I knew at which friend's house it was at. I got a tuxedo, a bottle of champagne, a dozen glasses and a boom box with a tape in it. I played the music, stood on top of my car and sang her a song.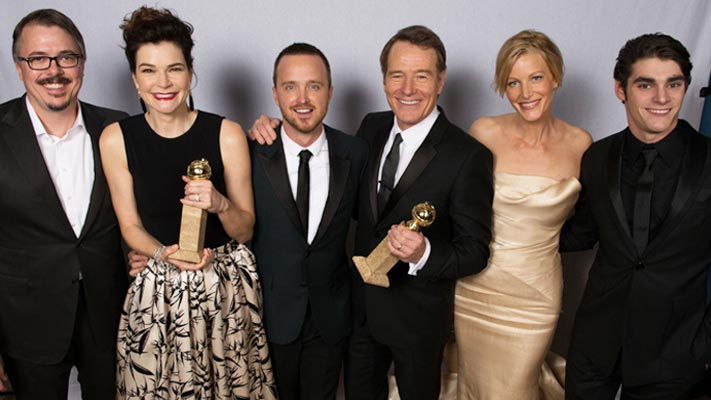 Cranston with his co-star Aaron Paul in Breaking Bad
Let's talk about the charity that you are involved with—the '3 Palms Project' and others.
Jane Kaczmarek, my co-star from Malcolm in the Middle, said that charity is the price you pay for fame and I agree with that. There is a responsibility and I think it's incumbent upon us to give back and to open up to, as a physical action, a way of saying thank you for the benefits that we've received. And one of those is that I am a spokesperson for a proponent of the National Center For Missing And Exploited Children and now the International Center For Missing And Exploited Children. Terrific work! And it used to be heavily focused on finding missing children and returning them to their homes. That hasn't changed, except the thing that has overshadowed it insofar is danger and importance is online paedophilia and that is sex trade, sex tourism and these sorts of things. So the National Center is very, very active in supporting laws to protect children, whether it's on a national or international level. I am active in raising funds and with this new media, it's remarkable how much money one can raise.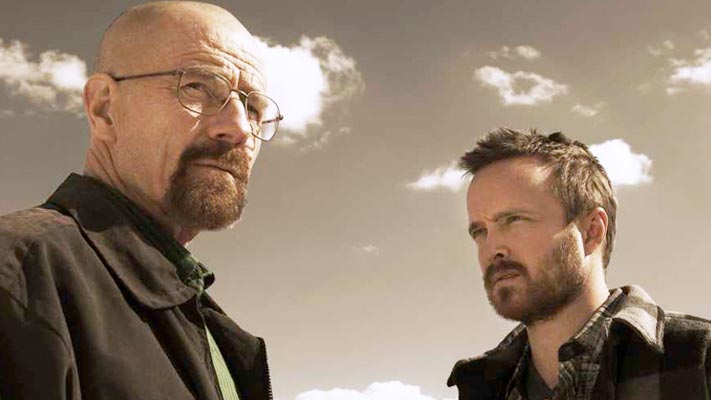 Cranston in the Breaking Bad series finale
And what about KidSmart?
It's a DVD programme for parents to sit down with their kids, five or six years old on up. It covers the seven main ways that predators look to abduct your child. But we do it in a way that doesn't have any weapons, there's no danger, these children are in normal circumstances…And the people who are the predators are not the guys in trench coats and eye patches, which is unrealistic. These are very smart people. They won't hesitate to take their time to groom young children, to bring them slowly to their side as we have seen before.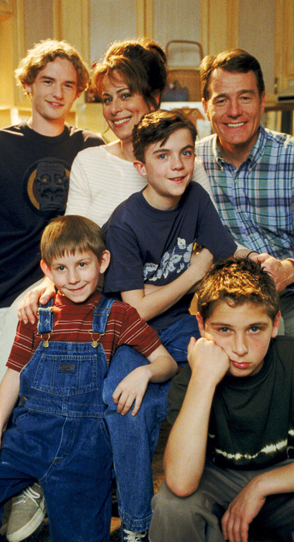 A Malcolm in the Middle cast photo
Speaking of new media and technology, how skilled are you at that, and what do you use it for?
I found Twitter and I've used it to encourage friends to do stuff that they are in the process of doing and have been afraid to do. I have yet to get on Facebook. I think that a little technology at a time is good, so maybe sometime I will attempt Facebook too.
How would you say that you spend your life?
The bulk of my life is spent in the present. I think that's the best way to live; to be able to appreciate what gifts and blessings are right here. Nurture those people who care about you and love you and spend time with you. The older I get, the less things I want in my life and the more experiences I want. So I want dinner parties, I want vacations, I want to just be with people, I want to go for walks…Those are the things that have more meaning for me. Material things mean less and less, so the bulk of it is now.
Do you follow a fitness regime?
So far, no. I didn't have to, because of the character that I played on Breaking Bad, but I do do the usual stuff now—weights, walking, and leading a healthy lifestyle. I don't want to be out of shape but I don't have the sense of narcissism that I need to always look buffed.
Written By : Noel de Souza