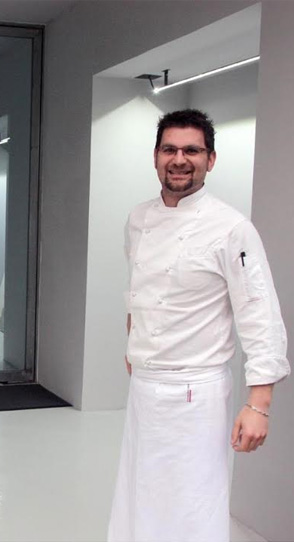 When an opportunity to work with The Oberoi hotels came up for Italian Chef Adriano Baldassarre, he decided that it would be an interesting experience to work in a country rich in culture, and diverse within its cuisines. When asked to create a new menu for Vetro, the continental restaurant in The Oberoi, Mumbai, Baldassarre was keen to bring to the table what his Italian palate has enjoyed since childhood, and mastered at an early age. A man who respects traditional dishes and authenticity in cuisines, Baldassarre decided that it was important to retain that authenticity, even though adapting classic dishes for the Indian palate might be the demand. "I didn't want to overload Italian food with spices. I wouldn't want someone to have tasted authentic Italian food in Florence and then find that what is served here is not authentic," he explains. "I am, however, happy to do is to customise the food for the guests. If, after tasting the food, they feel like they'd like it spicier, or with an added bit of this and that, I'd be happy to give them what they want." He adds that even in Italy, from Tuscany to Sicily, the food is quite spicy, so something that's native to that region might be enjoyed in its original form, even by Indians who have a palate for something spicier. Here, he delves deeper into his love for Italian food and how Indian food isn't all that different.
What do you personally love cooking? What foods form your comfort zone in the kitchen?
I love to cook anything Italian. I feel like it's in my blood. I love cooking good main course dishes, but homemade pasta is almost as dear to me, since it's so intrinsically Italian. But I like to make stuffed pasta. I like it if the sauce is also inside the pasta. That's what really makes it flavourful, according to me. I also enjoy cooking haute appetisers, because they're like main courses.
Talk about your culinary journey and how cooking happened for you.?
At the age of 15, during summer break from school, I worked at a restaurant. In my final year of school, I was moonlighting at a restaurant, because of which it took me two years to pass the class. But what I wanted was very clear in my mind. I wanted to try and learn as much as I could from that job, which would help me become a good chef later. After school, and serving in the military, in 1999, I went to London, where I worked for Giorgio Locatelli at his restaurants, first at Zafferano, and then at Locanda Locatelli [both, Michelin Star restaurants]. Giorgio Locatelli is the best and most famous Italian chef in London. After this, I returned to Italy and worked there. I soon opened my own restaurant, not far from Rome. I earned one Michelin Star for it in 2007, becoming one of the youngest chefs to get a star. I was also consulting for other restaurants and hotels, and even the parliament house in Italy. Eventually, through the people I was working with, an opportunity to come to India came up, and I took it!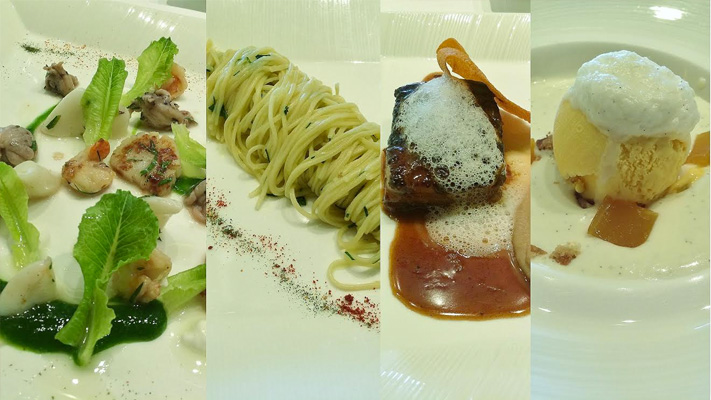 Chef Adriano Baldassarre's creations for Vetro at The Oberoi, Mumbai
What are your favourite foods apart from Italian?
Currently, I make it a point to have a meal of dishes such as chicken tikka, malai kebab, etc, no less than once a week. I also like biryani, but it shouldn't be too spicy. Indian food is very nice. And I don't say this because I'm in India; I genuinely believe it is. When you eat Indian food, and you listen to the history behind each dish, it's fascinating to know more about their origins. The stories aren't as fascinating elsewhere. In this regard, India is very similar to Italy. For people like me who visit for the first time, it's also very interesting to learn about what each dish is about, the different masalas and so on. When old people in Italy talk about the traditions of food, it's very similar to how it is here.
When you travel, what are the authentic ingredients that you like to buy from different places?
For example, when I'm in Asia, I look out for spices. When in Spain, I usually look for paprika, chorizo and Spanish ham. In London, I was looking for cheddar and other cheeses. Now, I'm starting to learn about new varieties of fruits. Fruits in India are very rich in colour and flavour. Fruits such as mango and avocado are quite different from the varieties available elsewhere. I would also very much like to explore what's happening with food in the smaller towns and rural areas of India, away from the big business cities. Smaller villages might offer a different take on traditional dishes.
Could you share with us some quick cooking tips or kitchen secrets?
Cooking food from any cuisine, one thing you must bear in mind is respect for the traditions of that food and the ingredients that one must use. And one must always remember that the ultimate goal is to make people happy with what you put on the table. So if you cook with a happy mind and heart, it'll show on the plate. Make nice-looking, happy-looking food. Even when I was adapting dishes, some of them I didn't change at all because how good the original versions tasted, but I made it a point to put a happy dish on the plate, and people were happy. So I would say that the secrets to presenting good food are love, passion and a lot of work, all done with happiness. Put yourself into your food and it'll be good.
Written By : Ranvijaysinh Jhala