What means most to you in the world of vintage bikes?
For me, pulling a piece of history that I wasn't part of is very exciting. I feel machines today – be it cars or bikes have become generic clones of each other. There is nothing unique or extraordinary about them. I find designs dating back to the pre 50s, 60s and 40s era really unique. And to put it all back together again in its original glory and riding it on today's roads is super-sexy and it's quite a turn on for me. So for me it's not just about collecting but also putting it all together – the accessories, saddle bags, lights and even lenses.
Is your love for bikes an extension of the passion you share for design, fashion and the arts?
I live my design philosophy and inspiration. I don't just borrow inspiration. For me, the bag that I carry, the jacket that I wear – everything has to be one-off, unique and vintage. Even if it is a t-shirt, it has to have a certain wash to it. I am not satisfied with something that's regular or available or something that's easily accessible.
Your favourite biking memory.
My recent Ladakh trip was a 12-day trek and my entire life was on my bike. That trip humbled me and made me realise that I am not even a dot on this planet. It was a period of sheer bliss.
Your most prized beauty.
The Norton we shot today is very dear to me. It is a 50s café racer style except for the handle bar which I have taken up slightly. Everything is by the book like they came out from the factory in their original state. I am constantly following biking blogs and also a member of many groups – whether it's a Norton or a
Royale Enfield
or a Triumph.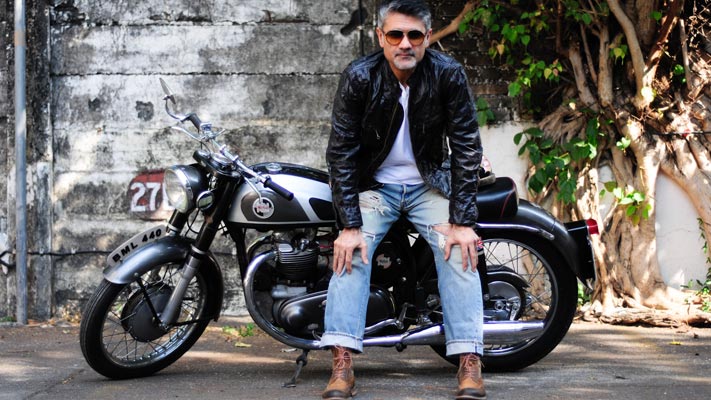 Your favourite biking destinations.
I drove to Rajmachi Fort during the monsoons. I have done that trip four times and it's surreal.
Bikes: The extension of your personal style
Harley is very close to the vintage fashion and style. I am not really a superbike kind of a guy. I feel the super biking is more about showing off the power and speed of your machine. Vintage biking is not that. It's heritage, class and style. It's a different trip. Having said that, I like some of the 70s superbikes – the cruisers like the Hondas. Personally, I like classic machines.
Biking scene in India
Biking has gone berserk in India. I think the inflow of all these mad brands, starting with Harley Davidson (again serious heritage and tradition but that's American style) right to Ducati, BMW and Yamaha – you name them and they are all here.
Dream beauty
Brough Superior, which is actually considered the Rolls Royce of vintage machines or Velocette Venom.
Written By : Manish Mishra Photographs by Osbert Pinto