Cigars have always been synonymous with masculinity. Speak to a veteran tobacconist or a
cigar connoisseur
and they will vouch for the fact that there is a certain philosophy associated with different types of cigars. While some believe in choosing a particular cigar type depending upon its strength and the time of day, others make their choice based on whether a particular shape will suit their facial type. The ground rule, however, remains the same: a cigar should only be smoked when one has the time to savour its taste and aroma to the fullest.
The Label
offers this comprehensive guide to cigars.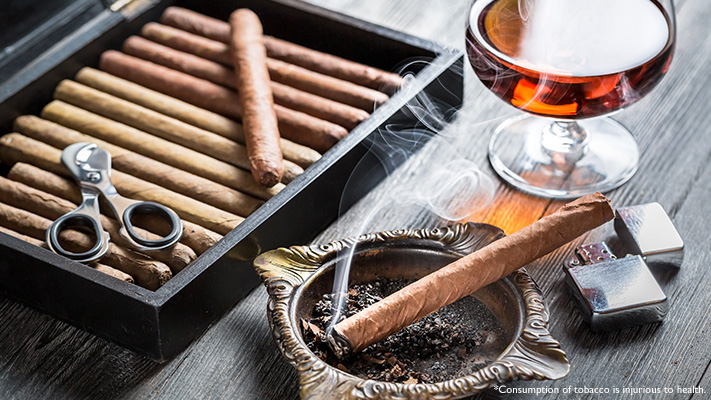 Cigar shapes, sizes and colours

As far as shape is concerned, all cigars fall under these two basic categories:
✔  Parejos (straight sides)
✔ Figurados (irregular shapes)
Within these categories,
cigars
are further divided based on their sizes. The two standards of measurement used to gauge the size of the cigar are its length (in inches or centimetres) and diameter (usually referred to as the ring gauge, measured in degrees of 1/64
th
of an inch). To get an idea of the width in inches, take the ring gauge value and divide it by 64. A fatter and wider cigar will not only burn slow but also give you a fuller taste.
Parejos
Parejos are most common amongst cigar smokers and include three basic groups namely, corona, panetelas and lonsdales.
Corona: Available in the classic size of 6 inches by 42 ring gauges, it has an open foot (the end that you light) and closed head (the end that you smoke) and is often used as a benchmark against which all other cigar sizes are measured. Smoking time: 30-45 minutes approximately.
Panetelas: These are 7 inches by 36-38 ring gauges in size and longer than the coronas but significantly thinner. Smoking time: about 35-45 minutes.
Lonsdale: Named after the Earl of Lonsdale, this cigar is known for its length. It measures about 7 inches in length and 40-42 ring gauge. Smoking time: approximately 45-50 minutes.
Other popular variants include Churchill (named after Sir Winston Churchill) which is 7-8 inches in length with 48 ring gauge and Cigarillos, popular in Europe, which are the size of a cigarette, about 3 inches in length and 20 ring gauge. The longest in the cigar family is the Gigante or Presidente, which is a mighty 10 inches in length and 64 ring gauge to give you an ultimate cigar experience!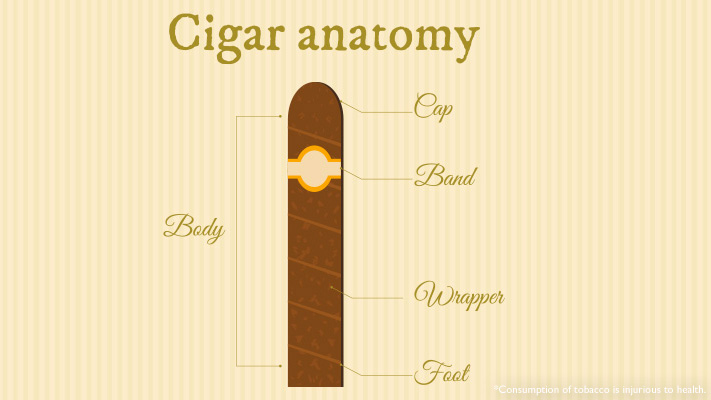 Wrapper

This is the high-quality tobacco leaf which is wrapped around the cigar and is the deciding factor in determining its strength and flavour. The best quality leaf production happens in
Cuba
, Honduras, Brazil, Cameron and Indonesia. Whether the wrapper is grown in sunny or shady areas can have an impact on the colour and flavor of the cigar. A darker wrapper means a longer fermentation process and so a stronger taste. Some major wrapper colour categories include:
1. Claro: light tan, Connecticut shade grown wrappers are best in this style
2. Double Claro: also called Candela, pale greenish coloured wrapper makes for a mild cigar with limited aging
3. Colorado: reddish brown, used in well-aged, mature cigars providing medium to strong flavours
4. Colorado Claro: dark brown and stronger than Claro
5. Natural: also called English Market Selection, dark tan leaves, sometimes sun-grown for a smooth rich flavour
6. Maduro: dark, coffee-coloured, slightly sweet to taste and with an excellent aroma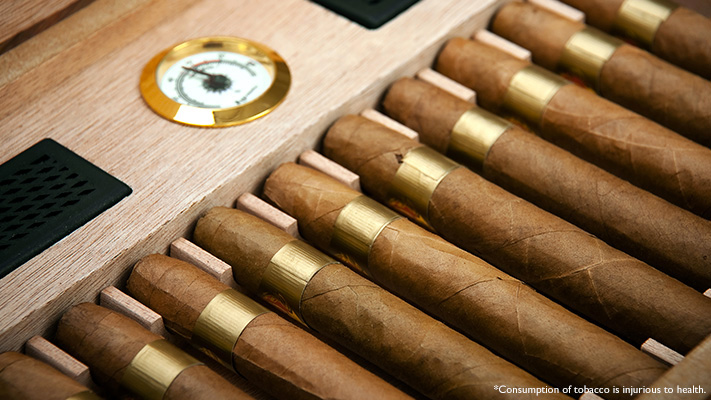 Cutting and Lighting Techniques
✔  Every premium cigar has a closed head that must be cut before you indulge in its amazing experience. The objective is to make a smooth opening with ample room for smoking without damaging the internal structure. A simple tip: Look for the cigar's shoulder—that is the place where the cap of the cigar straightens out—and cut right there.
✔  A good investment would be buying a pair of special cigar-cutting scissors that not only make elegant cuts but are also a sophisticated accessory to possess.
✔ Lighting a cigar is not the same as lighting the tip of a cigarette. Light one like you would toast a marshmallow over a bonfire—keep the cigar above and close to the flame without touching it. Keep at it till you notice a glowing ring around the tip.
Written By : Mona Punjabi