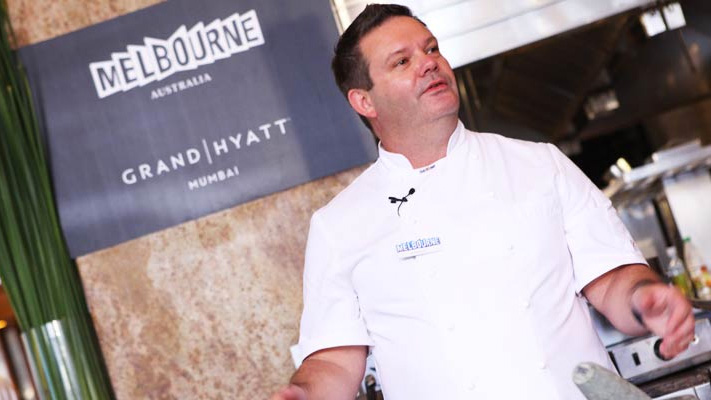 Hosting one of the world's most popular reality shows is no mean feat, but Chef Gary Mehigan has been doing so successfully for the past five years. Aside from hosting Masterchef Australia and Junior Masterchef Australia, Gary has also authored several books; one even in collaboration with fellow host George Calombaris. We caught with him at the Grand Hyatt in Mumbai as he prepared a lavish meal for us, while representing the Tourism Victoria Commission.
How has Masterchef Australia changed your life?
I do everything I can for it to NOT change my life, but it's inevitable. I do what everybody else does on a daily basis, and the restaurant keeps me grounded. One of my greatest pleasures is now being part of a much bigger cooking family than ever before. After all, everybody loves food!
I know you don't want to play favourites, but I have to ask. Which Masterchef Australia season has been most memorable, and why?
I think Season 4. We had the best cooks to date, and it was a real pleasure seeing the contestants thrive in that stressful but creative environment.
How did you land up in Australia in the first place back in 1991 from your residence in UK?
Travel; we (my family and I) wanted to see the world.
You've visited India several times now; can you share some of the highlights from your trips?
For me, it is all about the food. Digging your fingers in, finding out what the locals eat, and then going upscale and seeing what this fantastic city has to offer. What we have discovered is that Indian's love food. Their entire day, their social scene, everything is driven by the next meal. Pani puri, vada pav, gobhi ki tehri, dal tadka, dahi papad ki sabzi, the list is endless. And the breads…yumm.
You, George (Calombaris) and Matt (Preston) have been working together for many years now. Are you also friends outside of work?
Yes, we have known each other for years and we all live very close to each other in Melbourne. We often catch up for coffee.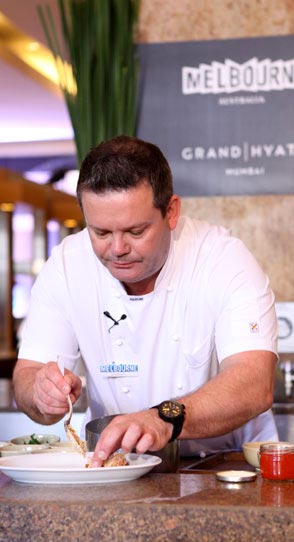 Out of curiosity, why is your Twitter handle @crispycrackling?
Kind of obvious, isn't it? All things crispy and all things pork (smiles)
ANSWER IN 60 SECONDS…
Your favourite Indian dish: The Indian thaali
Your favourite Indian chef: Manish Mehrohtra
Favourite cuisine: French, Vietnames, Thai, Indian, Italian…
Favourite restaurant: Mugaritz, Spain
What would you want your last meal to be? A super soft pommes mousseline, almost all butter, a rich, braised oxtail sauce, and of course, crispy crackling.
Favourite ingredients to cook with: Fish
Favourite destination in the world: Manning, up in Western Australia or closer to home, Lake Mountain
If not a chef, what would you be doing? I'd be a fighter pilot.
Favourite guest you've fed: Australian food icon, Stephanie Alexander
Written By : Ruchika Vyas