He was voted the Sexiest Man Alive by
People
magazine last year, and the recognition has as much to do with his charming personality and dapper sense of style as his interesting ancestry (he is part German, Irish, Dutch, English and Scottish). His chiselled features and well-toned body make him the ideal pick for superhero movies and it's no surprise that he has perfected playing the character of the hammer-wielding Thor in the
Thor
and
Avengers
series. His most recent release,
In the Heart of the Sea
, cast him in a role that put to test both his fitness levels and acting prowess, and Hemsworth proved that he is a force to reckon with in both aspects.
Here is an excerpt from our exclusive chat with the actor, where he opens up about the challenges he faced while preparing himself for the role in the film and what life has taught him so far …
Q. In your latest film, In the Heart of the Sea, you play a character who has all the qualities of a leader. In personal life, do you think that you make a good leader?
It all depends on what situation I'm in. If there's something I truly believe in, I'm the best to lead that situation. I have more understanding of it and of what is going on or going to occur, so I'd be happy to lead the charge so to speak. I think it's about what is driving you to want to lead that situation.
Q. You had to lose a lot of weight for the role, especially for the later part of the film. How did you accomplish that?
Yeah, it was definitely the most physically gruelling and emotionally demanding part I've ever done so far, shot somewhat in sequence, which was hugely beneficial. We turned up for the shoot well fed and rested and then, what basically happened was that the days got longer and we got less sleep, worked more and ate less, and for those last scenes, there was not a whole lot of acting to be done because I was left so exhausted and mentally drained. It was great because it fed into exactly the mindset of where we needed to be, so we didn't have to act. We had reached the point of being honest with the performance because we were too tired and therefore the performance was raw and honest and that is where it needed to be. So, I did not go on a diet or anything like that. It was a natural process.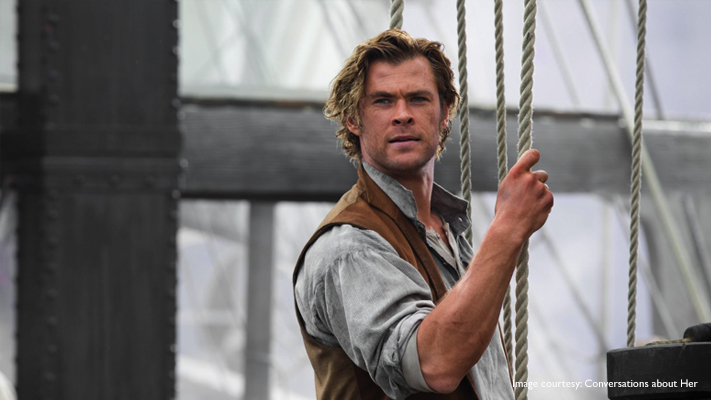 Q. Most of the film was shot on a ship. So, how sea-worthy are you?
I grew up more in the
water
than on it. I was and am a surfer. I didn't grow up on ships so much. I fished a little bit and actually used to get seasick. For the first 2-3 weeks of the shoot, a lot of the crew was hunched over the side of the boat. I fortunately wasn't. I took a lot of sea-sickness tablets and just kept my eyes on the horizon and was determined to not let it beat me, but I did feel the queasiness. And I'd get home and have that rocking feeling even in my sleep, so that took a bit of getting used to.
Q. How environmentally conscious are you? What do you do to protect the planet?
I am not a spokesperson. But I do have huge respect for the environment, a strong passion and views about what it is we are doing to the Earth. At one point I was concerned and said to myself, "God, if this in any way looks like a pro-whaling movie then I'm walking away". I was concerned about the philosophical message. At one point my character begins to question what he is doing. And then you see the dependence upon whale oil shifting to oil from the Earth.
It's about the small things; you might not think that turning your light switch off makes much of a difference, but if millions of people turn the light switch off, it makes a difference. Any time I'm on the beach and if I see rubbish, I will pick it up. All these small things add up. Each person should do their bit and then change will occur. There has to be education on the topic as to what exactly is happening to planet Earth. Where I live there are a lot of sharks and some shark attacks. I'm not of the mindset of culling the sharks. Sharks are on top of the food chain, without them everything begins to fall apart, so our survival depends upon their survival. I started doing some work with Oceania. I think that a lot of us don't really understand the long-lasting impact our actions are having on the planet.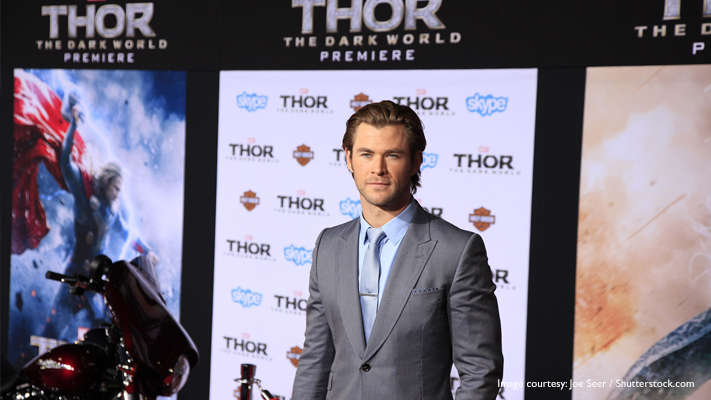 Q. What do you do to keep fit?
I think work keeps me fit. I am not sitting around watching TV all day. I am on my feet. But when I'm shooting a movie, I have to stay conscious of what I am eating, which is often a good reminder to stay healthy. But I enjoy being active, I enjoy training, whether it's putting muscle on for Thor or just staying leaner. The only thing that's hard is the sleep pattern because there are days when you are shooting at night and others when the days are long.
Q. What are some of the traits that your parents had taught you that you would like to pass on to your kids?
I think, to be active with them. I remember, from a very young age, my father would go
surfing
with us, play football with us and just doing things with us. And my mom too, and that is important. Now I am financially secure, but we grew up with not too much money and I learnt a lot from not having money, for instance, how to appreciate things when I did have the money. How do we raise kids to appreciate things? The main thing that I learnt from my parents is that everything else doesn't matter if you love your kids; that's all you can do as a parent and hopefully it will all work out. The details are not important as long as you love them and keep them safe.
Written By : Noel de Souza