A few decades ago, a scoop of ice cream was considered to be a rare treat to be devoured on a hot summer afternoon or with the whole family plonked in front of the telly. Regardless of the scant flavours available to us, ice cream was a simple pleasure that everyone enjoyed. We've come a long way since then, with a plethora of flavours swarming ice cream parlours—from ones studded with chunks of chocolate and brownies to the slightly questionable paan and chilli variants.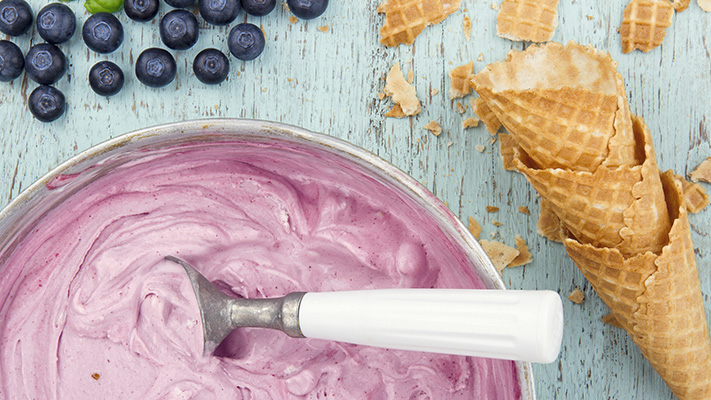 Lending a premium, luxurious feel to this crowd-pleaser is Mövenpick. An international ice cream brand with over a 100 outlets all over the world, Mövenpick has recently brought its Swiss ice creams to Mumbai through their ice cream boutique, which is tucked away on the city's Juhu Tara Road. Knowing that the brand doesn't use artificial colours, additives or flavours, we were excited to sample some that are shipped directly from Switzerland.
We tried four dishes from Mövenpick's vast menu that offers 24 ice creams and sorbets along with milkshakes, ice cream desserts, waffles and pancakes. Here's taking a look at how they fared.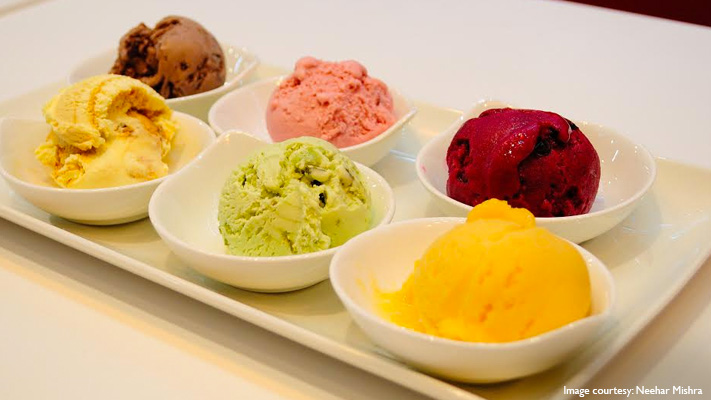 Mövenpick Deluxe Tasting Plate
To begin with, we opted for Mövenpick's tasting plate, which gives you the freedom to sample 6 scoops of ice cream. They also have a basket variant which entitles you to pick 3 flavours, but for the sake of this review—and let's face it, because we couldn't contain our excitement—we opted for a platter of 6, featuring a scoop each of pistachio, apricot, strawberry and raspberry, caramalita, Swiss chocolate and blackcurrant ice cream. Just as you take your first bite, you realise how Mövenpick's ice creams are a connoisseur's delight—worth taking your time over. As we dabbled between icy sorbets and creamy ice creams, we had our favourites down pat. Apricot, blackcurrant and Swiss chocolate were instant favourites, whereas the caramel ice cream was a tad too sweet for our liking. Either way, this platter is perfect for a Mövenpick first-timer, giving you an authentic preview of what the chain has to offer.
Priced at ₹1,075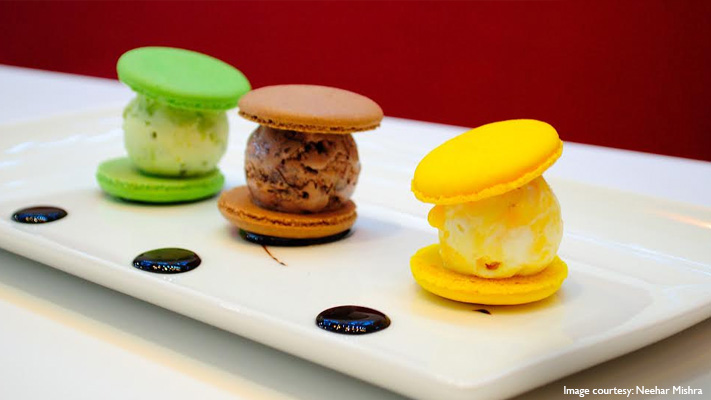 Macaroon Selection
Next we tried one of Mövenpick's highly-recommended desserts, a trio of macaroons sandwiched with ice cream. While the ice creams were delicious by themselves, we found that the sugary, hard shell was nothing like a melt-in-the-mouth macaroon and had no flavour of its own. However, this didn't stop us from digging into the ice cream sandwiched within.
Priced at ₹450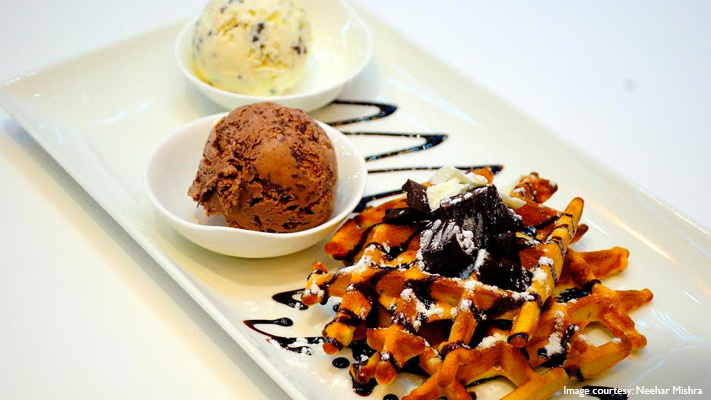 Swiss Chocolate Obsession
Waffles are nothing short of a work of art. Cooking the waffles so that they are crunchy on the outside, and moist and fluffy on the inside is no easy task, so we were awaiting this dessert with bated breath.
Swiss
Chocolate Obsession comprises two waffles served with a scoop each of Swiss chocolate and Stracciatella ice cream (a vanilla ice cream dotted with bits of dark chocolate), along with a drizzle of chocolate sauce and chocolate shavings. Much to our disappointment, the waffles were far too crunchy, with a uniform biscuit-like texture, which meant that once again, we turned to the scoops of ice cream accompanying it to make up for our dissatisfaction.
Priced at ₹525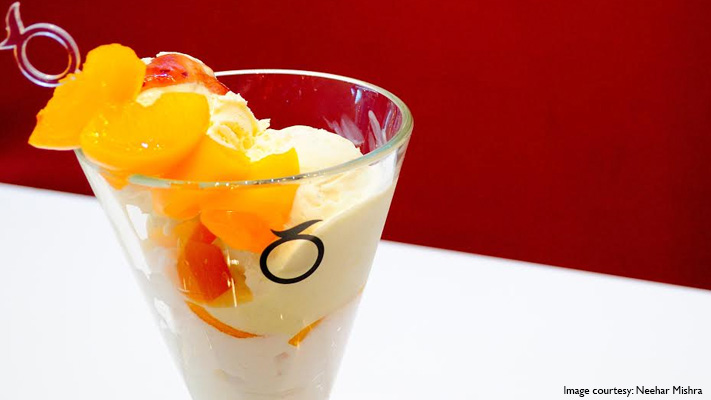 Peche Melba
Last on our list was Peche Melba, one of Mövenpick's classic desserts, served up in a tall glass. This dessert is a combination of poached peaches, scoops of luscious vanilla ice cream and a healthy dollop of whipped cream, and was our favourite of the lot. Although the peaches weren't poached (we saw them being taken out from a tin), the rich, vanilla-bean ice cream and the soft, yielding peaches made for a delicious combination. However, we'd be misleading you if we didn't mention that the flaked
almonds
that would have added to the dessert's textural profile were suspiciously missing from our serving of this dessert.
Priced at ₹450
The Label recommends
To put it succinctly, no matter what you order at Mövenpick, the ice cream is always going to be the best part of the
dessert
, which is both a good and a bad thing. For the most enjoyable experience, we recommend that you stick to ordering a simple scoop (or 4, we're not judging!) and enjoy the creamy, smooth Swiss style ice cream—just the way it's meant to be.
Where: Mövenpick, Shop No 1, Kings Apartment, Near JW Marriott Hotel, Juhu Tara Road, Juhu, Mumbai
Written By : Shirley Mistry