A connoisseur of single malt scotch will tell you that it offers the greatest variation and depth of flavour of all spirits, despite being made from just barley, yeast and water. Here's our selection of some of the best single malt scotches out there.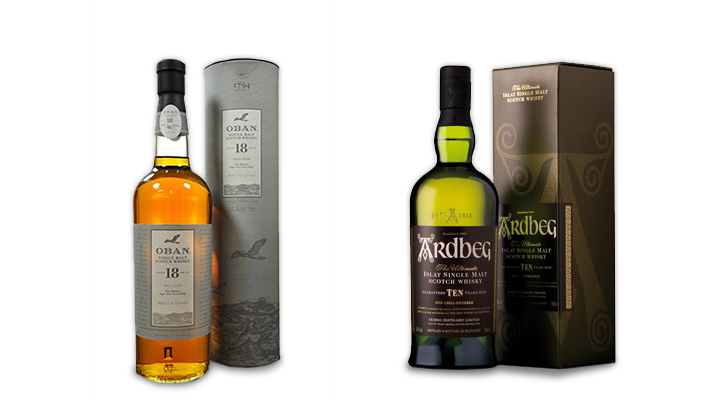 Oban 18 Years Old

Oban distillery is believed to be one of the oldest in Scotland, and it is physically and spiritually at the heart of Oban, the 'Gateway to the Isles'. The Oban 18 Year Old is one of the rarest scotches of the Oban family. Its bottling was selected to mature four years longer than Oban 14 Year Old. The sweeter notes of banana and toasted teacake found subtly in the Oban 14 Year Old are now amplified. It offers a blend of the smokier flavours of the Scottish isles and the lighter tastes found in scotches from the Highlands. Overall, Oban offers a classic balance that's not too smoky and not too sweet; a great all-around single malt.
Ardbeg 10 Years old
If you like your scotch peaty and deep, then pour yourself a glass of Ardbeg. A true classic from Islay, the taste of Ardbeg Ten Years old is so smooth that you barely feel the malt in your mouth until the finish. With exceptional balance and depth on the nose, the aroma of this scotch is a beguiling mix of toffee, spicy cinnamon and sweet chocolate. Fresh citrus and floral notes of white wine are evident, as are melon, pear drops and a gentle creaminess. With a slight note of tobacco, Ardbeg is a whirlwind of complex malty flavours that is made for those who prefer the smokiness in their drink.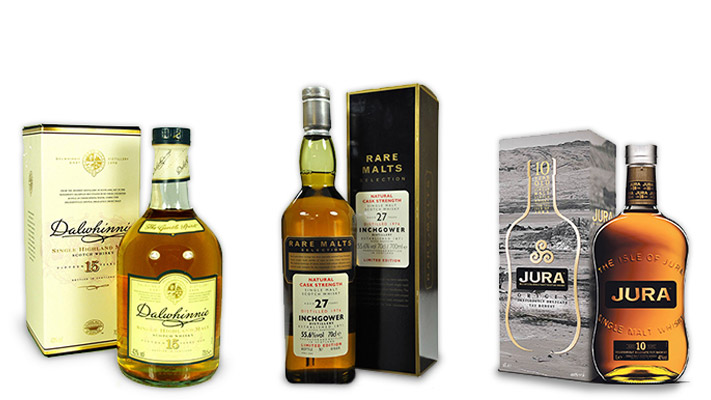 Dalwhinnie 15 Years Old

Dalwhinnie—the highest of all the distillers in Scotland—produces a welcomingly gentle spirit that's full of character with the purest spring water possible. The Dalwhinnie 15 Year Old is subtly smoky, with a lighter taste that builds to a full finish. With the smoothness of honey, some peat, cocoa, a little milk chocolate and malty flavours that shine through at the mid-palate, this sweet scotch makes for a great after dinner drink.
Inchgower 1976
Designed by Diageo, Inchgower 1976 is one of the rarest single malts available today. It can be difficult to find, but is well worth the search. Only a tiny per cent of the production volume is sold as a single malt, while the rest is used to make blends. Inchgower 1976 emits a smoky, peppery aroma and has a lemony, floral and grassy texture, all beautifully balanced right to the end.
Jura Origin 10 Year Old
Produced in a small town off the west coast of Scotland, this single malt has been aged for 10 years and has a lingering taste of warming gentle oak, caramel, soft liquorice and roasted coffee beans. A truly smooth and sweet single malt whisky fully deserving of its excellent reputation, the Origin 10 years is delicate yet robust.
Written By : Rounak Guharoy