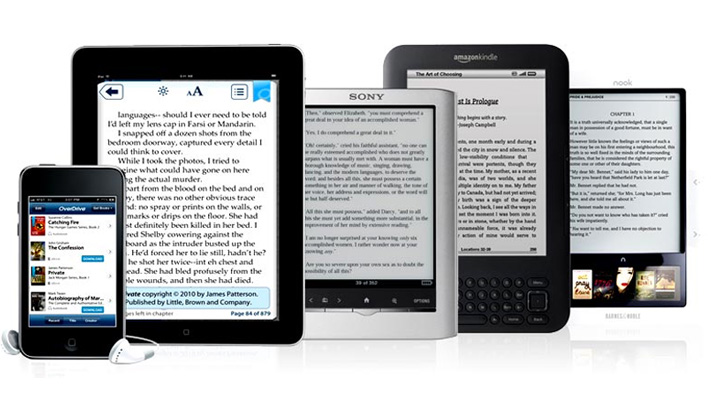 Ask any voracious reader about his favourite books and you'll end up with a long, almost endless list. In eBook readers, the beauty of books and functionality of technology come together seamlessly. Here's a look at the 5 best eBook readers available in the market.
Amazon Kindle
Think eBook reader, think Kindle. The Amazon Kindle is arguably the most popular e-reader. With different models catering to different requirements, there's a Kindle for everyone. A high-contrast e-ink display, the capacity to store over 3000 books from the Kindle store and the ability to surf the Internet (3G+WiFi edition) make this one a clear winner.
Barnes and Noble Nook
Based on the Android platform, Barnes and Noble's Nook is slim, easy-on-the eyes and makes for a great tablet too! It has a brilliant touchscreen, is easy to carry around (thanks to its ultra-light design), and boasts of a great HD experience. Its ability to bring the best of a tablet and an e-reader in one device makes it an able rival to the Kindle.
Apple iPad
Though not strictly an e-reader, the iBooks app along with the ability to download books from various eBook stores make it a formidable contender in this category. While the stamp of Apple should suffice, the fact is that the iPad with its high storage capacity and stylish looks is a great option for an e-reader.
Kobo
What makes Kobo an interesting e-reader is its ability to support ePub (electronic publication) and PDF formats. But that's not all. It also has a clear, six-inch e-ink display, long-lasting battery life and allows you to download e-books from e-book stores without making a large dent in your pocket. What more could you want in an e-reader?
Sony Digital Reader
Sony was one of the first to launch an eBook reader in the market and they're still going strong. The Sony Digital Reader comes armed with side-loading books and readability for PDF documents, this one is for those who don't mind a basic e-reader without extra fringes.
Written By : Manasi Rawalgaonkar