"Cinema is escaping being controlled by the financier, and that's a wonderful thing. You don't have to go hat-in-hand to some film distributor and say, 'Please will you let me make a movie?'"
These words from director Francis Ford Coppola sound so apt when you are discussing independent cinema or 'indie' as we prefer to call it. In whole honesty, a working definition of "independent film" could be a film production (also perhaps distribution) that occurs outside the center of control in the industry. In recent times, there has been a new wave in the Indian film industry also. Directors like Anurag Kashyap, Vasan Bala or Anand Gandhi have stood against all odds to hold the baton of the Indian indie film culture. Known to pioneer a new kind of aesthetic in stories, acting talent, music, cinematography and sound engineering, 'Indie' as a genre has attracted a lot of film connoisseurs. It won't be wrong to say that this genre been the reason that we are now witnessing an increase in the number of festivals that solely feature 'indie' genre
movies
– and whether it's the prestigious
Cannes
, Sundance or the Toronto Film Festival, indie as a genre has become an integral part of the festival. Apart from these festivals, multiplexes and distribution chains are now becoming more open to such niche content and at the same time, indie content producers are making an effort to raise the bar when it comes to quality. One can easily proclaim the trend as the end of an era and the beginning of a 'revolution'! And each year, it seems that independent filmmakers are expanding the realm of the possible. Hence, we decided to give youour pick of three of the best 'indie' films made by directors who don't feature in league of Tarantino and Cassavetes.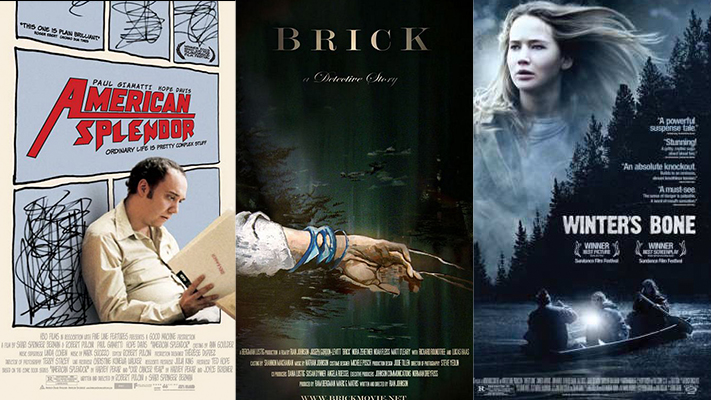 American Splendor (2003)
Slate's columnist Jaime World lauded the film and drew parallels with Woody Allen's Annie Hall. Written and directed by documentarians Shari Springer Berman and Robert Pulcini, American Splendor is an American biographical comedy-drama based on the life of Harvey Pekar, the author of the American Splendor comic book series. The film stars Paul Giamatti as Pekar and Hope Davis as Brabner portraying Pekar's life. What makes this movie feature on our list is that every aspect of the movie is phenomenal, especially Paul Giamati's 5-minute monologue based on an original comic by Pekarthat simply leaves a soothing mark in your heart and mind. With some great performances and a gripping storyline, American Splendor won the Grand Jury Prize for Dramatic Film at the 2003Sundance Film Festival. It deserves to be seen by anyone, and kudos if you read his work too. It's fantastic.
Winter's Bone (2010)
After watching the movie, New Yorker critic David Denby called the film, "one of the great feminist works in film". Written and directed by Debra Granik, Winter's Bone stars Jennifer Lawrence in the main role. The story is an adaptation of Daniel Woodrell's novel of the same name, where Ree Dolly (Jennifer Lawrence) in order to protect her family from eviction, must locate her missing father. The film explores the interrelated themes of close and distant family ties, the power and speed of gossip, self-sufficiency, and poverty as they are changed by the pervasive underworld of illegal methamphetamine labs. Considered as Debra Granik'sbest work, the film witnesses Debra managing to bring out the best in Jennifer Lawrence whose bleak, haunting, incredible and star making performance is something that you will capture a place in your mind and heart. With Winter's Bone, Granik also manages to avoid passing moral judgment on the characters or descending into stereotypes. As a result, the film won the Grand Jury Prize at the 2010 Sundance Film Festival. Apart from Sundance, the film was lauded at the Berlin and Stockholm International Film Festival.
Brick (2005)
Termed as a 'neo-noir' thriller film, Brick was written and directed by Rian Johnson, and stars Joseph Gordon-Levitt. It was Johnson's directorial debut and won the Special Jury Prize for Originality of Vision at the 2005 Sundance Film Festival. The film draws heavily in plot, characterization, and dialogue from hardboiled classics, especially from Dashiell Hammett. The film's narrative centers around a hardboiled detective story that takes place in a Californian suburb. Regarded as a cult-classic, the film was shot in 20 days. With a never clear story, the film provides its audience with a rich source of dialogue, behaviour and incidents. One must see the movie to explore the other side of Gordon-Levitt's acting skills, as he artfully manages to evoke the outlines of his character as Brendan Frye. Brick gives you a sense of a classic Hollywood noir at its best.
Written By : ROUNAK GUHAROY