Not just another Mumbai brewery-to-be, Brewbot has a lively ambience, owners that are passionate about food and flavours and very comfy seating choices. Situated off Andheri's bustling New Link Road, Brewbot has al fresco seating right as you enter, an air-conditioned ground floor that houses the main bar and a lovely first floor which has a smaller bar section, a cozy couch set and a charming balcony apart from widely spaced tables. Both floors are off-set with exposed brick walls and quirky paintings (and figurines) of robots in all shapes and sizes, that do the name colourful justice.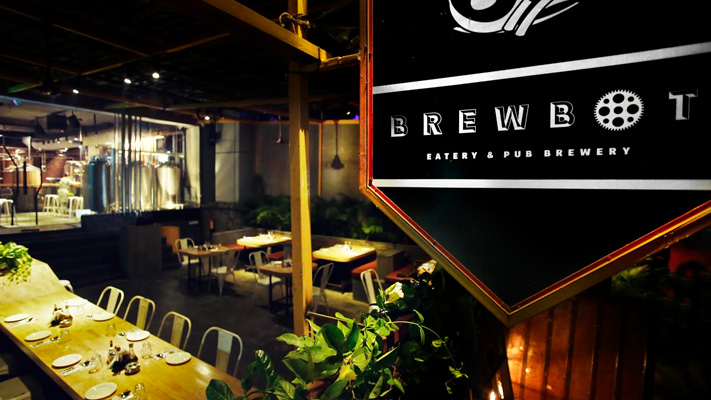 We discussed beer cocktails—and there's more to it than the ubiquitous Shandy (beer combined with a carbonated drink like Limca)—with Ketan Gohel, who handles Bar and Wine and is one of the trio who runs Brewbot. While beer and summer is a match made in guzzler heaven, we've been hearing about beer cocktails making a comeback this season. Drinks that have usually been given a bad rep by purists and bartenders alike, beer cocktails actually have quite an illustrious history.
Research tells us that sailors in the late 16
th
century, for example, drank Flip, a mixture of beer, sugar, rum and eggs. Beer spiced with herbs and nutmeg was also popular during the 17
th
century. Germany, Mexico and Ireland are three places where beer cocktails have been common, where beer was mixed with other kinds of beer, lime juice or even
whiskey
. When mixed in a cocktail, beer is said to smoothen a drink and add either malt or hop flavours to the concoction.
While we chatted, the chef and the second among the three owners of Brewbot, Anand Morwani, talked to us about possible pairings. In a matter of minutes, we had three beer cocktails on our must-try list with their equally interesting partners in crime (read flavour!).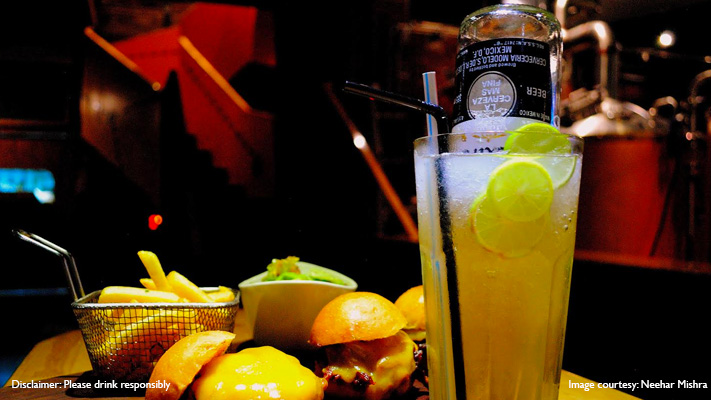 Beer Margarita paired with Pulled Pork Sliders
The Beer Margarita was first up on the list, combining tequila, triple sec, fresh lime and Corona. With the first sip, we got a hit of tequila and felt the freshness of lime and as the beer descended, the drink became less sweet and more suited to our palate. A great summer drink, we found it very refreshing. Featuring complementary Mexican drinks, the Corona and the Tequila, Ketan tells us that this beer cocktail has origins in Miami. Paired with Pulled Pork Sliders that embodied the traditional sweet and spicy flavour common to cantinas, we enjoyed the combination to the hilt. The sliders were the epitome of bar food with juicy pulled pork, which was tenderised during a brining process for 24 hours and then marinated for another 24 hours to ensure its amazing consistency, and soft Brioche buns that were baked in-house. The full-bodied BBQ sauce added flavour to the already incredible pork and was complemented by the sharp cheddar cheese and gherkins that gave the fish that hit of salty spice.
Priced at ₹750 per glass and ₹425 per plate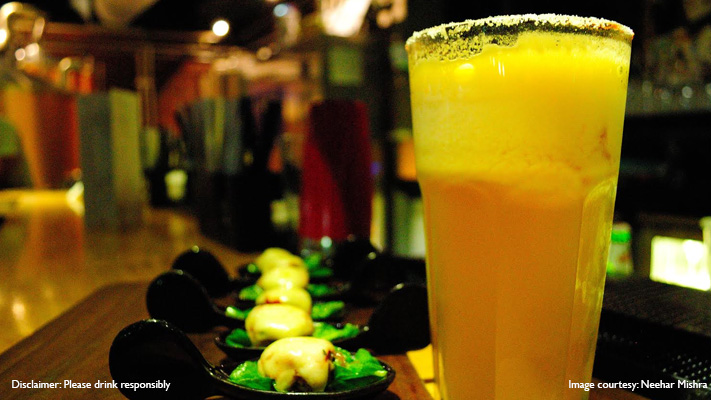 Lager Passion paired with Lamb Albondigas
The next beer cocktail called Lager Passion combined lager beer with vodka and peach liqueur. Lager is a popular beer for mixed drinks and this is a cocktail for those of you looking for mellow flavours. Served in a wide glass with crushed ice, this one has a sweeter taste and to contrast with the sugar, the rim of the glass is coated half and half with salt and sweet paprika. Going along with the Lager Passion are the Lamb Albondigas, skewered stout-infused meatballs with rocket dressed in balsamic vinaigrette and picante tomato jam. The flavour of this appetizer has a decidedly Spanish influence with a focus on creating the now trending 'umami' flavour (one that has a perfectly pleasant savoury taste, the fifth element to what were previously four taste categories: sweet, sour, salty and bitter). Served in easy-to-eat spoons and topped with cheesy garlic béchamel sauce, the meatballs are magic with the cocktail and simply by themselves too.
Priced at ₹500 per glass and ₹425 per plate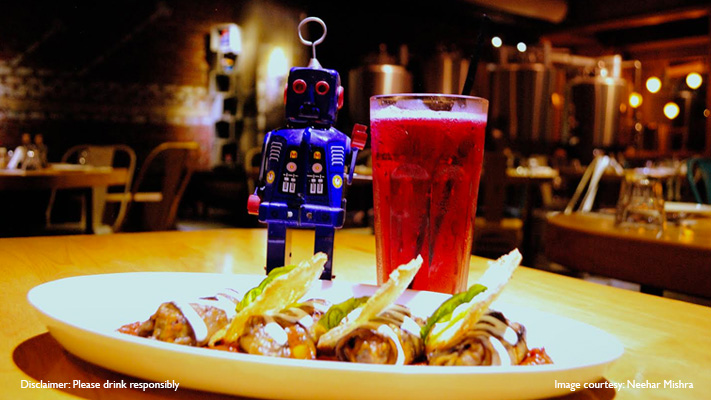 Pink Beer paired with Eggplant Involtini

Pink and sweet, this is a cocktail for those of you who like Shandy and aren't afraid to sport a pink drink! The Pink Beer here, we think, is actually very similar to the popular Berliner Weisse mit Schuss, a German beer cocktail that combines wheat beer with a shot of raspberry syrup. Tart, sweet, with a deep red colour, this cocktail is paired with Brewbot's signature vegetarian dish, the Eggplant Involtine. Neither fried nor fattening, this dish features marinated eggplant skins stuffed with a caponata (a Sicilian combination of eggplant and other vegetables) of
raisins
, zucchini, eggplant and pine nuts. It is served on a bed of Marinara sauce, finished with feta cheese for balance and comes with thin garlic crostini slices dressed with basil. Bold flavours are the catchword for this dish and we'd definitely recommend it to vegetarians.
Priced at ₹250 per glass and ₹445 per plate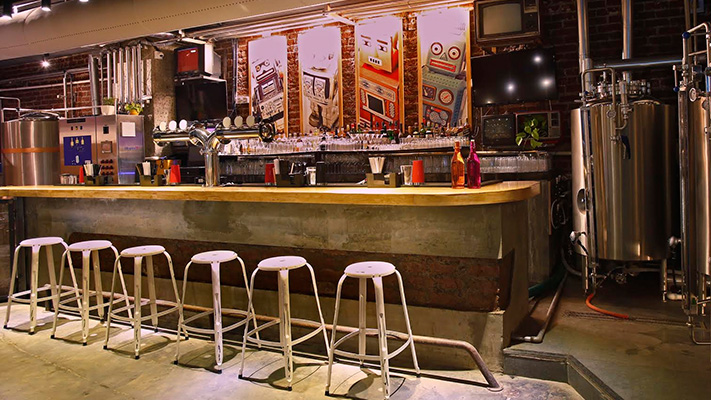 The Label recommends
The Beer Margarita and Pulled Pork Sliders are the best things to order.
Also Try: Ketan's favourite, the Basa Fillet served with lemon butter sauce.
If you are visiting in a group, try the Formaggi Platter or the Charcuterie platter.
What's special: Brewbot uses fresh produce from Anand's farm in Karla, where he grows rocket, eggplant, zucchini and radish apart from a host of herbs.
Look forward to
: Brewbot's
brewery
license, which will allow the bar to brew its own craft beers.
Where: G-01 & 101, Morya Landmark 1, Off New Link Road, Andheri (W), Mumbai
To sport a casual chic look that suits restro-bar, click here.
BUY NOW
Written By : Nirati Agarwal