Amarula is a lush, creamy liqueur that is created from South Africa's marula fruit. A favourite of Sub Saharan elephants, the marula fruit is also known as the jelly plum. Comprising creamy, nutty and tangy flavours, the fruit is first allowed to ripen under the African sun before it is harvested and fermented. After double distillation, marula wine becomes a clear spirit and is aged in oak barrels before fresh dairy cream is added to create the sweet and creamy Amarula
liqueur
.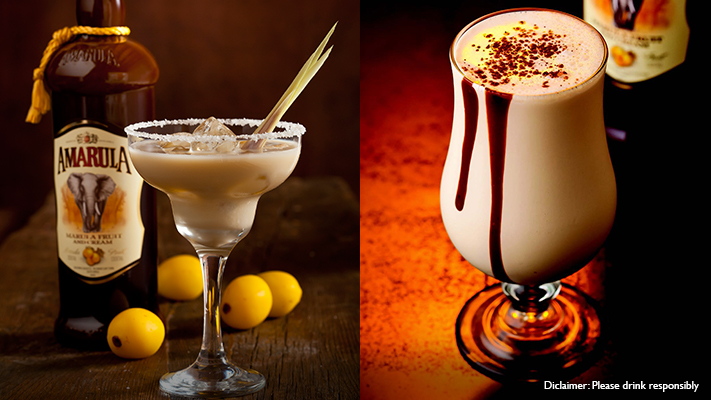 Lending itself to a variety of cocktails as well as meaty entrées, coffees and desserts, Amarula is gaining popularity the world over. Here are our 3 favourite Amarula
cocktail
recipes from Aspri Spirits that you should try at home this monsoon.
#1 Cookies & Cream
Simple and sweet, this is for those with a sweet tooth.
Ingredients
25ml Nachtmusik
25ml Amarula
Method: Layer ingredients into a shot glass, first pouring in the Nachtmusik, a chocolate liqueur, and then the Amarula, very slowly over the back of a teaspoon so the ingredients don't mix.
#2 Amarula Dom Pedro
Best for those summer nights when dessert has to include an ice cream!
Ingredients
50ml Amarula
150ml vanilla ice cream
25ml thick cream
Chocolate powder or spun chocolate to garnish
Method: Combine all the ingredients in a blender or shaker. Blend well. Pour into a tall glass and garnish with chocolate powder or spun chocolate.
#3
Amarula Golden Glow

A perfect Monsoon cocktail.
Ingredients
50ml Amarula
25ml Oude Meester ginger liqueur
25ml peach schnapps
A scoop of vanilla ice cream
Peach slices
Method: Pour all ingredients into a cocktail shaker or blender and blend well. Pour into a
shot glass
over ice. Garnish with fresh peach slices.
Written By : The Label Team