If you're wondering whether mainstream Bollywood will ever be able to rid itself of the excess of melodrama and big-budget song-and-dance routines, in all honesty, we're not sure too. But, on the brighter side, the Hindi film industry is certainly taking steps in the right direction.
For every 10 obnoxious films, there's at least 1 commercial film that shines through for its brilliant cinematography, thoughtful script, clever direction and stellar performances. If you want to see more intelligent Bollywood films, here are our top 10 picks.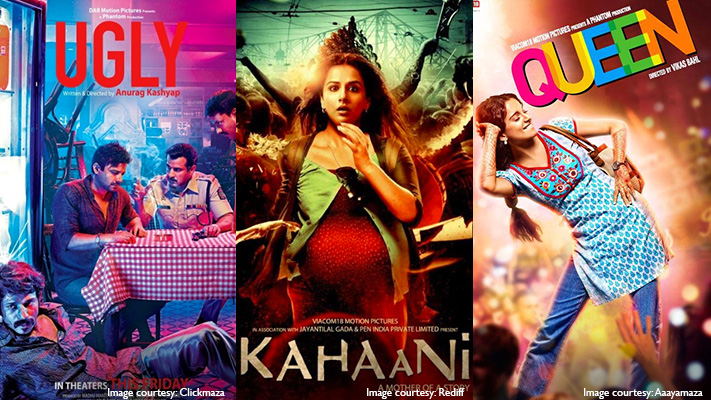 Ugly (2014)
One to experiment with cinema, Anurag Kashyap outdoes himself with
Ugly.
A psychological thriller, this noir film starts off with a young girl going missing and tells the the story of her father's search for her. However, apart from the whodunit aspect, the
film
explores the ugly side of each character associated closely with the missing child.
Kahaani (2012)
A young pregnant woman travels halfway across the world to
Kolkata
to search for her missing husband, only to find that all the people she thought he ever interacted with, in reality, never met him at all.
Queen (2013)
Not only is this coming-of-age film a laugh riot, it tells a heart-warming story of a young
Delhi
girl discovering herself as she goes on her honeymoon alone after being abandoned by her fiancé a few days before their wedding.
Drishyam (2015)
Telling the tale of an average Indian family, this film is about a man trying to protect his loved ones from the murky legal system after they accidentally commit a crime.
Margarita With A Straw (2015)
A young adult suffering from cerebral palsy pushes her limits and decides to move to New York to study further. The film traces her journey as she falls in love, explores her sexuality and discovers the person she truly is.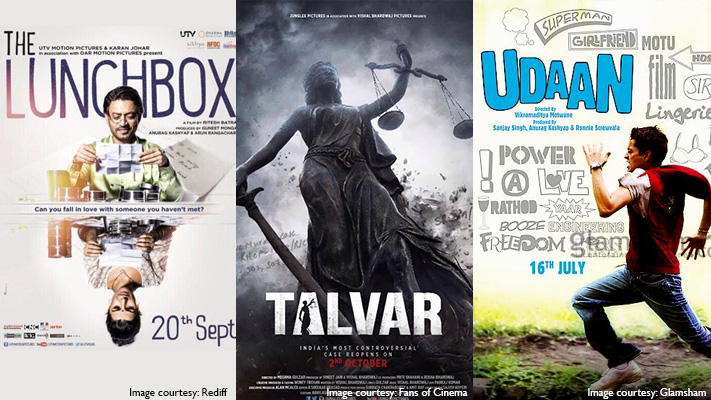 The Lunchbox (2013)
Starring Irrfan Khan, Nimrat Kaur and Nawazuddin Siddique, this film tells the story of a young housewife and a lonely older man who find companionship in each other through handwritten notes that they begin to exchange when the dabbawala makes a delivery mistake.
Talvar (2015)
Based on the Arushi Talwar murder case, this film follows an investigator as he tries to solve a gruesome double homicide, battling lack of evidence, contrasting witness statements and multiple theories. With brilliant performances by Irrfan Khan, Konkona Sen Sharma and Neeraj Kabi, this film by Meghna Gulzar is absolutely spectacular in how it shows the case unfolding without taking sides.
Udaan (2010)
This film is touching yet thought-provoking, tracing the life of a young boy who returns home to Jamshedpur after being expelled from boarding school. As he grapples with an authoritative father who forces him to study engineering and work in his steel factory instead of becoming a writer and a half brother he didn't know existed, he struggles to find a way to overcome his claustrophobia.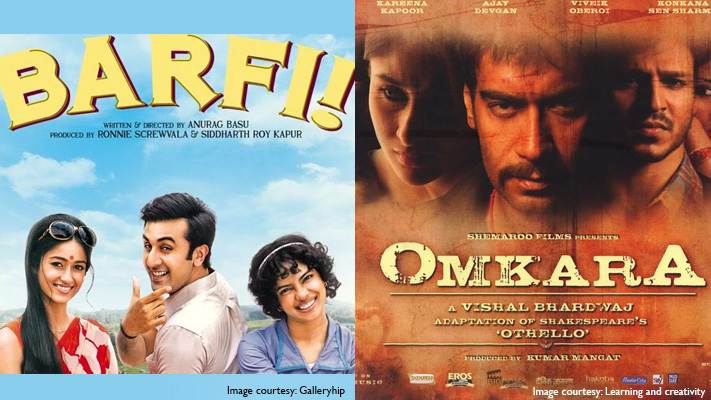 Barfi (2012)
Barfi, a young man with a hearing and speech impairment falls in love with Shruti, a girl he can't marry because she doesn't have her family and society's approval. Years later, he falls in love with Jhilmil, an autistic woman he knew since when they were children. As the 2 try to find the semblance of a normal relationship, Shruti lives with the regret for not having the courage to do the right thing.
Omkara (2006)
An adaptation of Shakespeare's Othello, this film by Vishal Bharadwaj is set in Meerut in modern India. A tale of betrayal, infidelity, trust and jealousy, this film won Saif Ali Khan a lot of acclaim and accolades for his portrayal of Langda Tyagi.
Written By : Shirley Mistry