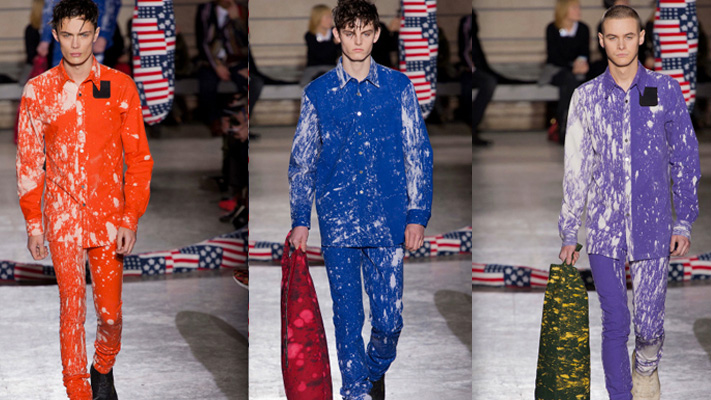 Menswear fashion history is clouded with artistic inspirations and partnerships. From Christian Dior who was inspired by Impressionism to Belgian designer Raf Simons, who recently tied up with Sterling Ruby for his menswear line. Every decade sees several luxury and high street labels bringing out an aesthetic, which is steeped in a deep artistic style; be it impressionism, expressionism or surrealism. Dior translated the luscious and tactile quality of Monet's paintings onto the couture creations. Surrealist Salvador Dali's influence on Schiaparelli is well chronicled. The menswear arena, which is traditionally seen in the shades of back, grey and brown suddenly sees an outburst of vibrant colours all coming together to make a sartorial impact from the global runways to the local department stores.
From calligraphy to graffiti art on man bags, sports trainers and scarves to splash of paints on pea coats and suits, these powerful runway pieces have also inspired several high street labels to bring out their own versions.
Art in fashion history
Shortly before the opening of the Paul Cezanne retrospective at the Grand Palais in 1995, Gianfranco Ferre designed a collection for Dior that paid tribute to Cezanne, notably his palette. A coat echoed the red and black harlequin costume worn by the Commedia dell'Arte character in Cezanne's painting, portrayed by the artist's son.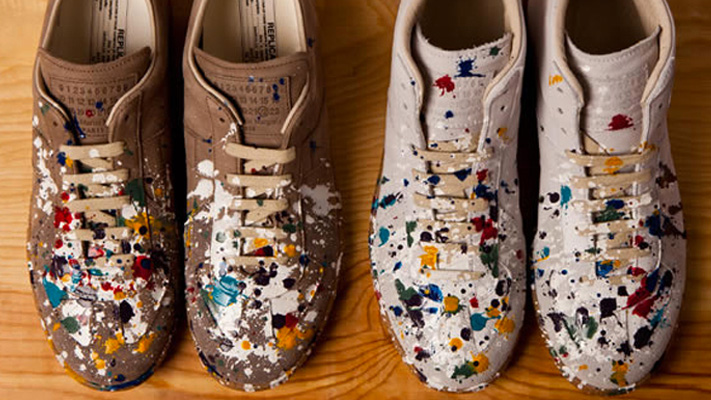 Art in contemporary fashion 
Two seasons ago, Japanese avant-garde artist Yayoi Kusama's signature splash of dots on Louis Vuitton bags, sunglasses, shoes and coats brought a new energy into the house.
Designer Pierre Hardy's cubist clutches and accessories have eclipsed the imagination of every style junkie.
Jackson Pollock's influence can be seen in Maison Martin Margiela's Paint Splatter sneakers.
Artist Mark Rothko, known for his interplay of colour and light, is visible in this season's cubism-inspired deconstructed blazers.
Juan Gris—most famous for his Violin and Glass masterpiece—inspired Japanese designer Yohji Yamamoto to come up with the Military Cubism Jacket. Bottega Veneta's collection also had a Gris influence, with patchwork style cropping up on everything from knitwear to blazers and formal trousers.
One of Jil Sander's SS 2012 campaigns derived references from neoplasticist Piet Mondrian.
2014: Year of art
The year started with designer Raf Simons tying up with artist Sterling Ruby for his Fall Homme collection. There were flashes of the organic chaos of Ruby's art in Raf's pieces. The pieces were splashed with paint and bleach evoking punk movement, which has inspired both Simons and Ruby. Christopher Bailey at Burberry this time drew inspiration from London's 20th century artists with vibrant neck scarves tied around the model's necks in a lady-like fashion and those prints were seen on hand bags too. Designer Thom Browne too tied up with Stephen Jones who made exaggerated headgears inspired by animal kingdom.
Oscar Wilde said, "One should either be a work of art, or wear a work of art." What would you choose?
Written By :