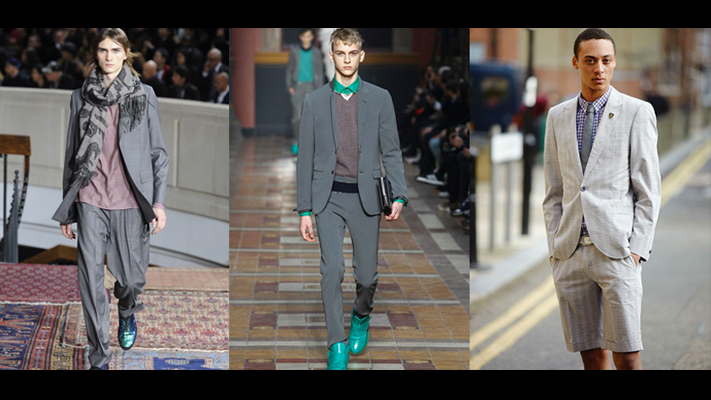 Most of the Paris Fall Homme collections saw a push on tailoring and construction techniques. With a lot of designers doing artistic collaborations—a case in point being Raf Simons tying up with Sterling Ruby—the coming year for menswear seems to be the year of art in many forms: expressionism, surrealism, lettering or graffiti motifs. It's interesting how the notion of masculinity has evolved over the years in the menswear fashion space. Today, designers draw inspiration from every sphere; be it the characters from The Game of Thrones or the rock artists in LA. Today a canary yellow Dior Homme leather coat is an accepted fall piece. Electric-toned shoes or polka-dotted trainers are cool enough to go with a Savile Row style suit like Kris Van Assche presented at Dior Homme. Here are some of the key trends that emerged in the Paris collections.
Emergence of new suit silhouettes
If the last two seasons were all about the double-breasted tailoring, then Fall Winter 2014-2015 is about the new suit silhouettes like we saw at Dior Homme. There were slim-tailored three-button and four-button pin-striped suits, which were nicely layered with denim vests and at times accented with military green neon pieces. Some suits saw polka dot prints, while others had lily of the valley prints, which beautifully complemented the dotted trainers.
Resurgence of surrealism
At designer Thom Browne's show, artist Stephen Jones created some avant-garde headgear representing the animal kingdom. Headgears in the form of elephant heads were paraded around in a palette of steel grey. It was fun to see strait-laced double-breasted suits paired with comfy shorts.
Punk with a polish
Designer Hedi Slimane has always reinvented new codes of male dressing. Be it his unconventional choice of models (most of the time they are inspiring real life people) or his super skinny silhouettes, his rough-textured collections always make a subversive impact. This time too his collection comprising leopard-printed leather jackets, plaid suits, sequined long coats and animal-print shoes—which complemented the stove pipe trousers—was edgy.
Fun motifs
If Dior suits saw polka dots, then Paul Smith's creations had musical symbol motifs and palm tree prints. Today's Paul Smith man wears long coats—that are akin to dressing gowns—and swaggers around comfortably in voluminous trousers and sequined trainers. Metallic too wasn't just confined to shoes or coats. Lanvin had some electric blue and pink accented collared shirts. Lanvin's shows also saw some surreal prints like skull and hand palm motifs.
The triple buckle lace-up shoes
Dior Homme showcased some interesting triple buckle shoes with laces. One could easily mistake them for monk straps, but the shoes had sculpted heels and exuded a sporty vibe.
Most designers channelled the age-old rugged masculinity, while adding a playful touch to it by means of accents, prints and accessories. Today's evolved man is not afraid to wear colour or print. He is confident enough to wear a pair of shorts with a suit and strut around in a pair of sequined trainers as he sweats out at the gym.
Written By :