Is the wisecracking physicist, Sheldon Cooper from The Big Bang Theory your favourite character? If so, how about you emulate his look with precision?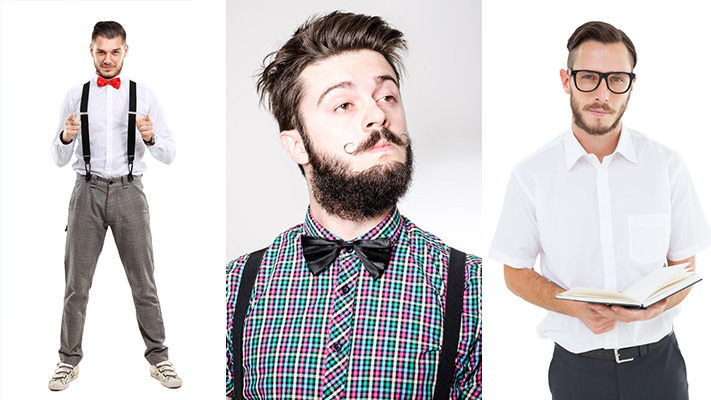 Going by the latest international trends, men's fashion seems to be sashaying down geek-chic runway. After all, who'd have ever expected the revenge of the nerds to be this fashionable? So what does it take to be geeky sleek or nerdy chic? We tell you…
The Exaggerated Hairstyle
Your mane holds the first key to achieving that geeky look. Side partings and neatly combed hair are few features that attributed to a geeky guy. All you need to do is apply some gel and comb your
hair
nicely to the side, to pull this look off.
The Nerd Eye
Talk about a geek and the first thing that crosses your mind is someone wearing a thick black oversized frame. Let your eyewear sit right at the edge of your nose or you could also get yourself a beautiful pair of translucent brown retro frames with slightly tinted lenses to finish the look.
Layer it the Nerdy Way
Plaid shirts, sweater vests, cardigans,
jackets
, bow ties—these are the makings of that perfect geek look. Go for exaggerated striped collars; a checked shirt with a sweater vest could also be a great combination. A V-necked plain sweater over a checked shirt along with a sweater vest (argyle or striped) works well. Opt for retro-looking jackets as they always add that quirky quotient in your retro-geeky look.
Foot Notes
When it comes to footwear — it needs to be an out-and-out misfit. Loud patterns, big soles and a whole lot of attitude go into finishing that nerd look when it comes to shoes. Boots with exaggerated toe-lines could be another great option. Team up this look with loud patterned socks — they are all you need to accessorise this look. Make sure you show-off those quirky loud socks for added effect.
Let's Keep it Brief
In order to complete this quirky retro look, you can toss the ratty messenger bag and embrace a retro looking vintage briefcase. This will confer you with a much organized, elegant, yet quirky look. If you're a youngster looking to pull this look off at college, opt for lumpy looking bags.
Geek is the new sexy — are you ready to embrace this look?
Written By : ROUNAK GUHAROY