Lakmé Fashion Week Autumn Winter Festive 2014 saw some key menswear trends emerge, besides the classics. One of them certainly stood out: Sporty chic. And it is here to stay.
While Manish Malhotra and Shantanu and Nikhil Mehra showcased their signature festive wear—a panoply of jewel-toned jackets, bandhgalas, bandis and waistcoats—there were many designers who took the internationally prevalent sporty chic route. Arjun Khanna took the biker grunge route marrying the traditional bandi with a biker jacket, while newbies like Dhruv Kapoor and Anuj Bhutani played with zippers and surface detailing. Pranav Mishra and Shyma Shetty at Huemn showcased monochrome double-breasted suits, which were paired with trainers. Here's the lowdown on the key trends this season.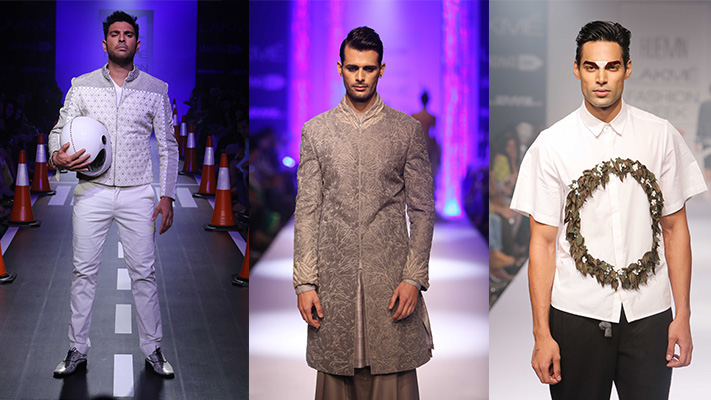 From Left to Right: Arjun Khanna, Shantanu & Nikhil, Pranav Mishra & Shyma Shetty
Biker grunge
Menswear designer Arjun Khanna made a runway comeback after a long time and his fans weren't disappointed. As his brawny models came wearing biker jackets, structured trousers and helmets, the testosterone-heavy vibrations in the show area could be felt. Leather tassels, his trademark pipings, zippers and fringes were the most easily identifiable elements of the show. He married the bandhgala and bandis with the biker jackets exemplifying his push on tailoring.
Emergence of a raw bold look
Dhruv Kapoor used technology to develop fabrics, prints and embroidery. Zippers were the focal points of the slouchy creations with digital and 3D prints added to a palette of black, white, grey and pale pink.
From Left to Right: Dhruv Kapoor, Arjun Khanna, Arjun Khanna
Tailored deconstruction
Designer Anuj Bhutani's collection was a perfect offering of winter dressing for men. Inspired by the 1960s English sub-culture called 'Teddy Boys', the collection aimed at reconstructing menswear with subtle influences and discreet detailing. Zippers too were a leitmotif here. Blousons, one-button shawl collar jacket, parka with trousers, unstructured, soft, long coats and kurtas with jackets added to the style and construction of the collection.
Lettering on separates
While designer Arjun Khanna's collection showcased separates with cheeky lettering like 'Biker Butt' and 'Biker Bundi', which added a fun twist to the line, The Huemn show had messages like 'Don't Try' in bold letters.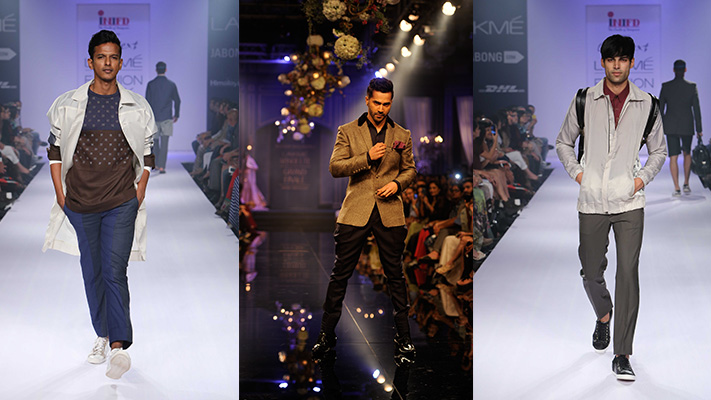 From Left to Right: Anuj Bhutani, Manish Malhotra, Anuj Bhutani
Jewel tones
The dandy groom who enjoys attention in every room he walks into would love the jewel-toned jacket worn by Varun Dhawan, who opened the show at Manish Malhotra's finale. While Shantanu and Nikhil Mehra showed a lot of bandis paired with dhotis, there were also some sherwanis in bold prints. The kurtas had a hint of drape that could be seen beneath the waistcoat. Designer Anju Modi, whose collection was inspired by the Mahabharat era, paired an embroidered evening jacket with a dhoti and completed the look with embroidered leather lace-ups.
Written By : Mr Dandy