From Sir Elton John to Bob Dylan, industry bigwigs and fashion connoisseurs have been endorsing the fad of polka dots for ages now, which undoubtedly is one of the most eye-catching and striking print patterns in the fashion turf. This iconic fashion print dates back to the '40s and '50s where polka dot button-down shirts were popular for men. Back in '70s, it was considered to be as one of the boldest styles that witnessed bright coloured polka dots into fashion as well. Many believe that the style derived its name from the popular music genre 'polka' that became famous in Britain in the late 1900's.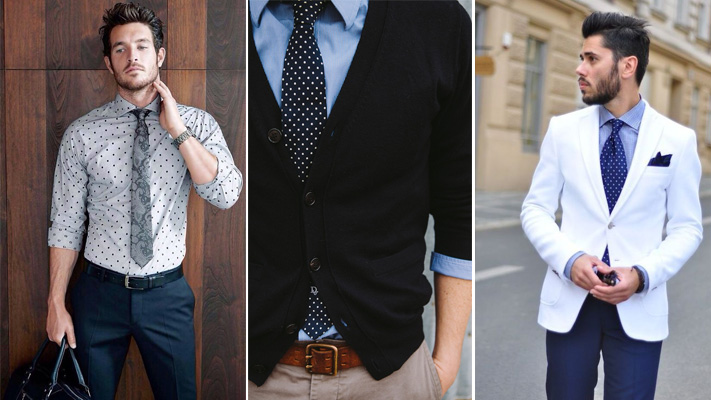 This classic element of fashion is coming back in trend, and it is very important for you to know how to wear it right.
Upper Body
Let's divide the segment into work and play.
For work, opt for micro dots. Try to keep the rest of your outfit simple. If you are experimenting with this print for the first time, then we'd recommend you stick to dots on white bases as it'll neutralize the pattern and will seamlessly sink into your work wardrobe.
But, when it comes to play, the polka dots can get bigger and bolder. You can have fun with colours and
patterns
. You can fuse your polka dot t-shirts or sweaters with casual trousers or
jeans
. This will ensure that your upper body complements your lower half aptly, without making your look appear loud. As we often say in fashion, 'less is more', at times, you can play around with polka dots by showing a slight pattern out at the collar or cuffs or underneath a jacket or crew neck jumper.
Lower Half
The right lower body apparel swathed in this print is the trickiest. The most basic and important point to keep in mind is to make sure that you keep the shape of the trousers slim and tapered. After all, you don't want to make your polka dotted trouser look like a pajama. Apart from trousers, nowadays you get colourful shorts sporting polka dots, if you are not used to wearing patterned trousers, this can always be an interesting alternative, especially when you are on a holiday.
Accessorise
If you are rearing to wear polka dots, then accessorising would be a great idea. You can start by choosing a scarf or a tie as both of them complement this classic look. Apart from scarves and ties, you can also opt for jackets, as they give you a bold, edgier look. Opt for a contrasting colour combination and have some fun with your outfits.
Polka dots offer a touch of whim to the otherwise mundane and rigid men's wear look. They are playful, yet classy and do you absolute fashion justice if worn right.
So, are doting over the dot already?
Written By : ROUNAK GUHAROY