These last few seasons, purple and navy blue have been quite the rage, with dashes of oxblood and hints of eggshell making an impression. While you'll still see these shades available in several accessories, the colours of spring-summer 2014 are quite different. Following colour trends often becomes quite a dilemma, because of the fear that you might just become a part of the colour-coordinated crowd at a party or in the office. However, with the right contrasts and a wise interplay of tones, you could come off at the trendiest person around, without blending in one bit. Here are the colours of the season and ways in which you can hit the right note with them.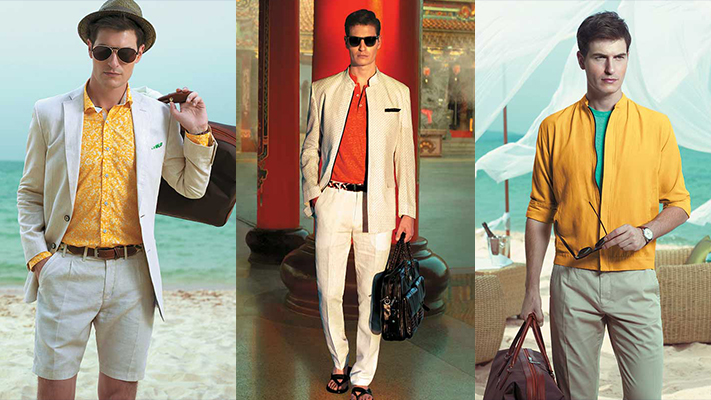 Flaming Hues
Yellow is definitely a very summery colour, and one that you cannot go wrong with this season. This year, however, you should take a step back from yellow and get a look at the wider spectrum. From the bright, burning sun at noon, to egg yolk, to Singapore sunset saffron, the shades of flames in all their brilliance are what you need to consider. Opt for contrast, not just with white or ivory, but also with completely different colours like blue or chocolate. Shirts, T-shirts and even jackets can be drenched in this colour, while you could go in for something printed—floral or graphic. However, keep the print small. These colours are best in natural fabrics, complemented by linens. Comfort is, after all, of prime importance.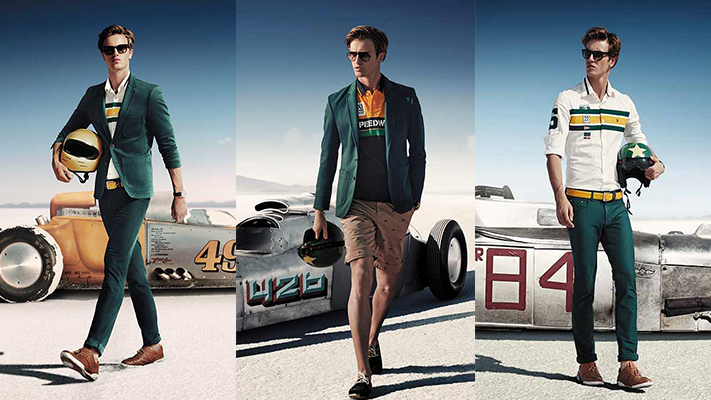 Forest Greens
Green is not usually a colour that men always like to wear, except for maybe bottle green in a T-shirt, or a more pastel shade like mint in a shirt. Trousers and pants in green are a little less common. But this season, open your mind to the idea of the rich colours of the forest. It's time to get a little edgy, and try something new. Also, you don't want to be predictable and stick only to lighter, brighter colours just because it's summer. Hunter green is part of the colour story for several brands this season. Straight-fit trousers in the deep hue will definitely make you a picture of envy at a party. If you can pull off cropped pants, go for it. A casual light jacket over shorts might work too. Colours you can pair hunter green with: white, beige, egg yolk and saffron.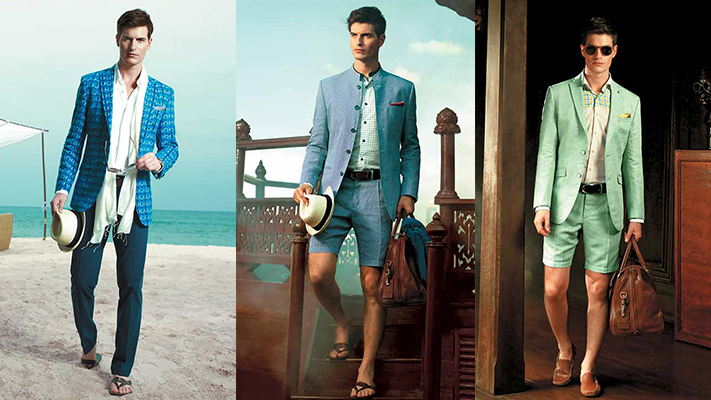 Ocean Blues
There's something about the colour of the ocean that's refreshing, relaxing and rejuvenating, which is one of the many reasons why one can sit on a beach and stare at the sea for hours. Exude that same energy this summer by donning the colours of the sea. Solid colours always work well. There's a richness about them that has a certain je ne sais quoi about them. However, if you want to give the look a little texture, try patterns that incorporate more than one shade of blue, or go with a subtle hounds-tooth or gingham pattern. The natural texture of linen also works wonders. Fabrics should be natural and soft anyway this season. Contrast the colours with a darker cerulean or Prussian blue even. Colours like yellow, coral and sea green can also be effective, if worn right, and you could never go wrong with a pale grey or white.
Written By : Ranvijaysinh Jhala